SHS Class of 2018 Dives into the Future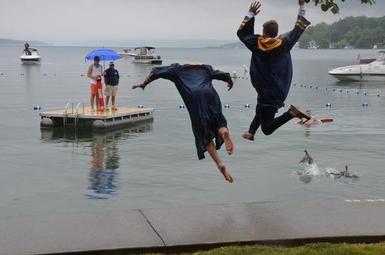 SKANEATELES, NY (June 25, 2018) – In a continued tradition for the ages, the Skaneateles High School Class of 2018 ended their commencement on Sunday in Clift Park by taking a dip in Skaneateles Lake.
As has become tradition, following the presentation of diplomas by Skaneateles Central Schools Superintendent Ken Slentz and the tossing of caps, students immediately charged through the center row of chairs to take their first jump into the lake as Skaneateles graduates.
Despite gray and rainy skies, the accelerated commencement ceremony recognized the Class of 2018 and its accomplishments alongside Skaneateles Lake.
The afternoon began with the Pledge of Allegiance and the singing of the National Anthem as well as the Skaneateles High School Alma Mater by members of the choir and high school band, before Co-Valedictorian Lucas Rathgeb welcomed the vast crowd.
Due to the wet weather, Superintendent Ken Slentz immediately called the Class of 2018 to the stage to receive their diplomas from Skaneateles High School Principal, Greg Santoro, Assistant Principal, Mike Major, and Skaneateles Central Schools Board of Education President, Sue Murphy.
The Class of 2018 roll call would be the final for Superintendent Slentz, who will conclude his tenure on July 20.
Co-Valedictorians Rathgeb and Nicole DeRosa as well as Salutatorian Brady Iles would then address the crowd before the graduates tossed their caps and took a swim as they prepare to leap into the future – college, career, and citizenship ready. From the classroom to the stage, in sports arenas, and beyond, the Class of 2018 left a lasting impression.
Principal Santoro described this year's class as "Demonstrating a true sense of family." Santoro added, "They are loyal, dedicated and inspiring. They live the Laker Way."
Due to the accelerated format of this year's Commencement, the annual reading of class awards was cancelled. Below you will find a full listing of the Class of 2018 awards.

Scholarships/Awards Listing 2018:
THE LESLIE K. FELDMANN MEMORIAL SCHOLARSHIP: Sierra Sander, Melissa Biver
THE SKANEATELES PTC SCHOLARSHIP: Elizabeth Williams
ROTARY SCHOLARSHIP: Kathryn Nicholson
THE SKANEATELES TEACHERS' ASSOCIATION SCHOLARSHIP: Mary Teixeira, Mackenzie Ward, Meghan Wilmot
THE SKANEATELES FIREMEN'S LADIES'AUXILIARY SENIOR AWARD: Marcus Lockhart, Cassidy Pitman
THE LIONS CLUB BOARD OF COOPERATIVE EDUCATIONAL SERVICES AWARD: Tyler Atwater, Heather Short
THE LIONS CLUB NURSING AWARD: Bailey Mannigan
THE SKANEATELES LIONS CLUB "WE SERVE" SCHOLARSHIP: Amelia Huba
THE STEPHEN MASTERS AND ELAINE WITHEY MEMORIAL AWARD: Matthew Murphy
THE CLARENCE M. AUSTIN SCHOLARSHIP: Natalie Condon
THE HENRY BRYANT SCHOLARSHIP: Daniel Klosowski
THE ROBERT J. CHECCO MEMORIAL SCHOLARSHIP: Jeffrey Palmer
THE RICHARD C. HUTCHINS JR. MEMORIAL SCHOLARSHIP: Lawrence Gray
THE SKANEATELES GARDEN CLUB SCHOLARSHIP: Scott Ochsner
THE SKANEATELES GEORGE E. DAVIS-MEMORIAL SCHOLARSHIP AWARD: Marcus Lockhart
THE SKANEATELES MUSIC GUILD AWARD: Nolan Meier, Meghan Wilmot
THE DAVID O. CHASE SCHOLARSHIP: Jenna Fields
THE HOWARD L. ZELLINGER SCHOLARSHIP: Brahm Malcolm
ST. MARY'S OF THE LAKE LANGUAGE AWARD: Kyra Lopiccolo
THE SKANEATELES BOYS' HOCKEY BOOSTER CLUB SCHOLARSHIP: Matthew Leveroni
THE IDA GLEASON MEMORIAL SCHOLARSHIP. PEACE, INC.: Warmington Haas Tehan
HEANEY SCHOLARSHIP: Kyra Cottrill
THE RICHARD WHALEN JR. MEMORIAL AWARD: Ava Prochna
THE CARL H. FISHER MEMORIAL SCHOLARSHIP: Nieve Morse
THE DAVE PIRRO MEMORIAL SCHOLARSHIP: George Kuhns, Zoe Osborne
THE SKANEATELES NURSERY SCHOOL SCHOLARSHIP: Aiden Bennett
THE SKANEATELES GRANGE-GEORGE M. TALCOTT PRIZE: Evan Peer
THE STEVEN MICHAEL KRAUSE MEMORIAL SCHOLARSHIP: Lily Datz
THE MIGNON BOYD ALLYN SCHOLARSHIP: Meghan Wilmot
THE SONJA FINCH ALLYN SCHOLARSHIP: Amelia Huba, Brady Iles
THE CNY FERTILITY CENTER BIOLOGICAL SCIENCES SCHOLARSHIP: Samuel McClintic
THE AMERICAN RED CROSS SCHOLARSHIP AWARD: Racheal Morris
GAIL FRANCES PITMAN YAUS SCHOLARSHIP: Thomas Bitter
IMPACT SCHOLARSHIP: Julia Cirincione
THE AMERICAN LEGION ERIC E. STEEN SCHOLARSHIP: Jonathan Ricklefs, Hannah Stone, Mary Teixeira

THE SKANEATELES CENTRAL SCHOOL ENDOWMENT: KELLOGG-MAPSTONE-ALLYN FOUNDATION SCHOLARSHIPS -
Gabriella Capozza
Natalie Condon
Lily Datz
Nicole DeRosa
Hope Glowacki
Mia Grasso
Caroline Hagen
Max Hall
Grace Hilpl
Amelia Huba
Brady Iles
Abigail Logan
Kyra LoPiccolo
Adrianna Marshall
Samuel McClintic
Maximillian Moss
Kenneth Peterson
Madelyn Peterson
Lucas Rathgeb
Madison Rhoad
Sierra Sander
Mary Teixeira
THE WALTER AND CECILE BORCHERT SCHOLARSHIP RECIPIENTS:
Boaz Arold
Channa Barnes
Aidan Bennett
Patrick Moore
Madison Rhoad
Hannah Stone
Haas Tehan