Budget, Propositions Pass; Board Members Elected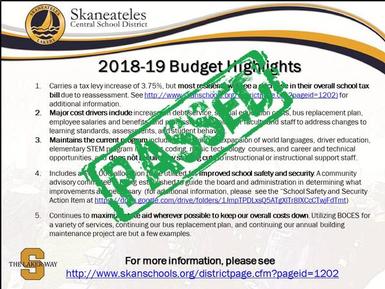 SKANEATELES, NY (May 16, 2018) – The 2018-2019 Skaneateles Central School District general fund budget passed as a result of Tuesday's district voting by a margin of 644-196, with nearly 77% in favor.
The overall budget of $34,009,732 will maintain and enhance the programming instituted under state regulations and the district's own strategic plan, and maintains its existing instructional staffing levels, which serve the district's increasing overall enrollment.
The budget includes a $60,000 allocation to be utilized for improved school safety and security. A community advisory committee is being established to guide the Board of Education and administration in determining what improvements are necessary.
Aside from the general fund budget, voters also passed two other propositions including the continuation of a bus replacement plan initiated two years ago.
With a favored margin of 660-169, the continued bus replacement plan will see four more buses purchased, ultimately reducing the overall fleet and decreasing money and time spent on maintenance.
A proposition set to establish a new capital reserve to partially offset the local share of future general construction projects was also passed by a margin of 658-170.
Skaneateles Central Schools Superintendent, Ken Slentz, was pleased with the increased voter turnout and the work put in by the Skaneateles Central Schools team to present another balanced budget.
"We are truly grateful for the number of community members who came out to vote and show their support of what was otherwise a very complicated budget process this year," said Slentz. "The detailed work by Mrs. DeMass and our business team, which resulted in the presentation of a responsible budget, is further demonstration of their commitment to maintaining excellent programming for students, while being sensitive to the taxpaying community."
The school board election, also held on Tuesday evening, saw three candidates elected.
Incumbents Susan Murphy and Kerry Brogan were re-elected to three-year terms with Michael Kell elected as a new member of the Board of Education.
For a complete recap and details on this year's school budget, please visit http://www.skanschools.org/districtpage.cfm?pageid=1202.
Keep in touch with events and happenings in relation to the Skaneateles Central School District by visiting online at www.skanschools.org or following the district's Facebook page at www.facebook.com/Skaneateles.Schools/.