Student-Athletes Attend Leadership Conference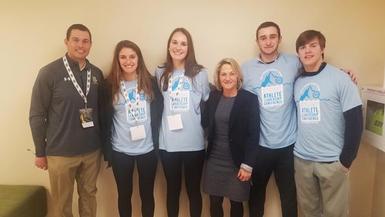 SKANEATELES, NY (April 2, 2018) – A group of four Skaneateles High School student-athletes recently took part in the third annual Cooperstown Central School Student-Athlete Leadership Conference held at the Clark Sports Center in Cooperstown.
Students Patrick Hackler, Jessica Patalino, Olivia Navaroli and Tommy Reed traveled to the conference with Skaneateles High School's Director of Student Wellness, Activities and Athletics, Stephen Musso.
The Cooperstown Central School Leadership Training for Athletes Program welcomed approximately 150 student-athletes representing nearly 30 school districts around Central New York to the conference.

The program featured several workshops and guest speakers centered on helping student-athletes to recognize how leadership application in athletics can be applied to their daily lives, positively affecting not only their fellow teammates – but friends, family, and community.
Marianne Angelillo was the keynote speaker for the afternoon with shared perspectives from her book, "Sharing My Stones."
Keep in touch with events and happenings in relation to the Skaneateles Central School District by visiting online at www.skanschools.org or following the district's Facebook page at www.facebook.com/Skaneateles.Schools/.