VIDEO: Budget Matters - Students as Teachers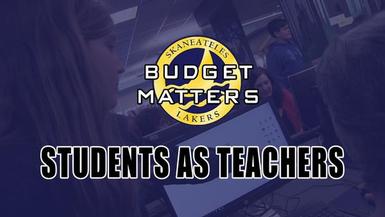 Based on the positive feedback received from the Video Series on Project 2021, the Skaneateles Central School District now presents, "Budget Matters," which focuses on the district's budget development and critical areas of investment for the school district.

The second video in the "Budget Matters" series highlights Students as Teachers with Heather Buff, the district's new Instructional Technology Specialist, discussing her new role and how she utilizes students as assistants in her instruction.

As you watch each video in the series, we encourage you to send us your feedback and let us know if the information is helpful to you or if there are ways that we can improve our planning and communication.