Sixth Graders Learn High School Hydroponics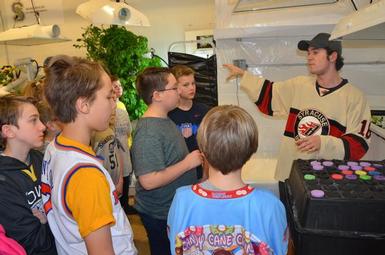 SKANEATELES, NY (January 11, 2018) – Cross-curricular opportunities are a fantastic avenue for students to work with other students, and in this case learn about courses that could be in their future.
On Wednesday afternoon students in Colleen O'Hara's sixth grade Family and Consumer Science class visited Scott Stagnitta's high school hydroponics class, where they received a personal lesson from high school students on vertical hydroponics.
"This is certainly a unique cross-curricular activity for our students," said Stagnitta. "We are fortunate to have a program such as this in the high school and we enjoy getting it in front of our district's younger students as soon as possible. Today the sixth graders are not only learning about hydroponics, but they are cutting their own basil."
Hydroponics, a form of hydroculture, is the method of growing plants without soil, using mineral nutrient solutions in a water solvent. Each year the students in Stagnitta's hydroponics class design and create their own hydroponic systems and then put them to use growing basil, lettuce, tomatoes and more, which are used in the Skaneateles High School cafeteria.
The basil cut by the sixth graders during their lesson was taken back to Skaneateles Middle School where it will be used in a recipe the students are cooking in class.
Keep in touch with events and happenings in relation to the Skaneateles Central School District by visiting online at www.skanschools.org or following the district's Facebook page at www.facebook.com/Skaneateles.Schools/.