Third Graders Donate to annual Pajama Drive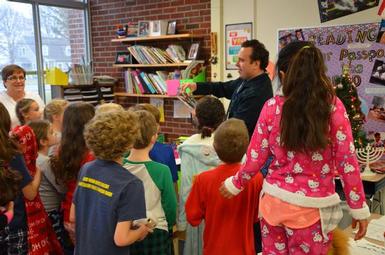 SKANEATELES, NY (December 1, 2017) – State Streel Elementary School third graders took part in Scholastic's 9th annual Great Bedtime Story Pajama Drive on Friday, December 1.
Scholastic's Pajama Program offers at-risk children the unconditional, magical gifts of pajamas and books so that they can enjoy the greatest benefit of a loving bedtime and peaceful good night, making for a fulfilling good day.
As a part of the program, third grade students and families of State Street Elementary were encouraged to donate new pajamas to the cause. Pajamas of all sizes and for all seasons were welcome as complete sets, a top and bottom or an appropriate nightgown.
At the conclusion of the pajama drive Scholastic Book Clubs will donate 100,000 brand-new books to the cause, helping to give children a warmer night.
On Friday, the State Street third grade not only donated pajamas, but also wore their own along with their teachers for a comfortable day at school.
State Street Elementary principal, Christopher Casler-Goncalves, then visited each classroom in pajamas of his own to read a story to students kicking-off the day.
Since 2009, classrooms nationwide have collected and donated over 600,000 pajamas to at-rick children through the Pajama Program, and Scholastic Book Clubs has matched that number by donating nearly one million books.
For more information on the Scholastic Book Club Pajama Drive visit online at www.scholastic.com/pajamadrive.
Keep in touch with events and happenings in relation to the Skaneateles Central School District by visiting online at www.skanschools.org or following the district's Facebook page at www.facebook.com/Skaneateles.Schools.