Garrett, Jarvis Accepted to Master Teacher Program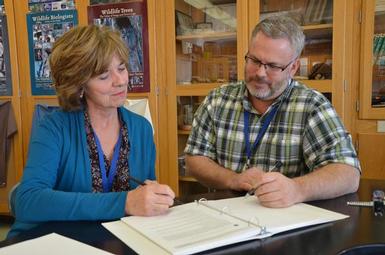 SKANEATELES, NY (November 29, 2017) – Skaneateles High School teachers Rick Garrett and Maureen Jarvis have been accepted into New York State's Master Teacher Program.
The NYS Master Teacher Program network consists of outstanding teachers recognized for their dedication to providing the most innovative STEM education to their students, their commitment to professional growth, and their enthusiasm for sharing their local successful practices with colleagues in their schools, districts, and regions.
Currently, there are more than 900 Master Teachers in the program.
Both Biology teachers at SHS, Garrett and Jarvis will join the SUNY Cortland Region of the program.
As Master Teachers, Garrett and Jarvis will now join colleagues during set meetings for professional learning and collaboration at SUNY Cortland, which will serve as their home base in working toward their Master Teachers' unique professional growth and development goals.
These meetings provide opportunities to have engaging professional conversations with colleagues while exploring innovations in STEM education.
"We created the Master Teacher Program to attract our best and brightest teachers to the classroom and strengthen the quality of our schools in communities across the state," said NYS Governor, Andrew M. Cuomo. "By expanding this program we are giving more talented professionals in STEM education the opportunity to develop their careers and help lay the foundation for a world-class workforce."
Garrett and Jarvis will serve a four-year term in the program helping to inspire students into careers in STEM fields while collaborating with some of the brightest minds in the state to develop expertise in STEM content, pedagogy, and students' families and communities.
"I was inspired by many teachers throughout my academic and professional career," said Garrett. "It is my hope, through my participation in this program that I will continue to be inspired by the other teachers I will be working with. The training I will be involved in should translate into enhanced classroom experiences for my students through the sharing of new activities and pedagogical strategies I learn from other NYS Master Teachers. I am honored and humbled by the award and greatly appreciate the support of my colleagues and administrators who assisted me in the application process."
Jarvis shares Garrett's enthusiasm and looks at the Master Teacher Program as a way to continue to grow as an educator.
"I am thrilled to have been accepted into the Master Teacher Program," said Jarvis. "Through networking with other professionals, I hope to continue to spark imagination in my students, and create awe and appreciation for the beauty of nature as I continue to grow and learn through the program."
The Skaneateles Central School District is honored to have two of its teachers accepted into such a coveted program.
"The commitment required, the demonstration of effective teaching, and the level of rigor for acceptance into the program speaks volumes to the quality of Maureen and Rick as educators," said Skaneateles Central Schools Superintendent, Ken Slentz. "So many of our students have benefited from them over the years and I am thrilled that they have been properly recognized for their skills and attributes."
For more information on the Master Teacher Program visit online at www.suny.edu/masterteacher.
Keep in touch with events and happenings in relation to the Skaneateles Central School District by visiting online at www.skanschools.org or following the district's Facebook page at www.facebook.com/Skaneateles.Schools.