Skaneateles Students Visit Purpose Farms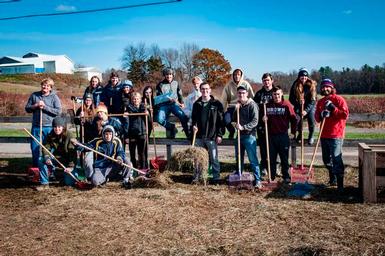 SKANEATELES, NY (November 27, 2017) – Students in Rob DeMass's SUNY Albany class at Skaneateles High School recently visited Purpose Farms in Baldwinsville, NY, performing community service for a great cause.
Purpose Farms is a family run farm that provides a nourishing and responsible environment for youth in the foster care system. Children come to the farm to help with chores, groom animals, and most importantly, build positive relationships that they might not be getting at home.
All animals on the farm are rescue animals from the local area.
Following a session of goat yoga, students went off to the fields to put in several hours of work that consisted of clearing fields of used hay and horse manure.
"All of the students enjoyed the experience," said DeMass. "They were happy to be able to help a local establishment continue with its fantastic and rewarding mission."
Keep in touch with events and happenings in relation to the Skaneateles Central School District by visiting online at www.skanschools.org or following the district's Facebook page at www.facebook.com/Skaneateles.Schools.