SHS Students Volunteer at Syracuse Rescue Mission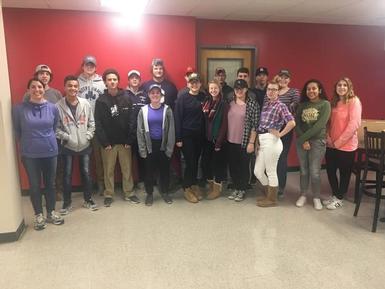 SKANEATELES, NY (November 22, 2017) – Students in Alanna Kramerson's Participation in Government class at Skaneateles High School recently made a trip to the Rescue Mission in Syracuse to complete community service and learn about the services provided by the mission in the Syracuse area.

Following a tour of the campus, the class was broken into two volunteer groups.

The first volunteered in the donation warehouse unloading a donation truck, and sorting clothes inside the donation center.

The second group volunteered in the food service center. This group helped to package supply bags for Thanksgiving, packaging 400 bags with utensils, cranberry sauce, tea, and sugar. The students then helped to plate and serve 220 people for lunch.

"Students were able to get a lot of direct contact with clients and staff at the Rescue Mission," said Kramerson. "This helps put a face to a name with concerns that are so critical to Central NY: poverty, hunger, and homelessness. It was an amazing day. The kids were really surprised at the scope of everything, especially how big the Rescue Mission was and how many services they provide and people they support on a daily basis. It was a great opportunity before Thanksgiving."

Keep in touch with events and happenings in relation to the Skaneateles Central School District by visiting online at www.skanschools.org or following the district's Facebook page at www.facebook.com/Skaneateles.Schools.