State Street Transforms into African Museum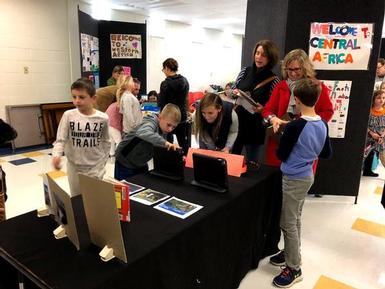 SKANEATELES, NY (November 15, 2017) – Students in Tami Rigling's third grade class at State Street Intermediate School recently worked together to create an interactive African Museum.
As a part of a project based unit on Africa, Mrs. Rigling's students did an inquiry of the different regions of Africa, then worked together in groups to create various projects, which were presented within their Museum.
"What makes this unique is the students created all of the materials themselves," said Rigling. "Heather Buff and I acted as facilitators. Heather taught students about different technologies they could use for their projects and I worked with the students on the research and presentation portion. It was a very engaging unit and the students loved learning about Africa in this way."
"Visitors could touch, read, or watch all of the items that students had created," said Buff, the district's Technology Integration Specialist. "The kids were responsible for explaining what they had learned and because of the format and the group collaboration they were able to share a lot of interesting details. It was awesome."
Keep in touch with events and happenings in relation to the Skaneateles Central School District by visiting online at www.skanschools.org or following the district's Facebook page at www.facebook.com/Skaneateles.Schools.