SHS Tech Club Running Scrap Metal Fundraiser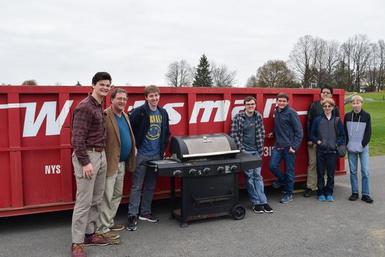 (November 14) - The Skaneateles High School Technology Club is conducting its Scrap Metal Fundraiser from now through the beginning of Thanksgiving Break on Tuesday, November 21.

The Weitsman Group has generously donated a container for scrap metal, which is located near the concession stand building at the high school, for scrap metal to be tossed into as a donation to the club.

Items are asked to be made mostly of metal with the following exceptions: No items are allowed with refrigerant such as air conditioners, dehumidifiers, refrigerators, or freezers. No batteries. Items that may have fuel or oil like lawn mowers must be completely drained of fuel and oil. No electronics like televisions or computers.

Anyone can donate into the scrap metal container. If you need assistance, or local pickup because something is too large, just contact a tech club memberr or send Matt Slauson an e-mail at mslauson@skanschools.org.