State Street Third Grade Enjoys The Lion King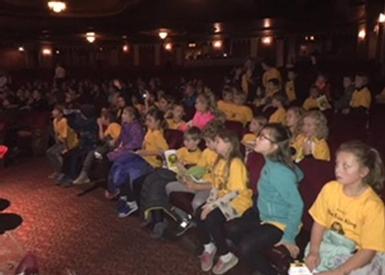 SKANEATELES, NY (November 14, 2017) – Last Thursday, State Street Intermediate School third graders traveled to the Landmark Theatre in Syracuse for a fantastic opportunity to enjoy Disney presents The Lion King.
With 90+ million audience members worldwide, The Lion King is the third longest running Broadway show, having received 70 major theatre awards internationally, providing State Street students with a truly unique experience.

Students created art projects with Mrs. Barry before the show with everyone wearing matching The Lion King t-shirts throughout the day.
Students in the classes of Mrs. Herr, Mrs. Rigling, Mrs. Whirtley, and Mr. Yost all made the trip thanks to help from Arts in Education, the Skaneateles Music Guild, and the Skaneateles Education Foundation.

To better support the outstanding array of music opportunities and the dedicated staff in the Skaneateles Central School district, the Music Guild and SCS Music Boosters have merged.

The Skaneateles Music Guild, the combined organization's name, is a unified voice for enrichment and advocacy on behalf of music in our schools and community. With one organization, teachers, staff and others can more easily communicate information as well as financial and volunteer needs.

Please go to www.skaneatelesmusicguild.org or Facebook for more information.
District residents are reminded that Project 2021, the district's proposed capital improvement project, will be up for vote on Tuesday, November 14. A full listing of Project 2021 details are listed under the Project 2021 quick link at www.skanschools.org. More information will be out on the pending project in the coming weeks.
Keep in touch with events and happenings in relation to the Skaneateles Central School District by visiting online at www.skanschools.org or following the district's Facebook page at www.facebook.com/Skaneateles.Schools.