Football Advances to State Semi-Finals Nov. 18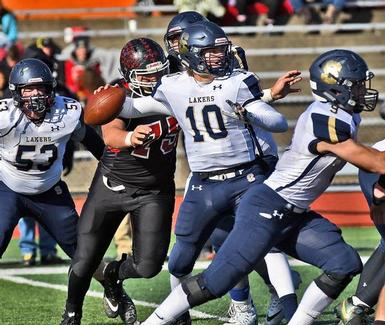 SKANEATELES, NY (November 14, 2017) – For the first time, Skaneateles Lakers Football will head to the State Semi-Finals after holding off Newark Valley in the Regional Championship on Saturday by the score of 42-41.
Junior Patrick Hackler had another fantastic afternoon throwing for five touchdowns in the Lakers victory.
Newark Valley made a late charge at the Lakers, but Skaneateles stood their ground in the games final second, stopping a Newark Valley two point conversion to win the contest by a single point.
Standing as the No. 3 ranked team in the Class C State Championship, Skaneateles will return to Union-Endicott High School this Saturday, November 18 to face Cleveland Hill in the Semi-Final round of the state playoffs. The game will kick off at 11 a.m.

The winner will face either Holy Trinity Pride or Burke Catholic in the State Championship at the Carrier Dome on November 24.
District residents are reminded that Project 2021, the district's proposed capital improvement project, will be up for vote on Tuesday, November 14. A full listing of Project 2021 details are listed under the Project 2021 quick link at www.skanschools.org. More information will be out on the pending project in the coming weeks.
Keep in touch with events and happenings in relation to the Skaneateles Central School District by visiting online at www.skanschools.org or following the district's Facebook page at www.facebook.com/Skaneateles.Schools.

Skaneateles Holds Off Newark Valley, 42-41 (www.syracuse.com)