8th Graders Explore Power of Breakout EDU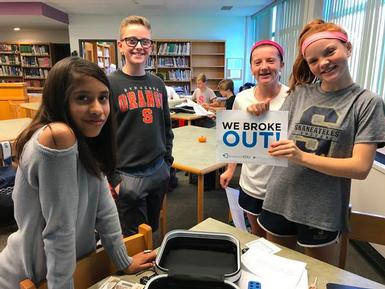 SKANEATELES, NY (November 3, 2017) – Mrs. Ranalli's eighth grade students at Skaneateles Middle School recently explored the power of Breakout EDU in the Skaneateles Middle School library.

The Breakout EDU system plan was a combined effort between Mrs. Ranalli and middle school Media Coordinator, Kelly Gunderson. The plan was designed to introduce students to their next story, A Retrieved Reformation, featuring a former safecracker.
The Breakout EDU kit allows for facilitation of games where players use teamwork and critical thinking to solve a series of challenging puzzles in order to open a locked box. Games are available for all ages and content areas.
Students had 30 minutes to crack the code on the box using clues and the Breakout EDU system. As a group, they collaborated and found the keys that were hidden around the library to open the box in order to find their classwork and new story.
Breakout EDU provides learners with many opportunities to fail forward. Every unsuccessful attempt to open a lock forces players to try again.

"This game really transferred ownership of the students learning from the teacher and engaged them in thinking critically, communicating, and being creative," said Gunderson.
District residents are reminded that Project 2021, the district's proposed capital improvement project, will be up for vote on Tuesday, November 14. A full listing of Project 2021 details are listed under the Project 2021 quick link at www.skanschools.org. More information will be out on the pending project in the coming weeks.
Keep in touch with events and happenings in relation to the Skaneateles Central School District by visiting online at www.skanschools.org or following the district's Facebook page at www.facebook.com/Skaneateles.Schools.