'Book Buddies' Joins Kindergartners, 6th Graders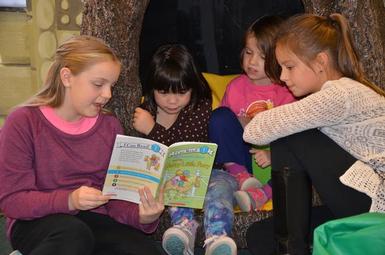 SKANEATELES, NY (November 2, 2017) – Waterman Primary School kindergartners joined Skaneateles Middle School sixth graders on Wednesday to read together as 'Book Buddies' in the middle school library.
The 'Book Buddies' program is a part of the sixth grade child care unit at the middle school.
The sixth grade child care unit is designed to teach students skills that they could use to start their own babysitting business. Classes discuss child development, the importance of play, as well as discipline and the associated responsibilities.

Each student then designs and fills a bag full of toys, snacks, and supplies that they can bring babysitting.

This quarter the unit included the activity of inviting the kindergartners to the middle school library to put some of their newly found skills into practice.
Two separate 'Book Buddies' sessions were held on Wednesday, during fourth and eighth period, with each joining together to read and enjoy a snack prepared by the sixth grade students.
"The 'Book Buddies' program was a collaboration with the kindergarten teachers," said middle school Family and Consumer Science teacher, Colleen O'Hara. "Each sixth grade FACS student was paired with a kindergartner "buddy". Our students made a snack for themselves and their "buddy,", and then were able to read books and play games with them. It was a great way for our students to see the real-life application to the skills we've been discussing."
District residents are reminded that Project 2021, the district's proposed capital improvement project, will be up for vote on Tuesday, November 14. A full listing of Project 2021 details are listed under the Project 2021 quick link at www.skanschools.org. More information will be out on the pending project in the coming weeks.
Keep in touch with events and happenings in relation to the Skaneateles Central School District by visiting online at www.skanschools.org or following the district's Facebook page at www.facebook.com/Skaneateles.Schools.