Haunted Hallways Fundraises for Hurricane Victims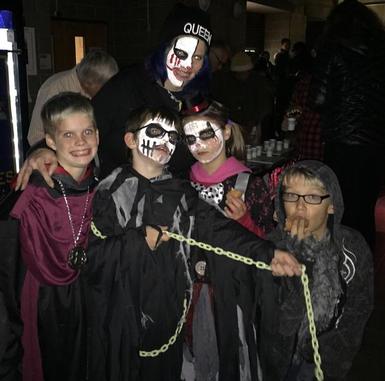 SKANEATELES, NY (November 1, 2017) – Skaneateles Central School's Haunted Hallways was another success, as hundreds of visitors took to Lakeview Penitentiary in the high school commons, raising $512 to help hurricane victims through a Rotary/Interact Club partnership with ShelterBox USA.
Skaneateles High School Interact Club students once again turned their high school hallways into Haunted Hallways for the 8th annual Halloween event held on Tuesday evening, treating the community to a ghostly place that provided plenty of frights and surprises.
Donation boxes at the event described the relief that ShelterBox USA brings to people affected by disasters such as hurricanes, earthquakes, flooding, or conflict.

Along with other Rotary Clubs throughout the world, the Skaneateles Rotary Clubs have joined ShelterBox USA in an effort to offer much-needed relief.

The Skaneateles Clubs have already purchased two ShelterBoxes equipped with a large tent that can sustain three to ten people for extended periods. In addition to sleeping bags, netting, cooking equipment and supplies, and water filtration systems, each box also includes a solar powered light.

The money raised at Haunted Hallways is halfway toward the purchase of another ShelterBox.
Skaneateles students were motivated to raise funds after ShelterBox representative and Rotarian Tom Deuson spent a day displaying the ShelterBox in the high school Commons.

"One million people have been helped with ShelterBox since it began in 2000," said Deuson. "The need is greater than it has been since WWII, with 85 million in need."

Haunted Hallways is put on each year by the Skaneateles Interact Club and other dedicated high school students. The staff organizer behind it all is Rotarian Karen Price.
District residents are reminded that Project 2021, the district's proposed capital improvement project, will be up for vote on Tuesday, November 14. A full listing of Project 2021 details are listed under the Project 2021 quick link at www.skanschools.org. More information will be out on the pending project in the coming weeks.
Keep in touch with events and happenings in relation to the Skaneateles Central School District by visiting online at www.skanschools.org or following the district's Facebook page at www.facebook.com/Skaneateles.Schools.