Students Experience Johnson Museum of Art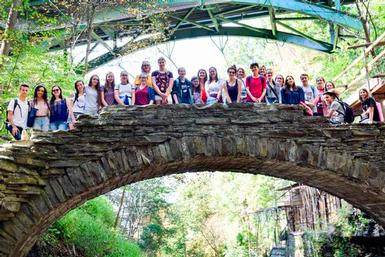 SKANEATELES, NY (October 26, 2017) – In a joint effort between the Skaneateles High School English and Art departments, students in the art classes of Jessica Sawchuk and Tracy Hale, as well as in the writing class of Aisha Mcconochy recently took a trip to Cornell University to experience the Johnson Museum of Art.

The trip was an all-day experience with students interacting with and taking in various works of art, photos, installation spaces, nearby gorges and even Vietnamese food before heading back to Skaneateles.

The day started with a trip to the Japanese garden as students stopped to draw sketches or take photos before viewing a photo show called Silsila.

The show Silsila, which means link in Arabic, consists of several photographic series and videos by artist Sama Alshaibi and is meant to represent the joining of individuals to one another, humans with the natural world, and the self to the divine.

The exhibit also featured a photo and video installation space, similar to what Ms. Sawchuk and Mr. Corey Riley have been working on at Skaneateles High School.

After responding to the show, students were then able to explore the entire museum in groups and were asked to select one piece of art they liked, and one they did not, and then provide a reflection of why.

Through the day students took several of their own photos and drew their own images, inspired by the works of art through the Johnson Museum.

"These trips are great because the students get to experience new things all day," said Sawchuk. "From artwork, to photos, and food – all of your senses are involved as you try new things you have never done before and are inspired by all of the work and drawings around you."

While in the museum, students were able to take in another unique experience.

"While we were there, the museum was actually putting together another art exhibit, so the students got to see what it was like to actually install an art show. Being a curator is another part of the art experience," said Sawchuk.

To end the say students took a walk through one of the Ithaca gorges before visiting a local Vietnamese restaurant, Saigon Kitchen, for a meal.

District residents are reminded that Project 2021, the district's proposed capital improvement project, will be up for vote on Tuesday, November 14. A full listing of Project 2021 details are listed under the Project 2021 quick link at www.skanschools.org. More information will be out on the pending project in the coming weeks.

Keep in touch with events and happenings in relation to the Skaneateles Central School District by visiting online at www.skanschools.org or following the district's Facebook page at www.facebook.com/Skaneateles.Schools.