MS Students Train Teachers in Google Lessons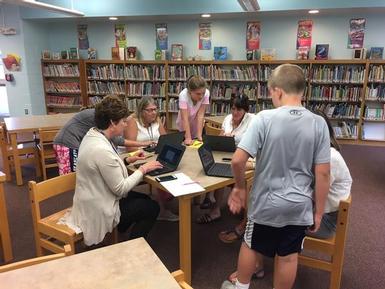 SKANEATELES, NY (October 26, 2017) – In a reversal of roles, Skaneateles Middle School students were recently put to the task of training teachers on the usage of Google.

Last year, Heather Buff's fifth grade class went to each third grade classroom at State Street Elementary School to teach students how to log into Google and how to use Google Docs and Slides.
This year, Skaneateles Central Schools saw the need to provide Google training to its elementary faculty, and decided to enlist the help of Mrs. Buff's former fifth grade students, who are now sixth graders at the middle school, to serve as teaching assistants.
Now serving as Technology Integration Specialist for the district, Mrs. Buff and her former students worked with 22 elementary teachers as a part of Google 1.0 training, teaching them the basics that included logging on to Google, accessing their Google drive, creating and sharing documents, and getting comfortable with the basic functions of Google.
"As I taught the class, the kids were at each table of teachers, helping them with their individual questions," said Buff. "The kids were fantastic and it was well received by the faculty. We are now preparing for Google 2.0, which will expand their knowledge of Google even further."
The sixth grade students are even a part of the lesson planning for Google 2.0.

"The kids have advised me on what skills they think we should focus on in the next series," said Buff. "We have 24 teachers signed up for 2.0."
Students involved in the training included Braeden Weeks, Nora Curtis, Cydney Pitman, Jack Harvey, Owen Chabot, and Thomas Gerst. Mrs. Buff's daughter Megan, a sophomore, also assisted in the training.
Google 2.0 was another success for students and faculty, with the potential for more training opportunities in the future.
District residents are reminded that Project 2021, the district's proposed capital improvement project, will be up for vote on Tuesday, November 14. A full listing of Project 2021 details are listed under the Project 2021 quick link at www.skanschools.org. More information will be out on the pending project in the coming weeks.
Keep in touch with events and happenings in relation to the Skaneateles Central School District by visiting online at www.skanschools.org or following the district's Facebook page at www.facebook.com/Skaneateles.Schools.