Scholastic Book Fair Open through September 29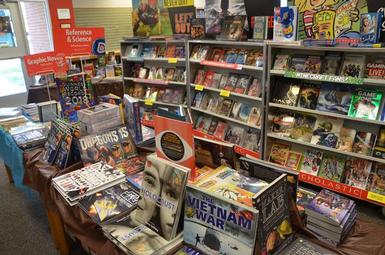 SKANEATELES, NY (September 26, 2017) – The Scholastic Book Fair is open in the Skaneateles Middle School Library through September 29 from 7:45 a.m. – 3:00 p.m. daily.
The Scholastic Book Fair is a reading event that brings to school the books that kids want to read. The collection includes a wonderful selection of engaging and affordable books for all reading levels.
The Book Fair will keep special hours on Thursday, September 28 during Parent Information Night at the Middle School, as doors will be open from 7:00 – 9:00 p.m. The Parent Teacher Committee will be providing refreshments during this time.
"We'll be using the money that is collected from this fair to purchase books that will be here, housed in the library," said Skaneateles Middle School Media Coordinator, Kelly Gunderson. "It updates our collection and it is something we are really excited about having this year."
Before you visit the Book Fair, be sure to download the Book Fairs app. Visit www.scholastic.com/apps/bookfairs to do so.
In addition, if you are unable to attend the Book Fair in person you can visit the school's online Book Fair at www.scholastic.com/bf/skaneatelesmiddleschool.
District residents are reminded that Project 2021, the district's proposed capital improvement project, will be up for vote on Tuesday, November 14. A full listing of Project 2021 details are listed under the Project 2021 quick link at www.skanschools.org. More information will be out on the pending project in the coming weeks.
Keep in touch with events and happenings in relation to the Skaneateles Central School District by visiting online at www.skanschools.org or following the district's Facebook page at www.facebook.com/Skaneateles.Schools.