Portion of Homecoming Proceeds to Hurricane Relief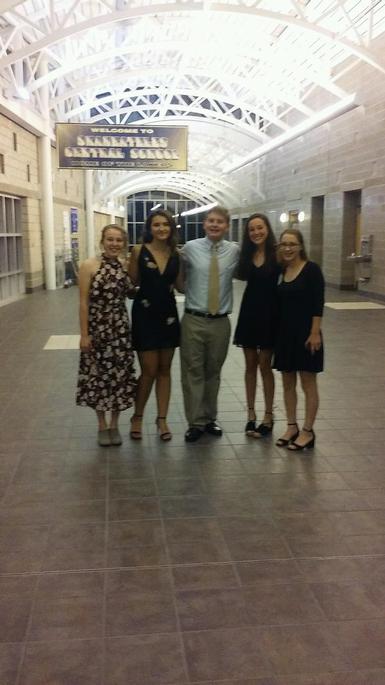 SKANEATELES, NY (September 26, 2017) – On Saturday, September 16, Skaneateles High School held its annual Homecoming Dance in the high school gymnasium, with a portion of the dance's proceeds going to help hurricane relief in the United States.
More than 285 students attended the dance, which ran from 7:00 – 10:00 p.m.
The night's entertainment included a DJ, who invited students to participate in dance contests, provided music of their choice, and glow stick giveaways.
Part of the gym featured a café set-up, several games of corn hole, and the courtyard was opened for students looking to take a break from the action.
A dessert table offered a variety of bite-sized sweets, water, and juice.
The Homecoming Dance is the junior class fundraiser for the year to help offset the cost of prom.

Homecoming Committee members include Ruby Ramsgard, Jordan Senn, Michael Lovier, Gracie Lee, and Lily Simmons.
District residents are reminded that Project 2021, the district's proposed capital improvement project, will be up for vote on Tuesday, November 14. A full listing of Project 2021 details are listed under the Project 2021 quick link at www.skanschools.org. More information will be out on the pending project in the coming weeks.
Keep in touch with events and happenings in relation to the Skaneateles Central School District by visiting online at www.skanschools.org or following
the district's Facebook page at www.facebook.com/Skaneateles.Schools. (Pictured are Homeoming Committee members Ruby Ramsgard, Jordan Senn, Michael Lovier, Gracie Lee, and Lily Simmons.)