Updates From the District Office
---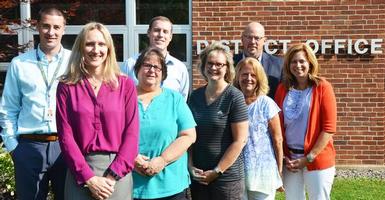 Dear SCS parents and community members:

Hoping this finds each of you well and enjoying a Central New York summer with all that it brings with it. As we have rounded the corner of the halfway mark of our summer, I wanted to provide you with a few updates regarding the goings-on within the district and in our schools in particular.

1. ENROLLMENT INCREASES/ BUILDINGS AT CAPACITY/DISTRICT & BUSINESS OFFICES RELOCATED:
As many of you may be aware, due to an increase in kindergarten enrollment for the upcoming school year, we have moved our district offices back to our previous location, 45 East Elizabeth Street. Both the Waterman and the district office buildings are now at full capacity. In addition to kindergarten, we've already had 30 new students register for the coming year; a trend that we are very happy to see! At the middle and high schools, we are now leasing 3 vacant classrooms to the Cayuga – Onondaga BOCES for the upcoming year. Not only does this make best use of the space, it allows a number of Skaneateles students enrolled in these classes to stay "at home" for their education. Be sure to check out our "back-to-school newsletter" later this month for updated enrollment figures as we enter the new school year. In the meantime, we often are asked the question as to when we will be closing a building, a topic that was under discussion some years back. Based on current enrollment and the associated use of space;, the trends that we are seeing in additional enrollment throughout the summers; the repurposing of some of our existing spaces (BOCES classrooms, art installation classroom, adapted physical education classroom, STEM labs, etc.), I do not envision a time in the near future where this would be considered.

2. SECURITY & SAFETY UPGRADES/CONSTRUCTION & FACILITIES MANAGEMENT:
Security, safety, and efficiency are at the forefront of a number of small building projects currently underway at each of our school buildings this summer. The majority of work is taking place at the middle and high schools. Meanwhile, we are also awaiting final approval from the state education department on our transportation facility located on the west end of the village. Expect to see work going on in the following places:
Middle & High Schools

Security & Safety: We are installing new cameras, phone & public address systems, and securing door access points. Stairways on the western side of the high school are being replaced, along with a number of exterior doors in both buildings due to significant deterioration over the years. Asbestos removal continues, and we are installing new ceilings, lighting, and portions of walls where significant asbestos removal took place during last summer's construction project.
Energy Efficiency: Crews are installing one new hot water boiler (furnace) in the high school and new classroom unit ventilators (heating and fresh air units) in both buildings. The boiler and unit ventilators are original to the buildings and are for heating and ventilation only. These are NOT air-conditioned units.

Waterman & State Street Schools

Security & Safety: Wiring is being installed to support new security cameras, door access points, new phone system, and fire alarm systems.

Transportation Center on Route 20:

Security & Safety: Deteriorating exterior walls and windows on the south end of the building have been replaced along with a mechanical exhaust fan. The roof and interior drainage issues have been fixed.

Other points of importance....

3. SPRING BUS INCIDENT:
On the morning of the last day of school for high school students, most of you are aware that the tires on a number of our buses were flattened. While our cameras showed images of two individuals running through the bus yard, we were not able to make out specific descriptions of the individuals, nor were subsequent interviews by the state police and the district able to determine any substantial leads on this issue. Accordingly, no action has been taken at this time.

4. ON-GOING COMMITMENT TO STUDENT WELLNESS, ACTIVITIES, & ATHLETICS:
Mr. Stephen Musso has joined the district as our new director of these areas. Steve has been with the district for just over three weeks now and is hard at work on a number of issues in each area of his responsibility. Steve's experience in each of these areas in previous districts made him an outstanding candidate and the district is fortunate to have him on our team now as we work to align our programs with our focus on student wellness and to our larger district strategic plan. Currently, he is preparing our coaches and programs for the upcoming athletics season which starts next week. More to come!

5. STAY INFORMED: BACK TO SCHOOL NEWSLETTER & PROJECT 2021:
In our upcoming beginning of year newsletter, in addition to Mr. Musso, we will introduce you to new employees and provide additional information about Project 2021, a district wide building project that we will ask the community to vote on November 14 this fall. In the meantime, please visit our website at www.skanschools.org to read a letter from Board president Susan Murphy on this project and also click on the Project 2021 QuickLink on the front page of our website for more information.

I wish you all an enjoyable remainder of the summer and look forward to seeing you at the many events that the district hosts in the fall.

Ken Slentz
Superintendent of Schools