Class of 17 Celebrates with Dip in the Lake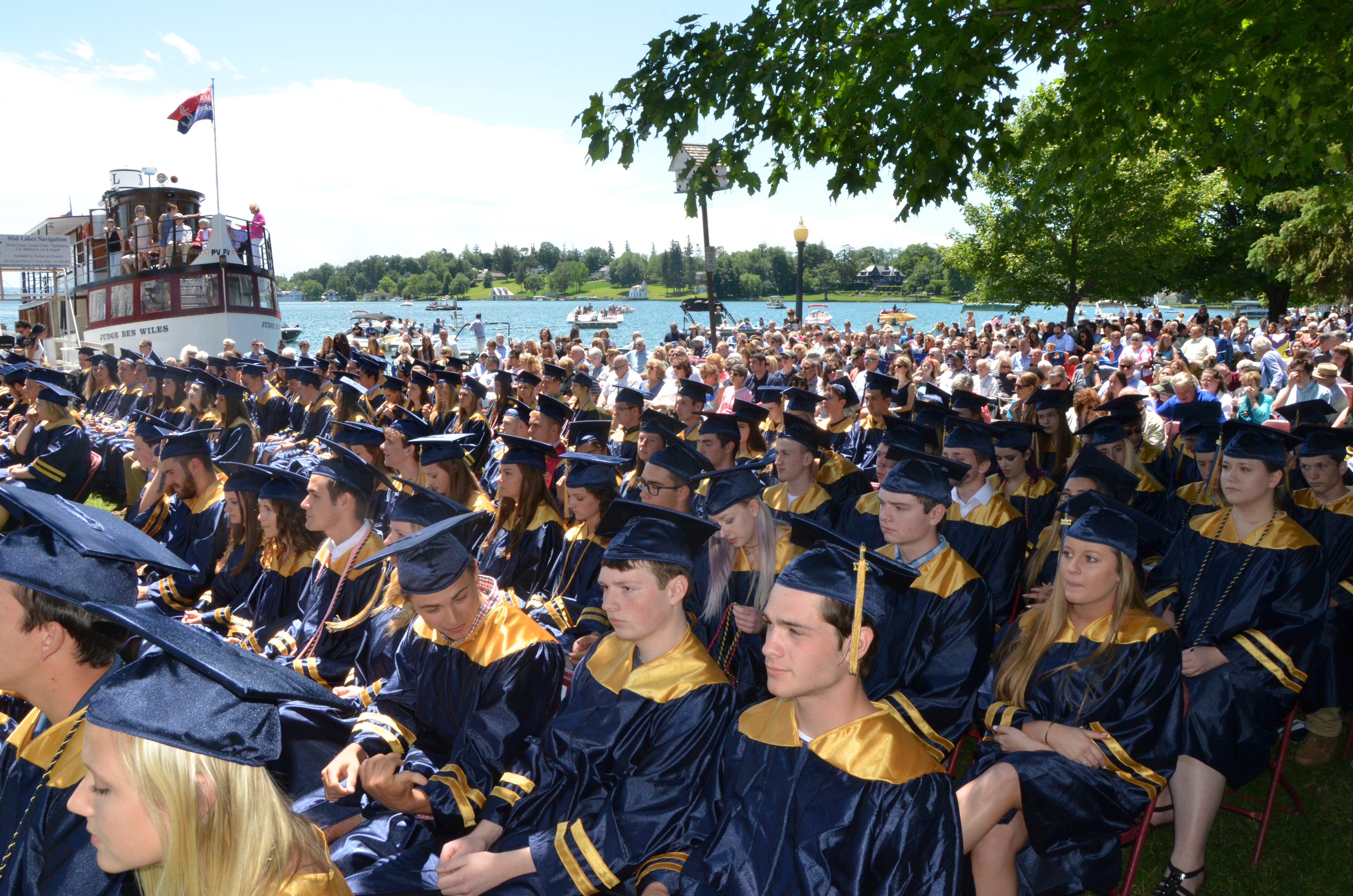 SKANEATELES, NY (June 27, 2017) – In a tradition for the ages, the 129 student Class of 2017 at Skaneateles High School ended their commencement on Sunday in Clift Park by taking a dip in Skaneateles Lake.

As has become tradition, following the presentation of diplomas by Skaneateles Central Schools Superintendent Ken Slentz and the tossing of caps, students immediately charged through the center row of chairs to take their first jump into the lake as Skaneateles graduates.

The dip in the cool lake, under bright sunny skies, brought an end to the lakeside commencement ceremony which took just over an hour, recognizing the Class of 2017 and its accomplishments.

The afternoon began with the singing of the National Anthem as well as the Skaneateles High School Alma Mater by members of the choir and high school band, before honorary class speaker Anthony Panasci welcomed the crowd and his fellow classmates.

Class of 2017 Salutatorian, Sophie Kush, would be the first featured speaker of the afternoon addressing her classmates for the final time before she heads off to Brown University in the fall.

High School Principal, Gregory Santoro, would then introduce several special award recipients before welcoming to the stage, Ethan Goldstein, the Class of 2017 Valedictorian.

Goldstein, who will attend Georgetown University in the fall, reminded his classmates that no matter if they are attending college, the military, or moving into the workforce; graduation is not an end, only a beginning.

Board of Education Preseident, Thomas E. Lambdin, would next address the crowd before Superintendent Slentz was welcomed to the stage to begin the presentation of diplomas.

From there the graduates tossed their caps and took a swim as they prepare to leap into the future – college, career, and citizenship ready. From the classroom to the stage, in sports arenas, and beyond, the Class of 2017 left a lasting impression.

Principal Santoro described this year's class as "Confident, Committed, and Courageous." Santoro added, "There is no doubt that the students in the Class of 2017 have given their extra 10%."

Keep in touch with events and happenings in relation to the Skaneateles Central School District by visiting online at www.skanschools.org or following the district's Facebook page at www.facebook.com/Skaneateles.Schools.