8th Graders Experience Career Day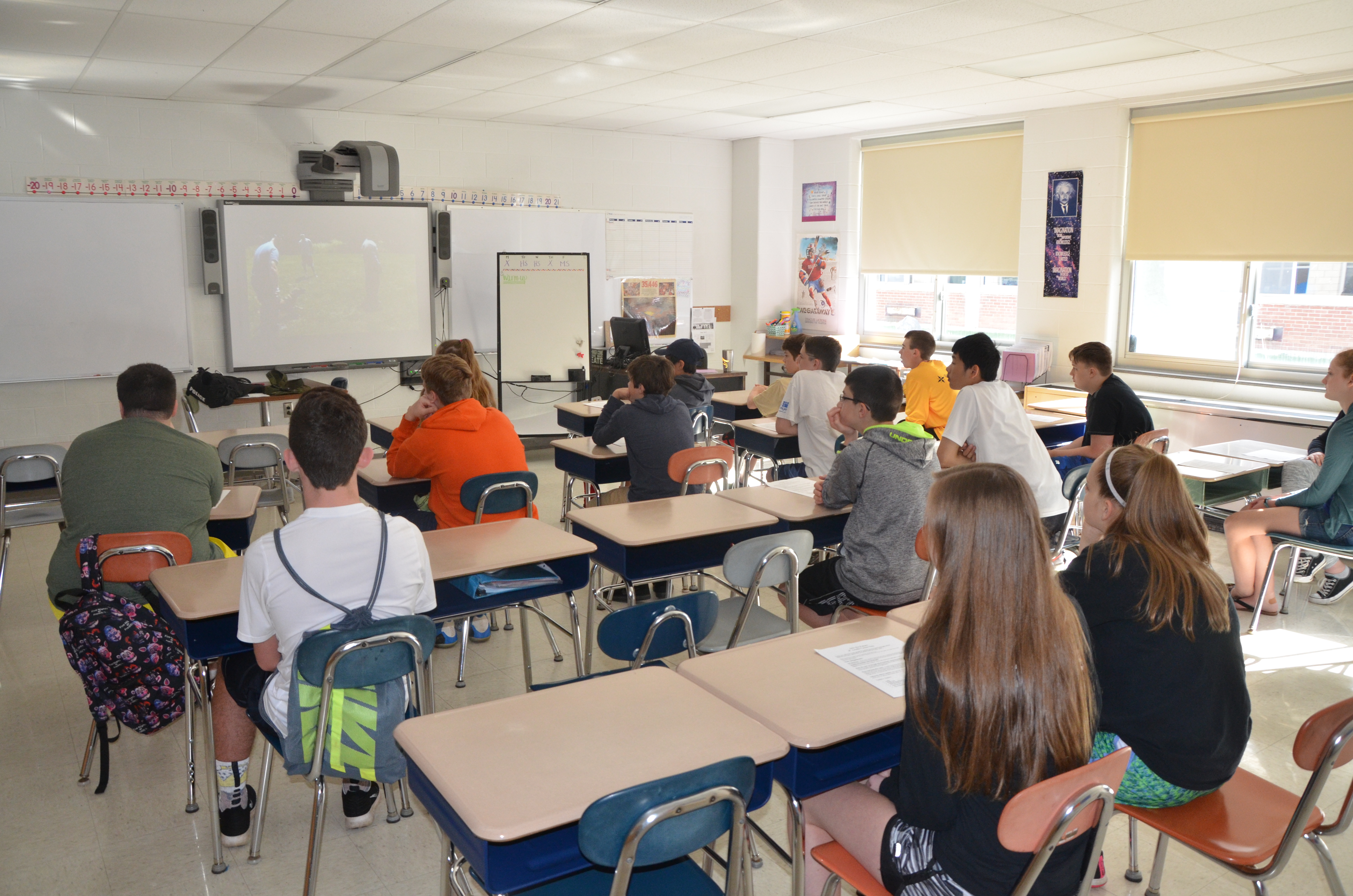 PHOTO - Skaneateles Middle School 8th graders enjoy a video presentation by New York State Trooper Kylie Black about their special K9 unit. (Dan Kapuscinski photo)
SKANEATELES, NY (June 2, 2017) – The Skaneateles Middle School 8th grade class took part in Career Day on Friday, as students were introduced to different careers through energetic community members.
Following a group meeting in the Skaneateles High School Auditorium, where high school principal Gregory Santoro addressed all students as their future principal, the students broke up into several groups to visit and learn what several community members do for their careers.
As a part of the meetings, students also gained knowledge on how each individual got to this point in their career and also discussed how they realized that their chosen career was right for them.
Through props, stories of life experiences and interactive videos the students were able to interact with each Career Day volunteer to see how their classroom studies and other experiences connect with future careers.
A new addition to this year's Career Day was a portion of the program that was aimed at building a bridge to the next four years for each student.
While focusing on life after high school has always been the goal, this year's Career Day also helped students to prepare and make the most of their next four years while they are in Skaneateles High School.
During the day students were also able to hear from high school students to gain a better understanding of what the high school has to immediately offer them as they begin their career explorations.
A host of Career Day volunteers and mentors took part in the afternoon.
The trade industries featured Skaneateles graduate Jeff Haines, a successful contractor and business owner, as well as high school BOCES students TJ Greenfield and Brahm Malcolm.
A Health Care section included high school nurse Brittany Gray, Dr. Glowacki, and Danny O'Connell a recent Skaneateles graduate now studying nursing at St. John Fisher College.
Engineering and Technology included engineer Diane Buell, teacher Corey Riley, as well as high school students Amelia Huba, Madie Rhoad, Nick Paciorek, Evan Peer, and Christopher Burgher.
New York State Trooper Kylie Black represented Civil Service and Law Enforcement with a K9 unit presentation.
Food service and farm to table foods featured Stephen Landon and Skaneateles Central School's Emily Cullen.
The Arts included actor and Auburn Public Theater owner Carey Eidel, WCNY Producer Erin McCormack, and high school student Taylor Carr.
Keep in touch with events and happenings in relation to the Skaneateles Central School District by visiting online at www.skanschools.org or following the district's Facebook page at www.facebook.com/Skaneateles.Schools/.