20 Years of Envirothon at Skaneateles High School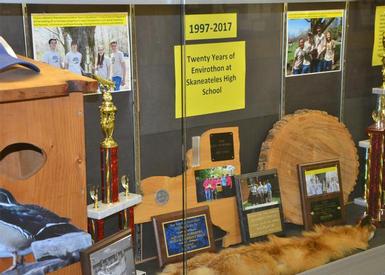 SKANEATELES, NY (May 19, 2017) – Skaneateles High School is celebrating 20 years of participation in the New York State Envirothon competition this month as five students will take part in the annual gathering which will take place May 24-25 at Hobart & William Smith Colleges in Geneva, NY.

Biology and Ecology teacher Rick Garrett serves as the Envirothon advisor and guided Skaneateles High School into the competition back in 1997.

"We first entered the program back in 1997 and the regional competition was held at Filmore Glen State Park," said Garrett. "It was highly memorable because we did not know what to expect and were surprised to perform so well. That spurred our enthusiasm for the program and we began a long run of success that has continued to this day."

The Envirothon competition tests students' knowledge and understanding of natural resource issues within New York State. The spirit of competition is then used to help stimulate the students' interests in environmental concerns and motivate them to further develop their skills and grow into environmentally-aware, action-oriented adults.

The Envirothon is split into county and state competitions. County winners move to the state competition where their knowledge is challenged in five areas: aquatic ecology, forestry, soil and land use, wildlife, and current environmental issues.

This year Skaneateles students Shane Rutledge, Ian Frackelton, Lily Simmons, Nick Piciorek, and Justin Wolford have advanced to the state competition.

"Last year we placed fourth at the state level," said Garrett. "We have been one of the strongest teams in New York State over the last 20 years, placing in the top five for 16 of the last 19 years."

Two of those teams were crowned as New York State champions in 1999 and 2000, advancing to the national championships held in California and Nova Scotia.

Since 1997 close to 270 Skaneateles students have been on Envirothon teams learning about forestry, wildlife, soils, and aquatic ecology.

"It's memorable when my seniors choose to study fields related to environmental sciences in college and tell me that Envirothon had an influence on that decision," said Garrett. "To date we have collected close to 60 plaques and trophies that represent symbols of student knowledge and enthusiasm for the environmental sciences."

Keep in touch with events and happenings in relation to the Skaneateles Central School District by visiting online at www.skanschools.org or following the district's Facebook page at www.facebook.com/Skaneateles.Schools/.