NJHS Raises Money for WE Charity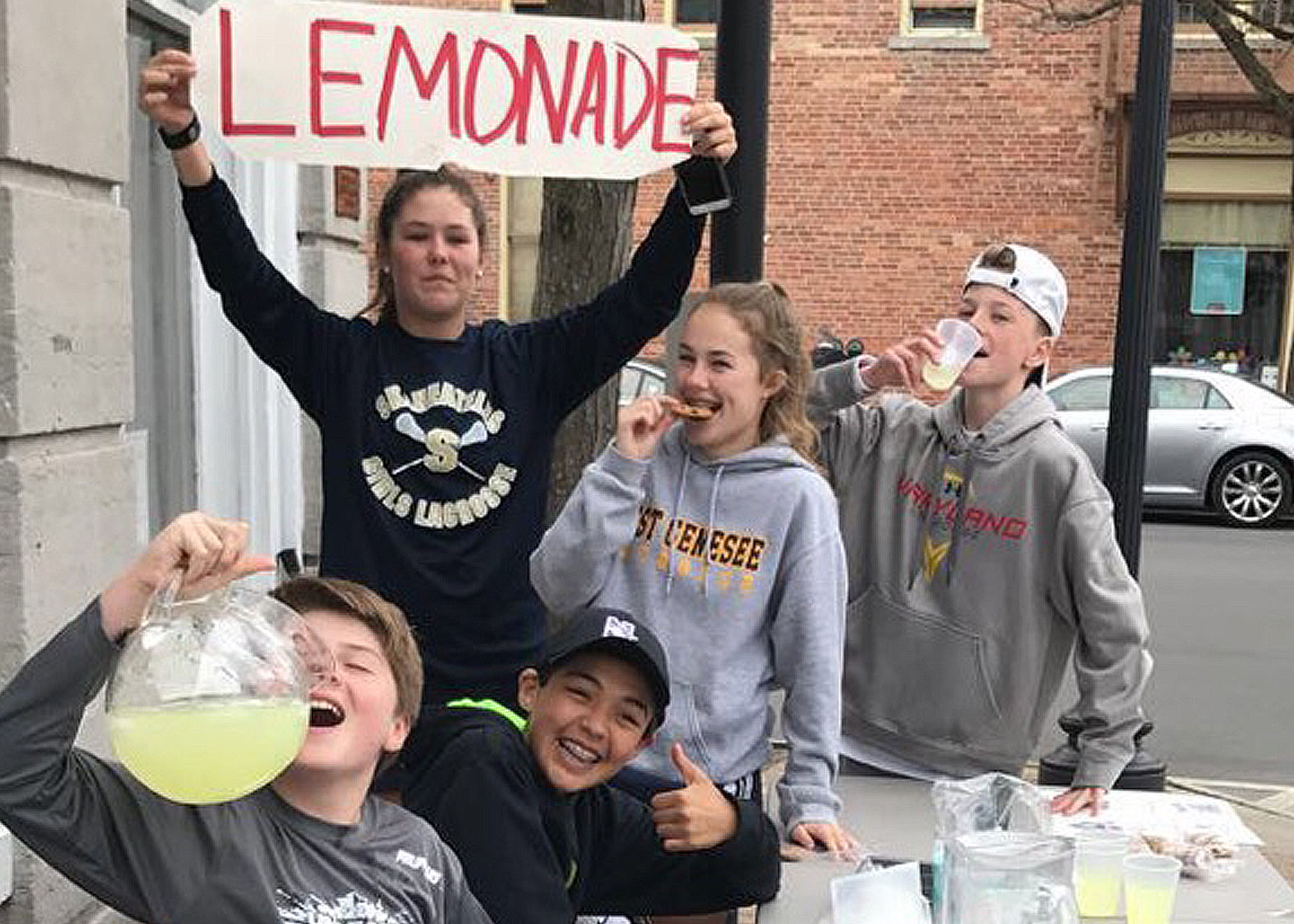 SKANEATELES, NY (May 4, 2017) – Members of the Skaneateles Middle School Junior Honor Society recently took it upon themselves to set up a lemonade and cookie stand in downtown Skaneateles to raise money for the impoverished through www.we.org.

The group raised close to $300 for the cause, selling lemonade for $1.50 and cookies for $1.00. Another group then followed suit and raised an additional $75.

Skaneateles Middle School counselor Chris Viggiano and social studies teacher Josh Williams are adding to the cause as well as 7th grade E.L.A. classes. Proceeds from a 'Casual Friday' donation at the middle school will also be added in to help the overall donation level to approach $1,000.

A non-fictional article in a seventh grade textbook written by the twelve year old who founded Free the Children, now known as WE Charity, inspired the donations.

Last year Williams and the National Junior Honor Society raised $250, providing a family with clean water for life. This year the group anticipates growing that number by nearly four times.

"Water, nutrition, immunizations, and education will be provided for a good number of people. Lives will be saved," said Williams. "Our students have hearts of gold and genuine compassion for others. I couldn't be more proud of what we are in the process of doing."

Viggiano provided a list of students taking part in the fundraiser including Erin Guthrie, Makenzie Miller, Logan Miller, Emma C. Miller, Andrew Moss, Duncan Raddant, Mark Lombardi, Ryan Willard, Aidan Chabot, Maggie Newton, Parker Glowacki, Owen Curtis, Campbell Torrey, Kate Aberi, Grace King, Ireland Walker, and Kendall Tillotson.

WE Charity and the WE Movement bring people together and gives them tools to change the world.

WE Charity carries the power of WE globally, empowering communities to lift themselves out of poverty through their holistic and sustainable international development model, as well as Free The Children's WE Villages.

In Canada, the US, and the UK, WE Day and WE Schools are initiatives of WE Charity that educate and empower young people. WE Schools is a yearlong educational program that nurtures compassion in students and gives them the tools to create transformative social change. WE Day is a series of stadium-sized events that celebrate youth making a difference in their local and global communities.

For more information visit www.we.org.

Keep in touch with continued Project 2021 coverage as well as events and happenings in relation to the Skaneateles Central School District by visiting online at www.skanschools.org or following the district's Facebook page at www.facebook.com/Skaneateles.Schools/.