Look who was "Caught Giving Their Extra Ten Percent"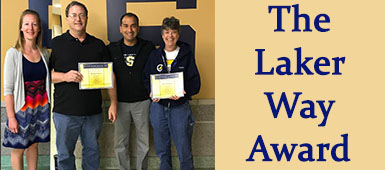 We're all doing it, but please join us in congratulating the staff who were nominated for The Laker Way award for April 2017!

Matt Slauson
I would like to nominate Matt Slauson for the Laker Way Award. Matt and I are working on an extra curricular assignment with students in both his tech classes and my art classes in learning how to make jewelry. Where it began as a few simple techniques, Matt has gone above and beyond in teaching us many different tools and techniques we can use. His enthusiasm has sparked many ideas in the students (and myself), and he has shown how we can incorporate art and technology together.

Tammy Dudden
I nominate Tammy Dudden for the Laker Way Award. The time and attention she has given to the Naturalization Ceremony taking place this week is inspirational! She has worked for months to make sure all Naturalization Candidates will feel welcome and all dignitaries and official guests will be safe. Her organizational and project management skills are sure to put the Skaneateles School community in the best light possible during this special event.

Kate Hardy (not present for photo)
I would like to nominate Kate Hardy for this month's Laker Way Award. Kate has gone above and beyond while creating her film project for the Speak Truth to Power program. She works tirelessly along with her students in creating a meaningful and memorable films each year. For the past few years her students have won awards for their films and this year she had two projects receive awards one being the grand prize.

Downloads