Pastry Chef Talks Shop with Eighth Graders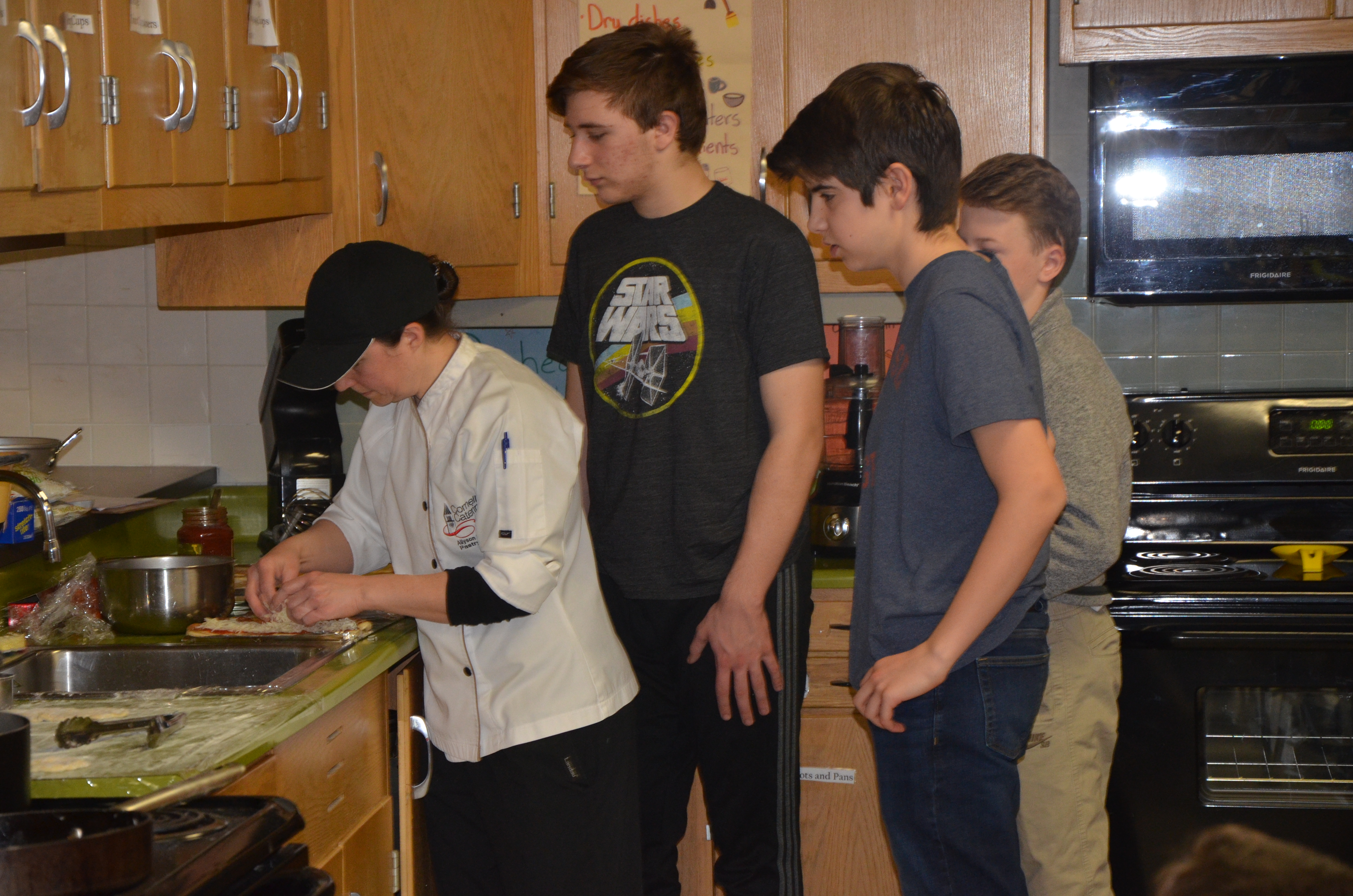 PHOTO - Pastry chef Ally Landon works with students to make naan flatbread pizzas during her class discussion on Thursday. (Dan Kapuscinski photo)


SKANEATELES, NY (April 6, 2017) – Ally Landon, a pastry chef with Cornell Catering, visited Colleen O'Hara's eighth grade home and careers classes on Thursday morning to talk about the importance of kitchen safety, alternative proteins, and her career path in the food industry.

With the help of the students in attendance, Landon put together naan flatbread pizzas while telling her story and teaching students along the way.

"The food service business is a very tough business. It's very physically demanding," Landon told students. "But right now there is a lot of demand whether you are into business or management, nutrition, or cooking and baking."

Landon explained proper techniques of using an assortment of cutlery and guided students through a naan bread recipe which used protein rich ingredients such as quinoa and garbanzo beans.

From learning how to expertly slice peppers and onions to kneading bread, students got a first-hand look at how a chef operates while being able to ask questions through the process.

"Growing up I did not realize you could go to school just for cooking and baking," said Landon. "But when I knew, that was it; I knew what I wanted to do. I found that it was difficult though to focus on one thing. I had to learn multiple parts of the industry in order to make it a career."

Landon's career has taken her all through the northeast and eventually back here to central New York.

"No matter the career you go into it is important to find a place that is going to teach you, train you, and let you grow," said Landon.

Keep in touch with events and happenings in relation to the Skaneateles Central School District by visiting online at www.skanschools.org or following the district's Facebook page at www.facebook.com/Skaneateles.Schools/.