SCS Officials Accept 'School Safety Excellence Award' in Syracuse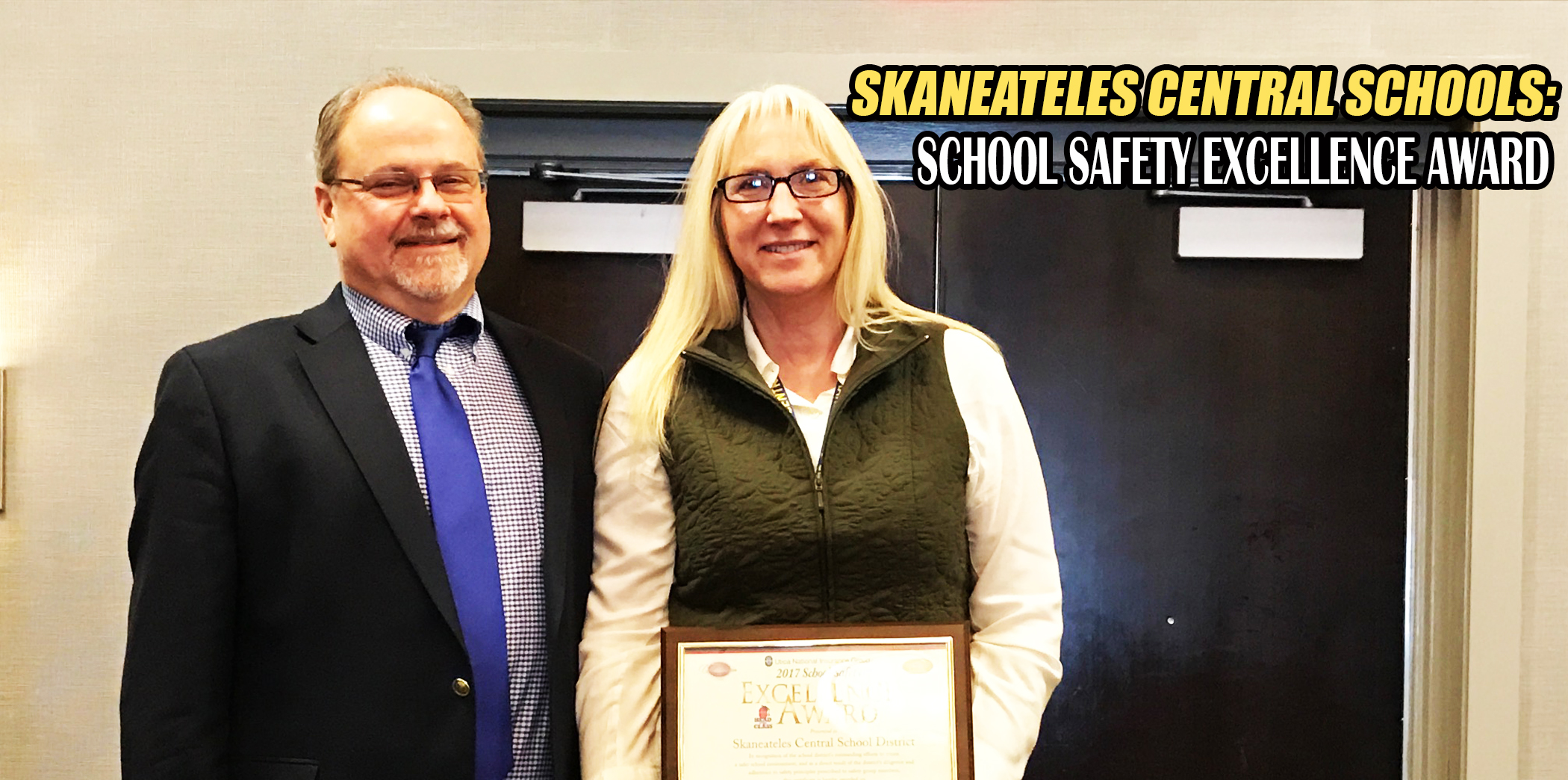 PHOTO - BOCES Safety Coordinator Mark Snyder and SCS Assistant Director of Facilities Elaine MacLachlan accepted the district's 'School Safety Excellence Award' at the 37th annual Utica National school safety seminar on Monday in Syracuse. (SCS Photo)
SKANEATELES, NY (March 23, 2017) – Skaneateles Central School District is one of 136 school districts and Board of Cooperative Educational Services (BOCES) in New York to receive the Utica National Insurance Group's 'School Safety Excellence Award' for 2017 at the Titanium with Honors level.
Skaneateles Central School's Assistant Director of Facilities Elaine MacLachlan and BOCES Safety Coordinator Mark Snyder were joined by the district's Assistant Business Manager Christine DeMass in accepting the award at Utica National's 37
th
annual school safety seminar held at the Syracuse Double Tree Hotel on Monday.
The honor is presented annually and recognizes school districts' safety efforts as they work to keep students, staff, and visitors safe.
The certificate of achievement came with a $500 award for use in furthering those efforts from Utica National representatives.
"Safety and health concerns continue to be a priority in our school districts," explained Brian Saville, a Resident Senior Vice President in Utica National's Educational Institutions Unit. "Districts that go above and beyond to provide a safe, healthy and focused culture for learning are to be applauded, and we're pleased to count Skaneateles Central Schools among them."
Keep in touch with events and happenings in relation to the Skaneateles Central School District by visiting online at
www.skanschools.org
or following the district's Facebook page at www.facebook.com/Skaneateles.Schools/.