Mark Wood to Perform at Skaneateles High School Tomorrow, Student Rehearsals Underway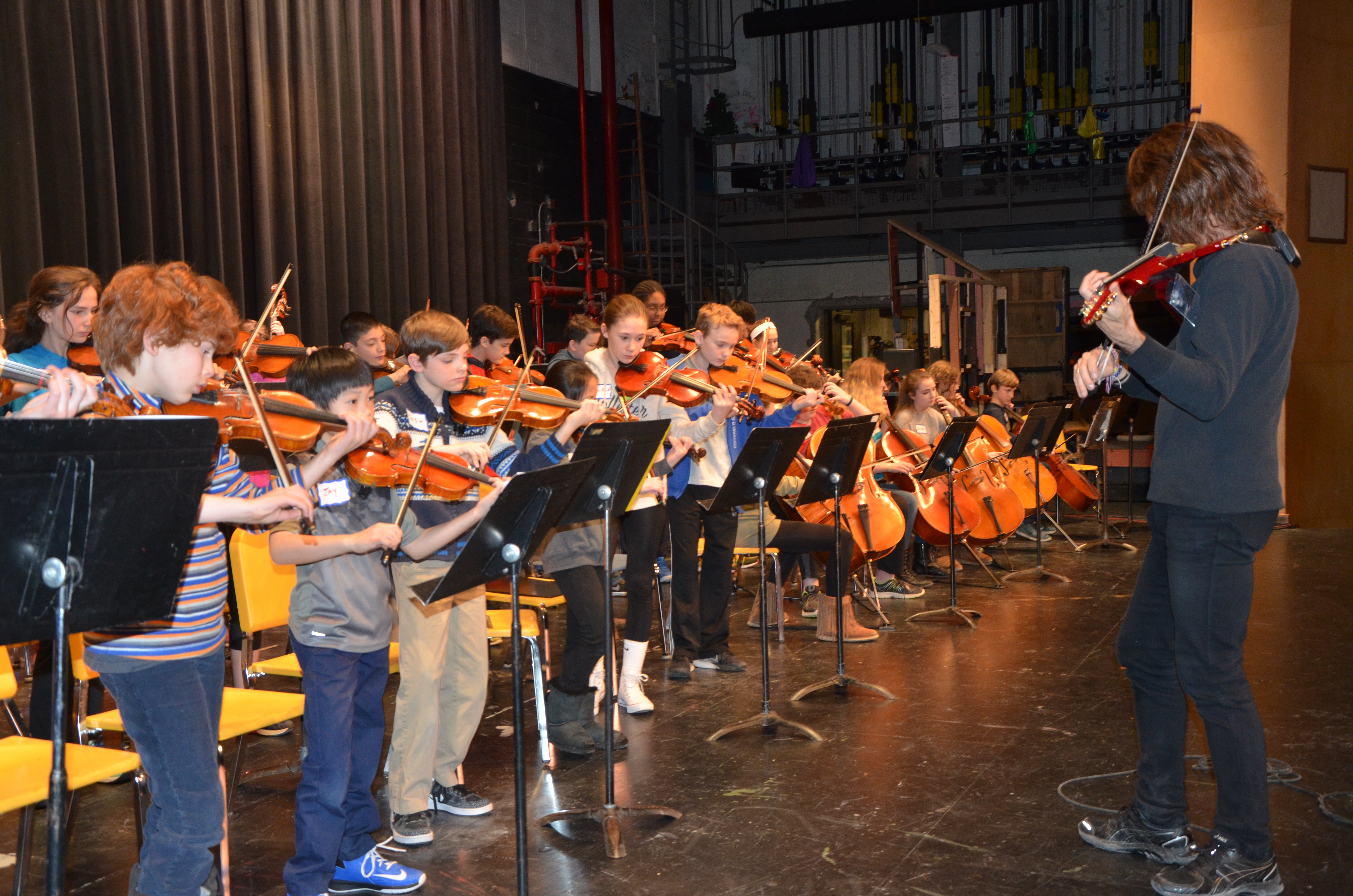 SKANEATELES, NY (March 13, 2017) – For the first time since 2012, Grammy-Award winning rock violinist Mark Wood will return to the Skaneateles High School Auditorium on Tuesday as a part of the 2017 "Lead Your Students to Victory" tour. Student rehearsals for the performance have been ongoing throughout the day on Monday.

The electrifying performance, which will see Wood perform with Skaneateles Orchestra students, will begin at 7 p.m. on Tuesday.

Wood took time through the day on Monday to meet and rehearse with the high school, middle school, and State Street orchestras to go over specific pieces that will be performed Tuesday evening as well as reinforcing the importance of discipline, practice, and "feeling" the music.

With students standing out of their chairs, tapping their feet, and moving to the music – Wood tuned up each orchestra with smiles and upbeat rehearsals on Monday.

"We are excited to have Mark work and perform with us," said Karen Veverka, Director of the Skaneateles High School and Middle School Orchestras. "His music-making is passionate and inspires us to play at our highest levels."

A world-renowned performer, Wood rose to fame as string master and original member of the internationally acclaimed Trans Siberian Orchestra.

A successful solo artist, Wood writes and records original music for film and television, has released six solo albums, and tours with his band The Mark Wood Experience. In addition to his solo work, Wood has collaborated and appeared alongside some of the biggest names in music such as Lenny Kravitz, Celine Dion, Kanye West, and Paul McCartney.

Wood's true passion however is music education and his program Electrify Your Strings, now in its 17th year, is an intensive rock and roll workshop for music education departments that boosts student self-esteem and motivation and helps raise money for music education.

Today, Electrify Your Strings visits upwards of 75 schools per year and has reached more than 100,000 students.

Advance tickets for the March 14 show are currently available for $10 by visiting online at showtix4u.com under the event name "Mark Wood 2017 Victory Tour". Tickets will also be available at the door for $15.

A portion of ticket sales will go towards programs for students throughout the Skaneateles Central Schools district, through BOCES Arts-in Education funding.

"Please join us as we celebrate communication, discipline, and the power of music," said Veverka.

Keep in touch with events and happenings in relation to the Skaneateles Central School District by visiting online at www.skanschools.org or following the district's Facebook page at www.facebook.com/Skaneateles.Schools/.