Successful Community Demonstration Sets Stage for OOTM Regionals Saturday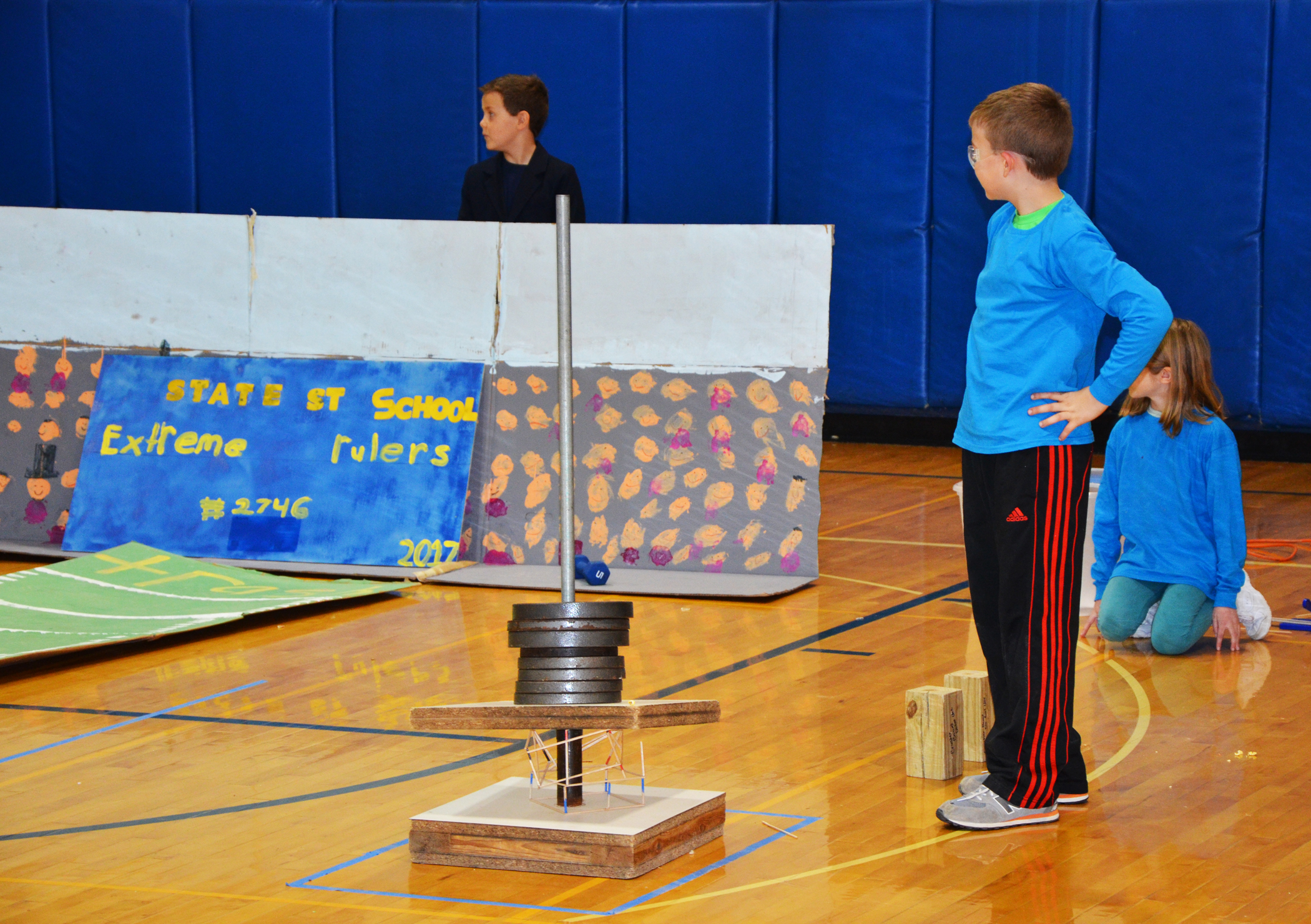 PHOTO- Third and fourth grade students from State Street School were put to the task of building a balsa wood, load bearing structure, for their Odyssey of the Mind project. Students will compete in the regional competition for OOTM this Saturday, March 11 on the campus of Cayuga-Onondaga County BOCES. (Dan Kapuscinski photo)
SKANEATELES, NY (March 9, 2017) – On Wednesday evening ten teams from Skaneateles Central Schools competing in the upcoming Odyssey of the Mind regional competition were able to display their programs during a community demonstration held at State Street School.
Odyssey of the Mind is a creative problem solving competition that teaches students how to think divergently by providing open-ended problems that appeal to a wide range of interests. Students learn how to identify challenges and to think creatively to solve the problems at hand.
Skaneateles Central School teams in Odyssey of the Mind are open to students in grades 3-12, and consist of seven members per team.
The March 11 regional competition held on the Cayuga-Onondaga County BOCES campus will see Skaneateles students compete against other teams from school districts that comprise the Cayuga-Onondaga BOCES department. Winners from the regional competition will then move on to the New York State competition to be held in Binghamton, NY on April 8.
Teams placing first or second in the state level competition will then be invited to take part in the world competition in May at Michigan State University. Since 1982, sixteen Skaneateles teams have advanced to the world competition, with two first place champions.
Wednesday's community demonstration was performed in front of a packed State Street School gymnasium with teams taking part in everything from detailed skits, to vehicle build demonstrations, and load bearing structure demonstrations.
The 10 Skaneateles Central School teams (eight from State Street School, one from the Middle School, and one from the High School) were formed in October and have been working on their problems since. Meeting one to two times per week to prepare, solutions for the problems are devised totally by the team members.
Teams are coached by volunteer parents and teachers, but all work is hands-on for kids and hand-off for adults.
Each year Odyssey of the Mind provides a set of problems for teams to take on. This year's problems are titled "Catch Us If You Can", "Odd-a-Bot", "It's Time, OMER", "Ready, Set, Balsa, Build", and "To Be Continued: A Superhero Cliffhanger."
Specific descriptions of the problems can be found online at
www.odysseyofthemind.com
.
The March 11 regional competition will begin at 8:30 a.m. and run until approximately 1 p.m.
Keep in touch with events and happenings in relation to the Skaneateles Central School District by visiting online at
www.skanschools.org
or following the district's Facebook page at www.facebook.com/Skaneateles.Schools/.