Student-Athletes Participate in Leadership Conference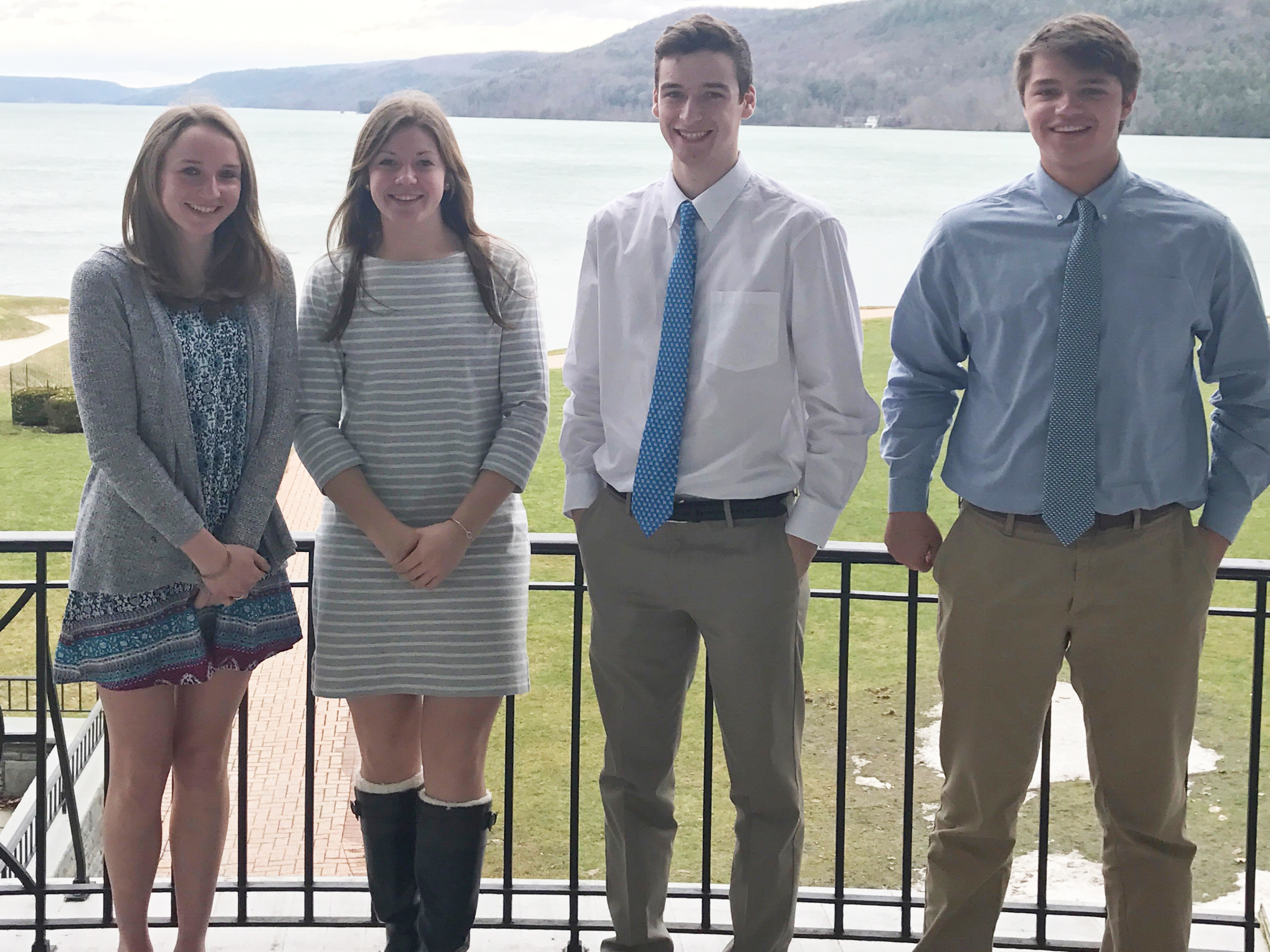 PHOTO- Natalie Condon, Abby Kuhns, Tom Scherrer, and Ken Peterson (pictured left to right) took part in the second annual Cooperstown Central School Student-Athlete Leadership Conference on March 1 held at the Otesaga Resort Hotel in Cooperstown. (SCS Photo)
SKANEATELES, NY (March 8, 2017) – A group of four Skaneateles High School student-athletes took part in the second annual Cooperstown Central School Student-Athlete Leadership Conference on March 1 held at the Otesaga Resort Hotel in Cooperstown.
Juniors Natalie Condon, Abby Kuhns, Ken Peterson, and Tom Scherrer traveled to the conference with Skaneateles High School Assistant Principal & Director of Student Athletes & Programming Michael Major as well as Skaneateles Central Schools Superintendent Ken Slentz, who also took part in the conference as a key-note speaker.
The Cooperstown Central School Leadership Training for Athletes Program welcomed approximately 150 student-athletes representing nearly 30 school districts around Central New York to the conference.
The program featured several workshops and guest speakers centered on helping student-athletes to recognize how leadership application in athletics can be applied to their daily lives, positively affecting not only their fellow teammates – but friends, family, and community.
Natalie Condon, a member of the Skaneateles High School cross country and track teams, talked about her experience at the conference.
"The conference helped to teach me that anyone can be a leader," said Condon. "Everyone has a role on the team. It doesn't matter what your skill level is, it's all about how you hold yourself and the way you represent yourself."
Condon spoke in detail about a specific workshop she particularly enjoyed which saw half of the student-athletes in her group given a ping pong ball with positive phrases such as "goal setter" or "role model" listed on them, and the other half receiving clothes pins with negative phrases such as "breaking the honor code" or a "death in a team members family."
After each phrase was read aloud the group would then discuss how they could further develop positive characteristics as well as examples of how to deal with and work through the negatives.
"The conference allowed me to better understand the true definition of a leader and not just the stereotypes of one," said Condon.
A major part of the conference was also learning to communicate in an unfamiliar environment.
"We got to talk a lot to new people," said Skaneateles ice hockey and lacrosse player, Abby Kuhns. "We knew no one. So we got to experience that and having to speak up and the leadership qualities associated with good communication. It was a really cool experience. It is a good feeling to be able to be there, learn, and get out of your comfort zone."
Ken Peterson plays baseball, basketball, and golf at Skaneateles High School and said that he hopes to be able to help spread positive energy through his locker rooms as a senior next year.
"Just having a positive attitude towards everything helps everyone else to have a positive attitude," said Peterson. "There was a lot to learn at the conference on how to be positive and be a leader. It was a great opportunity and an advantage to be able to go to the conference to learn new things and expand our knowledge."
Tom Scherrer, a Skaneateles High School baseball player, echoed many of the same thoughts as his fellow students but also reflected some on the speaker presentations that chronicled journeys through adversity.
"Some of the speakers talked about setbacks in their lives that they had to push through," said Scherrer. "Those people went on to become leaders for others through their examples. Some of the stories we heard put things in perspective, it was a lot worse than anything I have been through. So that helps you to look at the struggles you may be going through in a little bit different way."
Looking to juniors in the future, Scherrer said that the conference is a must see.
"It gives you a different way to look at what you do," said Scherrer. "Hearing all the different people talk about how they lead their teams helps you get better. If you only look at what you do, things won't change. I just had an awesome time and it was great getting to meet all the new people."
Keep in touch with events and happenings in relation to the Skaneateles Central School District by visiting online at
www.skanschools.org
or following the district's Facebook page at www.facebook.com/Skaneateles.Schools/.