Bus Driver Turns Everything Into an Opportunity for Learning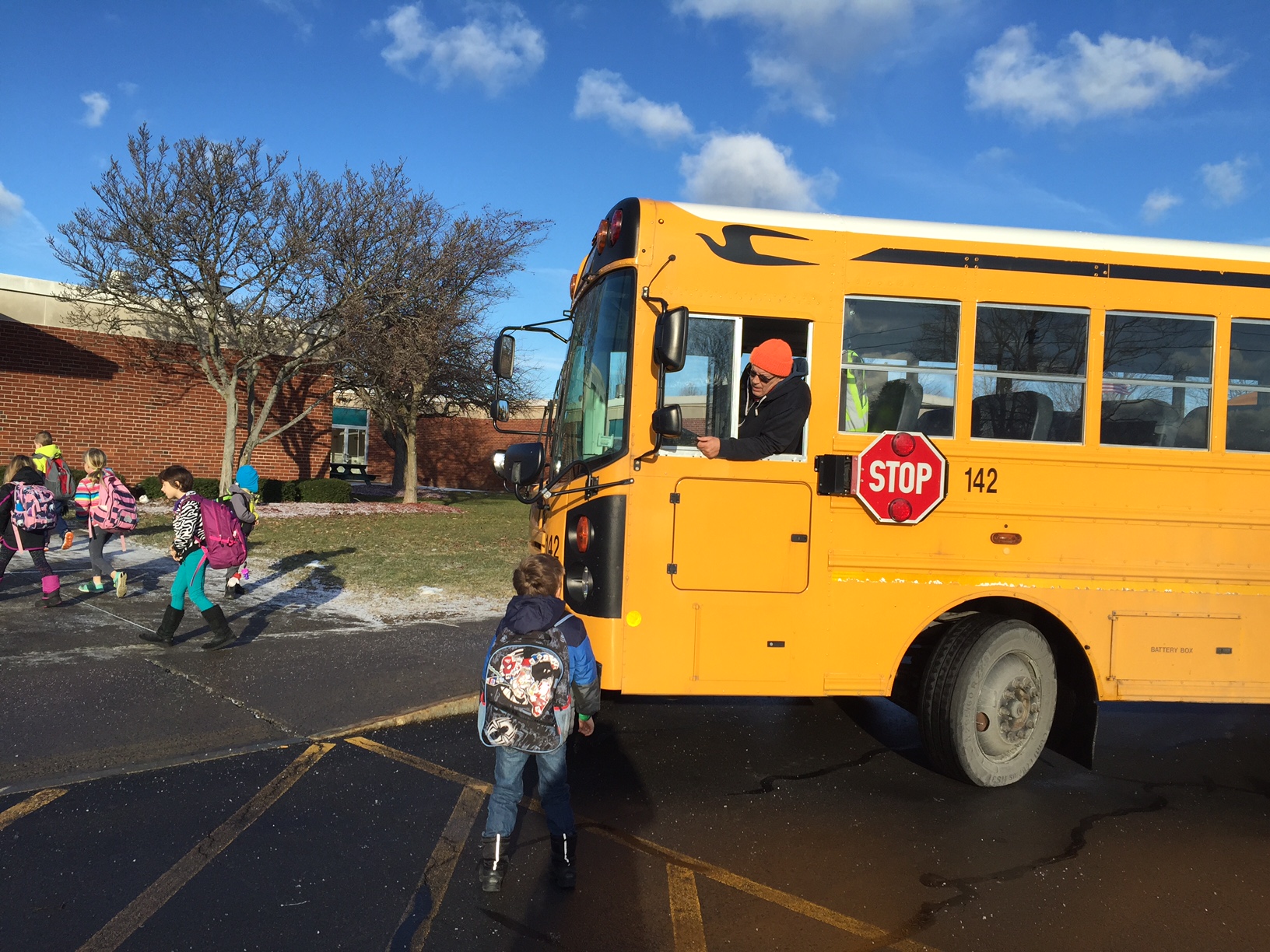 Bus driver Eddy Paul helps direct a group of students after arriving safely to school (Lori Ruhlman photo)
For students at Waterman School, every walk into the building in the morning brings an opportunity for learning.

Bus driver Eddy Paul has the "Apple" bus parked right by the cross walk and guides or instructs students as they pass the line of buses and head into school. When he catches students crossing safely, he gives them his carefully created safety certificates.

Paul hands out a couple of the certificates each day, surprising and pleasing students.

He said it is a team effort between all of the bus drivers and the teachers. The other drivers are in support of the effort, and help make sure that Paul is the fifth bus in so that he has the prime spot each day.

"The students already know the safety rules about when to look, and what to do. I just take it a step farther," he said. When he blows his horn, they know to stop instantly. When he sees students being especially careful, he recognizes them.

On a recent day, a young boy named Hayden was busy teaching his mother all the rules of crossing as he walked from the parking lot, across the cross walk, and toward the school. He was called into Paul's bus to get his certificate in front of an audience. (Apple bus riders were all in their seats waiting for buses to empty and school to begin).

Whenever Paul calls a new student onto the bus from the cross walk, students on the bus get involved when he presents the certificate by answering his, "Hip, Hip," with an enthusiastic, "Hooray!" (All of his riders already have earned their certificates).

Paul, who has a big voice and a friendly smile, is thrilled to be in what he calls his "retirement job." He spent 46 years as a business manager in information technology, he said. Once, decades ago, while on a tour bus at Fort Wilderness in Disney World, he commented to his wife "that's what I'd like to do!"

She told him then that driving a bus would be a great job for him in retirement.

They moved to Central New York in August of 2010, after living in Houston with his job. "We said 'let's go north to see the seasons again,'" he recalled. They found a beautiful farm in Marcellus with room for their horses. The two, originally from Canada, became citizens recently.

And this fall, starting on the first day of school, Paul took on a job like the one he admired back in Disney World: driving a bus filled with happy people. Better yet, these happy people are children, who are eager to learn.

He loves it, he said.

Teacher Mary Fussner, who does morning bus duty, loves his style. "He is wonderful! He is always taking advantage of learning opportunities for the kids, as well as opportunities to make them smile!"