A national contest led three Skaneateles High School students on a moving journey into the lives of people who survived the Holocaust. Lily Datz, Kaylee Falso and Caroline Hagen used their artistic and writing skills to shed new light on tragic but inspiring stories.
The three are participating in Telling it Forward, the 18th Annual Holocaust Art and Writing Contest through the Rodgers Center for Holocaust Education. Schools are allowed to submit a total of three entries from three individual students in the categories of art, film, prose, and/or poetry. Students go onto a website and select a person/subject by listening to their testimony.
"It was really sad. I was in tears," Kaylee Falso, a senior, said of her experience creating a tribute to Elly Kamm in the form of a butterfly titled "Keep Flying Forward." Falso said she chose "to do something differently … and to not be literal," when depicting how Kamm's life changed suddenly during the Holocaust. "Butterflies are a symbol of hope and renewal."
Junior Lily Datz told the story of Frances Flumenbaum by layering torn pieces of yellowed pages from an old book. "I glued the pieces together in layers, like puzzle pieces, on the page," she said. After it dried, she did "a wash over the page" before using charcoal to draw her own hand.
"It was really interesting to hear someone's story and then to get to create a piece of artwork to represent that story. You want to do it justice … you want to make sure her story is not overlooked," Datz said. "The perseverance that Frances showed in the face of adversity is inspiring. I wanted my piece to reflect this -- the rawness of the past but the lasting knowledge of the book pages."
The book she tore pages from was Treasure Island – in part because it was old, and in part because she felt a connection as the stories were both "intertwined with being on an island … being isolated."
Junior Caroline Hagen listened to the heart-wrenching hour-long story of Ilse Diament. Her challenge: to feel it deeply before trying to capture the essence in written words that would fit on just one page. "Every artist and author gets to interpret what they heard and felt," she said. "I had to fit her story and how I felt about it into four or five paragraphs."
Hagen said she was moved by what happened after the Holocaust. She said that she had not known as much about what happened in the months and years after the Holocaust, and found that to be inspirational. She wrote about how Ilse described herself as "feeling like a stone," no longer possessing the ability to express emotion. Thus, she titled her piece "I was Like a Stone." She told how Ilse found a way to move forward and "to live for those who didn't have the choice."
All three students were inspired to participate in the contest after hearing about it from their teachers. Datz and Falso were encouraged by art teacher Jessica Sawchuk, who hopes to have students participate in the contest every year. Hagen was encouraged by English teacher Andy Tidd, who remembered her as a strong writer from when she was in his 9
th
and 10
th
grade English classes.
The contest is sponsored by the Rodgers Center for Holocaust Education in California.
Engaging and mentoring students in studying the Holocaust and in grappling with its meaning and lessons for today is a vital part of the mission of the Rodgers Center for Holocaust Education, according to the website.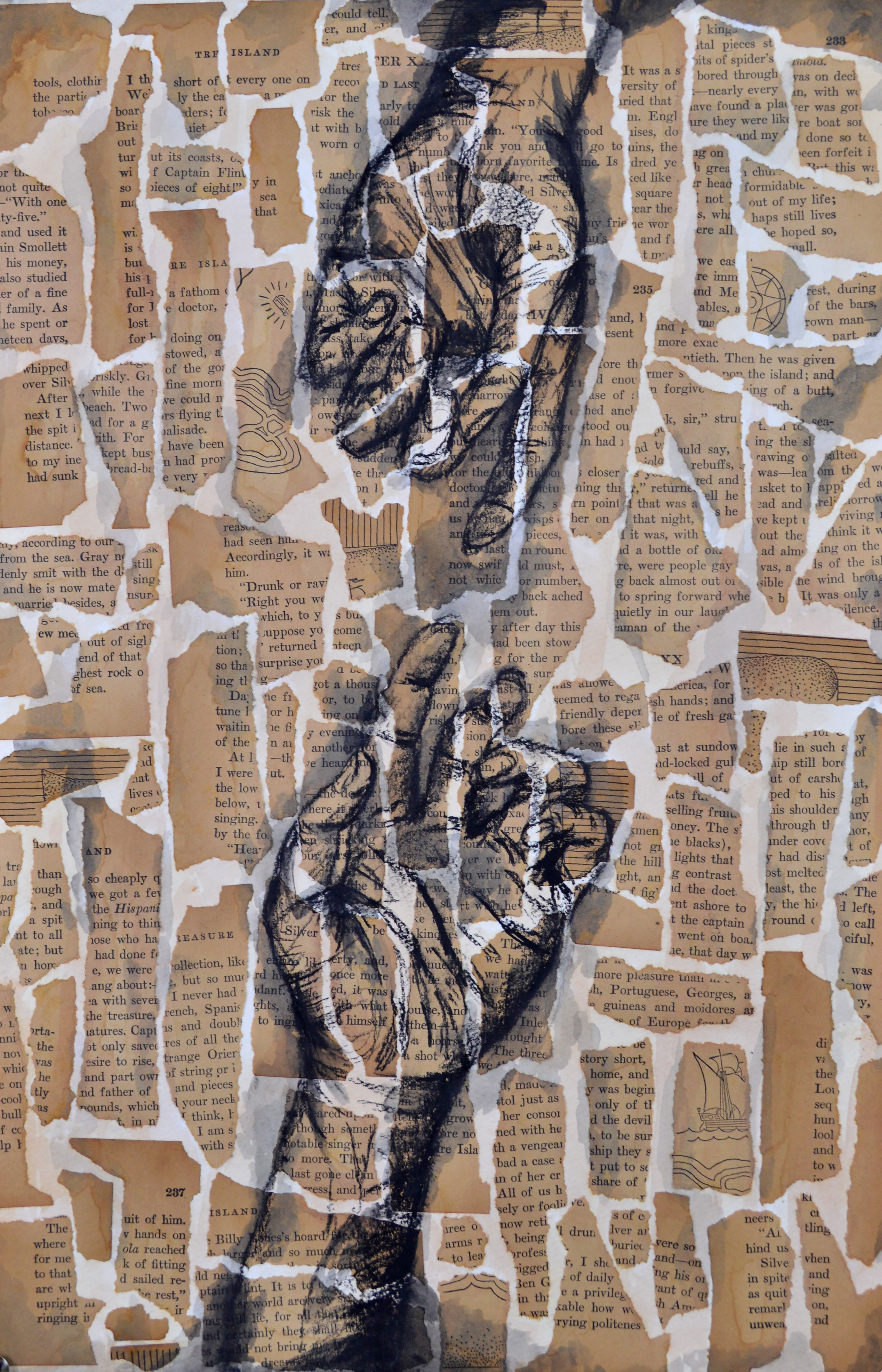 Lily Datz's statement about Frances Flumenbaum:
She lost her father.
She lost her home.
She lost her belongings.
But she never lost what was "stuck to her brain." Frances' father taught her to absorb as much as possible so if her life was ever ripped away from her, she would always have knowledge. The mental determination it took to protect her rights while being burned by cigarettes is unfathomable, yet Frances possessed it. The perseverance that Frances showed in the face of adversity is inspiring. I wanted my piece to reflect this -- the rawness of the past but the lasting knowledge of the book pages.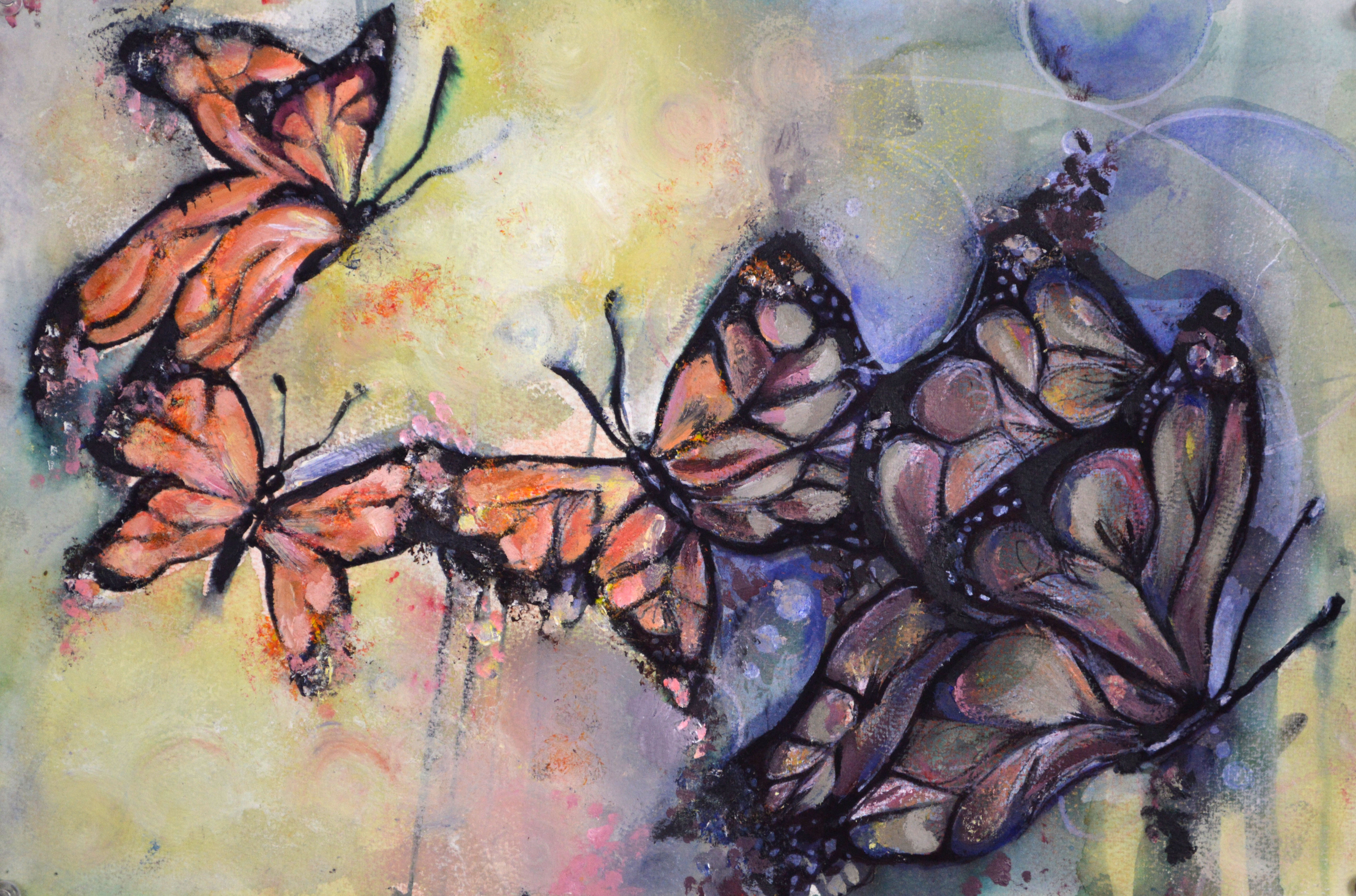 Keep Flying Forward, a tribute to Elly Kamm
By Kaylee Falso
Before the Holocaust, Elly had a happy childhood and said she lived a "beautiful life." I chose a butterfly to represent Elly's life because it captures beauty and the strength to move forward. In the beginning the butterfly's life is bright and beautiful; representing Elly's childhood. As the butterfly continues flying it becomes darker and stars to fade; representing the challenges of the Holocaust. Elly's story inspired me to show that although she faced challenges, her perseverance and bravery enabled her to emerge stronger and perhaps more beautiful than before.
I Was Like a Stone
by Caroline Hagen
Seven out of thirteen hundred. A miniscule number; in all essence, negligible. But seven human lives are different. There were once thirteen hundred Jewish people living in Ilse Diament's German village- by the end of Hitler's occupation, seven had survived. Twelve-thousand ninety-three men, women, and children from just one town were massacred. These innocent people, along with eleven-million others, were gassed, shot, starved.
Ilse was eleven the first time she quelled death. She was living in a ghetto. One day she went to get water at the well. Ilse could tell that the soldiers were deliberately giving them little water, but wasn't sure why. As she approached the well, soldiers were encouraging her to get a drink. She dipped her pail down into the water and, as she was retrieving it, her body was overcome with shaking. Ilse couldn't recall what happened after, but she later woke up in her bed to hear that the soldiers had connected wires to the well. They wanted to kill her, and they almost succeeded.
Despite experiencing electrocution, typhus, even standing next in line at the doors of a gas chamber, Ilse lived on. She saw liberation, and the void that was reacclimating herself to society after the war. She was devastated that for four years, no one had tried to help. For four years, Ilse was no more than an animal. The world looked on as her friends, family, and millions of other individuals were destroyed. She came out of the Holocaust determined to speak for those whose voices were lost at the concentration camps. Into her adulthood, she kept her tattooed identification numbers on her forearm. Even if she were to do it alone, Ilse was devoted to keeping the Holocaust from being forgotten.
What struck me more than anything that happened to Ilse was her belief that someone saved her. As a punishment in Auschwitz, she had to hold two bricks up on each hand for three hours at a time. She said in her testimony, through tears: "I didn't know who gave me the strength. Now I understand why I was strong. I believe my mother watched over me." She also believed that it could have been the people who died before her that wanted to save her. Maybe that they had suffered, and did not want anyone else to die how they had.
After the war, Ilse described herself as feeling like a stone. She no longer possessed the ability to express emotion. She had lost her happiness when her family died. She could not cry as long as she lived in the camps. In the testimony, she said it over and over, almost forcing viewers to try to comprehend what she went through; Ilse knew, however, that that was impossible. Ilse eventually regained her emotions, but only when she fully realized how alone she was. Ilse met her sisters that had escaped to Israel before the war. She hadn't seen them since she was four; soon Ilse found that she needed to be with people who understood what she had gone through, and she found that in a fellow survivor. His name was Frank, and they married and moved to America. Ilse was finally free, but had scars that pervaded her soul. Life could never be normal, but she had to live for those who didn't have the choice.