Ethan Goldstein Named U.S. Presidential Scholar Candidate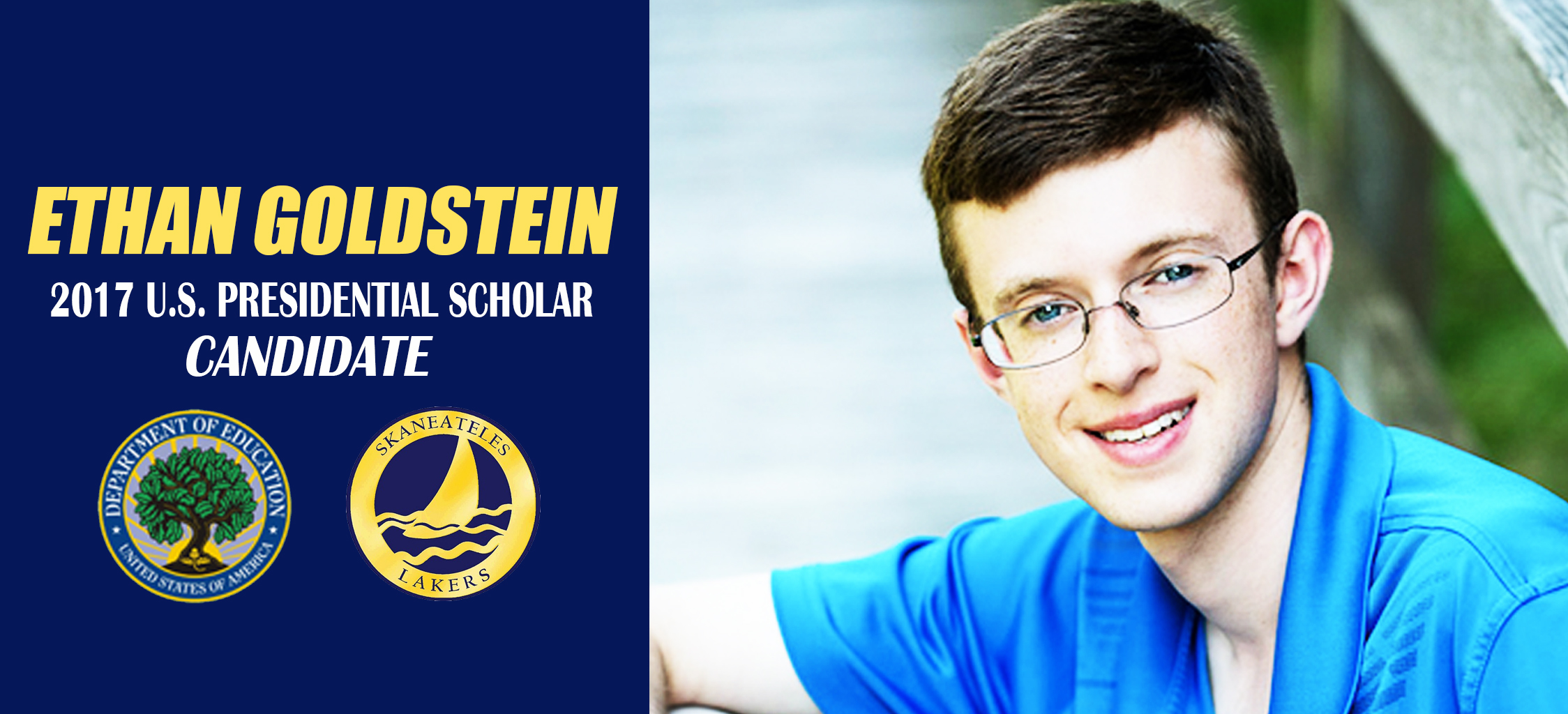 Skaneateles High School senior Ethan Goldstein is among a highly select group of candidates in the United States Presidential Scholars program this year.

Of the nearly 3.5 million high school seniors in the United States, Goldstein is one of about 4,000 selected to compete in the program. Each year, up to 161 students are named as Presidential Scholars.

Inclusion in the U.S. Presidential Scholars Program, now in its 53rd year, is one of the highest honors bestowed upon graduating high school seniors. Scholars are selected on the basis of superior academic and artistic achievements, leadership qualities, strong character and involvement in community and school activities.

Goldstein earned a perfect score on the ACT test he took in April of 2016, which is big news in itself. But Goldstein's accomplishments are even deeper and broader than that, says his counselor Jessica Walsh.

"Ethan is a highly motivated go-getter who always seems to be working toward his next extraordinary goal," said Walsh. "Ethan never fails to truly impress me, from his academic accomplishments to his extracurricular successes; he is truly a powerhouse who achieves greatness in all aspects of his life.
He is the quintessentially well-rounded student who is motivated by following his passions, whether they are musical, political or altruistic in nature. There is no doubt that Ethan is an exceptional young man whose immense talents are countless."

U.S. Presidential Scholars Program was established in 1964 by Executive Order of the President to recognize some of our nation's most distinguished graduating seniors for their accomplishments in many areas. It was expanded in 1979 to recognize students demonstrating exceptional scholarship and talent in the visual, creative, and performing arts. In 2015, the program was expanded once again to recognize students who demonstrate ability and accomplishment in career and technical fields.

U.S. Presidential Scholars represent excellence in education and the promise of greatness in America's youth. All Scholars are invited to Washington, DC in June for the National Recognition Program, featuring various events and enrichment activities and culminating in the presentation of the Presidential Scholars Medallion during a White House-sponsored ceremony. A distinguished panel of educators will review these submissions and select 800 semifinalists in early April.