Feb. 15: Honors English Looks Back on Valentine's Restaurant in "Years Ago" Column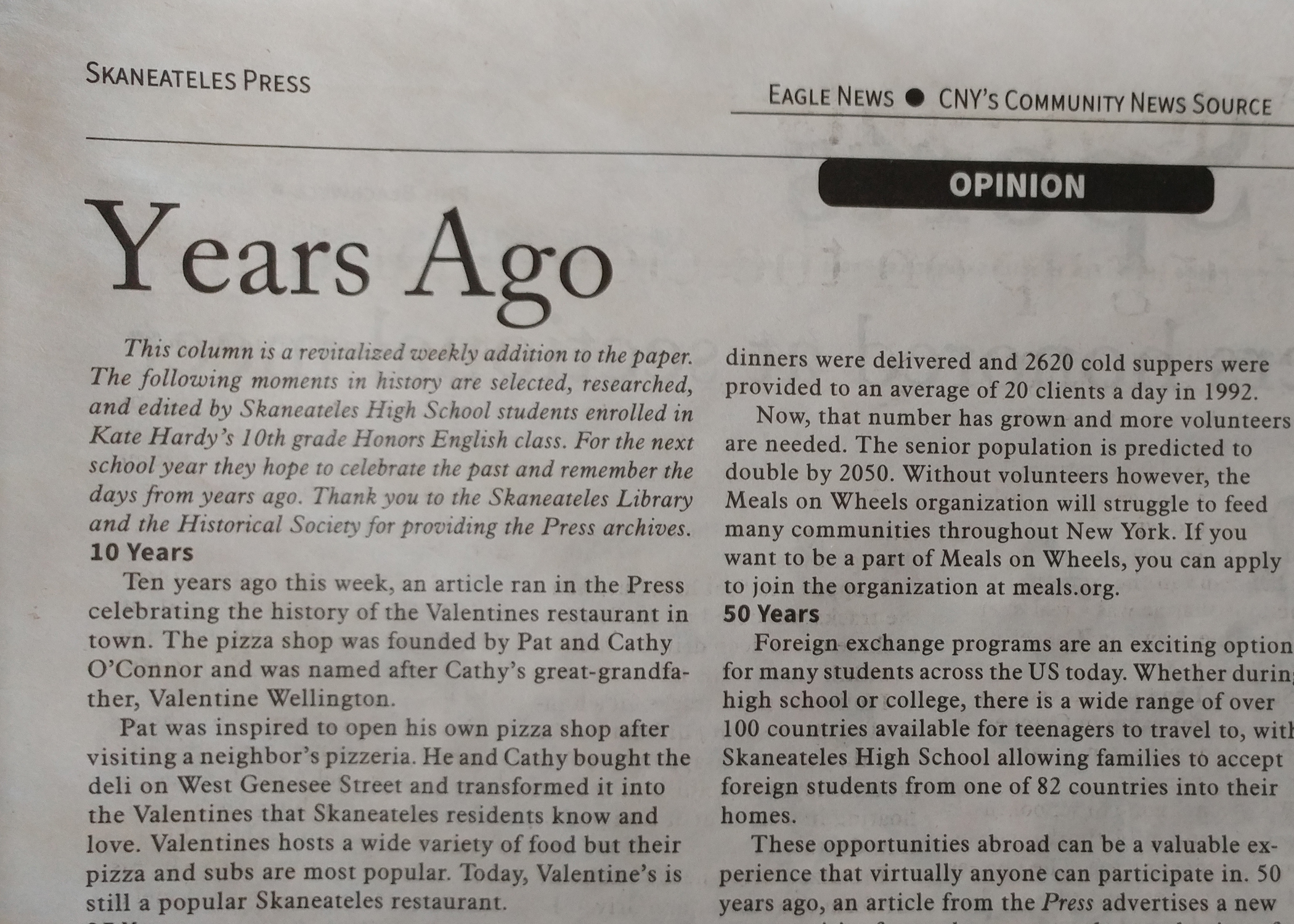 SKANEATELES, NY (February 17, 2017) – Skaneateles High School students enrolled in Kate Hardy's 10th grade Honors English class are working on a weekly project which sees the students research, select, and edit press archives of the past located in the Skaneateles Library and the Historical Society for submission into the "Years Ago" column within the Skaneateles Press.

The column, which is split into historical segments of 10-25-50-75 and 100 years ago, is a remembrance and celebration of past days in Skaneateles.
Below is the "Years Ago" column as it appeared in the Skaneateles Press on Feb. 15:

10 Years
Ten years ago this week, an article ran in the Press celebrating the history of the Valentines restaurant in town. The pizza shop was founded by Pat and Cathy O'Connor and was named after Cathy's great-grandfather, Valentine Wellington.

Pat was inspired to open his own pizza shop after visiting a neighbor's pizzeria. He and Cathy bought the deli on West Genesee Street and transformed it into the Valentines that Skaneateles residents know and love. Valentines hosts a wide variety of food but their pizza and subs are most popular. Today, Valentine's is still a popular Skaneateles restaurant.

25 Years
On Feb. 12, 1992 "Meals on Wheels Honors Helpers" was published in the Skaneateles Press. Skaneateles has participated in Meals on Wheels since February 1979. Four thousand two-hundred and twenty dinners were delivered and 2620 cold suppers were provided to an average of 20 clients a day in 1992.

Now, that number has grown and more volunteers are needed. The senior population is predicted to double by 2050. Without volunteers however, the Meals on Wheels organization will struggle to feed many communities throughout New York. If you want to be a part of Meals on Wheels, you can apply to join the organization at meals.org.

50 Years
Foreign exchange programs are an exciting option for many students across the US today. Whether during high school or college, there is a wide range of over 100 countries available for teenagers to travel to, with Skaneateles High School allowing families to accept foreign students from one of 82 countries into their homes.

These opportunities abroad can be a valuable experience that virtually anyone can participate in. 50 years ago, an article from the Press advertises a new opportunity for students to travel to a selection of 40 countries. The opportunity for exposure to other cultures fifty years ago has clearly grown over the years.

75 Years
What would you do if you had 59 billion dollars today? 75 years ago, this was the government's annual budget. Today 59 billion dollars is equal to 919 trillion dollars. According to an article in the Press, the government could have built 105 four-lane highways from the Atlantic to the Pacific. Today, that money could only build 48 highways from coast to coast due to the increased cost of concrete. That money could also buy a $1000 car for each of the 35 million families in the United States 75 years ago. Today, it could pay for an $11,000 car for each of the 82 million families. The government's annual budget continues to rise year after year, with this budget the government can greatly improve living conditions for people living in the U.S.

100 Years
One hundred years ago, the Skaneateles Press covered more national news such as this event: on February 15, 1917 a Louisiana man robbed a bank and got away with $30,000. The man achieved this theft by forcing the vice president of the bank and a local judge to give him money from a vault. After achieving this he then locked the two men in the vault and made away with the $30,000. Today, this robbery would be equivalent to robbing a bank for $600,000.

Keep in touch with events and happenings in relation to the Skaneateles Central School District by visiting online at www.skanschools.org or following the district's Facebook page at www.facebook.com/Skaneateles.Schools/.