High School Grad Rate Stands at 96%; Advanced Diploma Grad Rate Climbs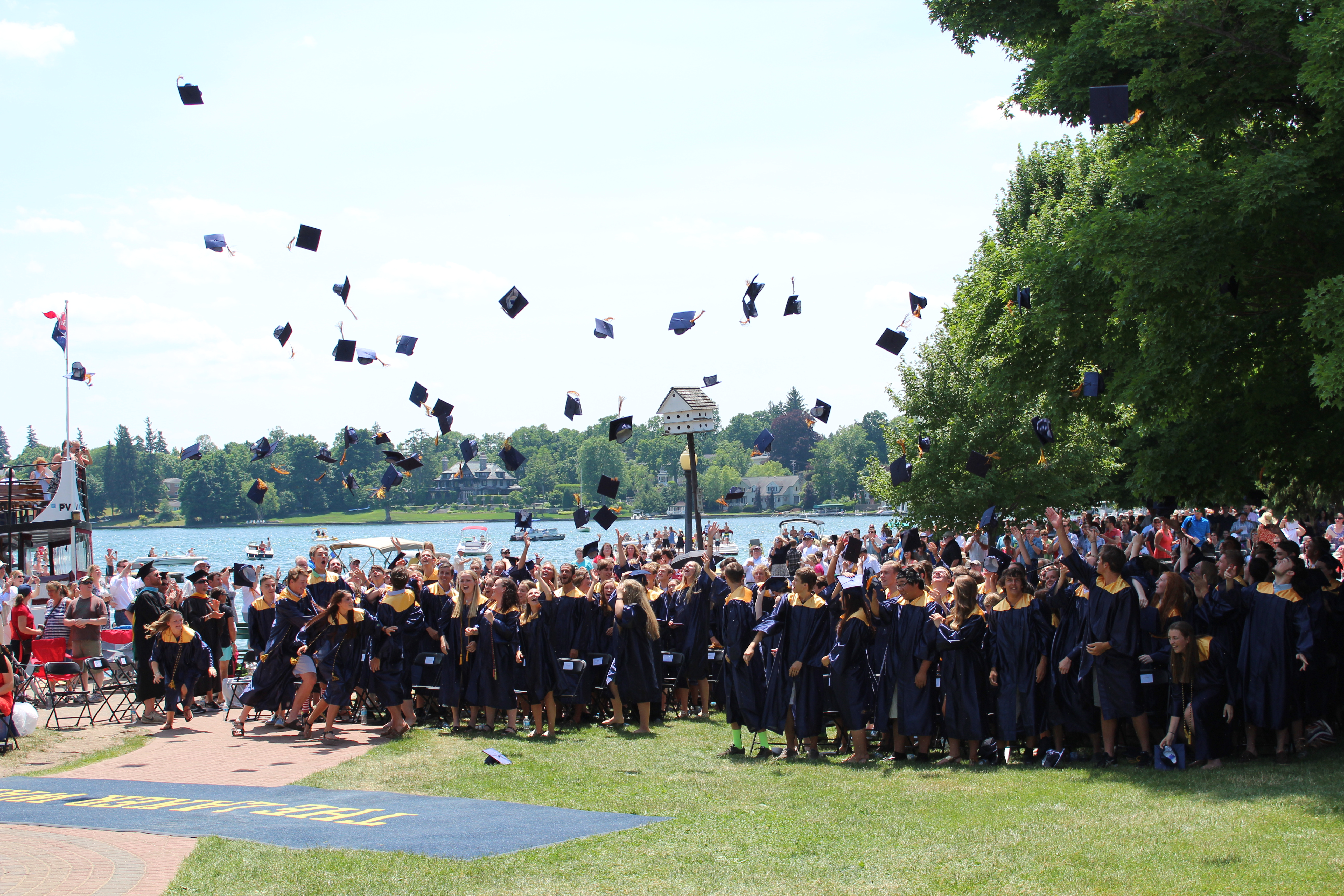 SKANEATELES, NY (February 17, 2017) – Skaneateles High School once again achieved an overall graduation rate of 96% for the Class of 2016, with the number of students attaining a Regents diploma with advanced designation climbing to a new high of 69%.

The advance designation graduation rate of 69% is an increase from the Skaneateles High School Class of 2015, which saw a Regents diploma with advanced designation graduation rate of 63%.

"Both the overall graduation rate of 96% and the increased advanced designation graduation rate of 69% are certainly worth celebrating," said Skaneateles Central Schools Superintendent, Ken Slentz. "These strong numbers and upward trends help us to increasingly ensure that every diploma has significant meaning for each of our students in relation to their chosen future pathways."

Students who attain a Regents diploma with advanced designation are required to complete their mandatory 22 credit course load, but must also pass at least two and up to four additional Regents exams with a score of 65 or higher.

Additional requirements for advanced designation graduates include passing Regents exams in Geometry and Algebra II as well as a Physical Science and Life Science exams.

Standard Regents diploma graduates must pass the required five exams (1 math; 1 science, English 11, US History or an approved pathway substitute, and Global History and Geography or an approved pathway substitute) and complete 22 credits of study.

"Since Ken (Slentz) has been here as Superintendent, it has been our focus and goal to challenge ourselves to increase our number of advanced designation graduates," said Skaneateles High School Principal, Gregory Santoro. "This increase for the Class of 2016 shows continued progress as we look forward to creating new opportunities for our students to excel, hopefully pushing our advanced designation graduation rate to near 80% in the future."

The vision that both Slentz and Santoro share, centered on providing more rigorous, engaging, and meaningful learning opportunities for students, comes by way of the district's strategic planning process that is being developed to improve students' readiness for their future.

The high rigor courses, workload, and responsibility required to graduate with an advanced Regents diploma tend to go hand in hand with a students' likelihood for a successful graduation at the college level or successful job placement post high school.

"Studies have shown that those students having achieved a Regents diploma with advanced designation performed higher in terms of entry into, persistence through, and completion of college," said Slentz. "So for us, in relation to the strategic planning for our students' future and their overall well-being in relation to the 6 Dimensions of Wellness, graduation with the advanced designation diploma is absolutely a critical target."

The goal of increased graduation and increased advanced diploma graduation rates has led to increased collaboration with fellow school districts to study their best practices as well as with local businesses to develop job readiness programs.

Each of these items coincide with building new and innovative courses in the Skaneateles Central Schools that help students focus on specific passions and pathways they envision themselves a part of in the future.

"We want to create and make available as many experiences as possible to our students," said Slentz. "Experiences that can help them better determine by the time they leave us what they want to do, and perhaps equally important what they do not want to do in their future careers."

These experiences and readiness applications are not meant solely for the high school. Now, as a result of a pilot study that the district started two years ago, some middle school students have access to online courses for high school credit to get the process started early.

"One of our aspirations is to provide our students with enough experiences and opportunities for exploration earlier in their careers with us that they enter their senior year with the majority if not all of their requirements completed," said Slentz "Students could then take early college courses for credit, take courses in an area of interest to challenge themselves, participate in extended internships and additional job shadowing, or even graduate early if that's what the student and parents choose to do. Under this model we can better ensure that when students do graduate from high school we can feel good that the post-secondary choices they have made, are solid ones."

Santoro agrees and says that this process of development with higher graduation status in mind will help develop programs and student experiences within the school as well.

"In these instances, instead of taking a study hall senior year the hope is that students find a course or a learning experience in line with their vision that will help them in attaining their future goals," said Santoro.

A part of the district's vision is to develop the knowledge, skills, and dispositions necessary for students to be ready for their chosen post-secondary pathway in life. Creating situations for students to succeed in achieving a Regents diploma with advanced designation is a tangible way to continue that process.

"For 13 to 15 years we are working with students to help them develop the knowledge, skills, and tools needed to succeed in their future, on whatever pathway they wish to pursue," said Slentz. "And this work no longer stops upon graduation. Instead, our increasing focus must be on what our students are doing two years into the workforce or two years into college to help determine if our programs, teaching, and support are truly preparing them to be ready. For example, while nearly 90% of our graduates go on to attend college, only about 60% graduate in four years and about 70% graduate in six years. We desperately want to understand what we can do better to minimize the obstacles and provide the other 30% of our graduates access to their college diploma."

With the significant increase in students taking on student loan debt, Slentz and Santoro see this work as both personal and economic.

"Amassing student loan debt without a viable career path that will allow our students to repay that debt is setting them up for failure. We want to do everything in our collective power to ensure that our graduates can reach and exceed their goals and become contributing citizens in our global society."

Keep in touch with events and happenings in relation to the Skaneateles Central School District by visiting online at www.skanschools.org or following the district's Facebook page at www.facebook.com/Skaneateles.Schools/.