Honors English Class Pens "Years Ago" Column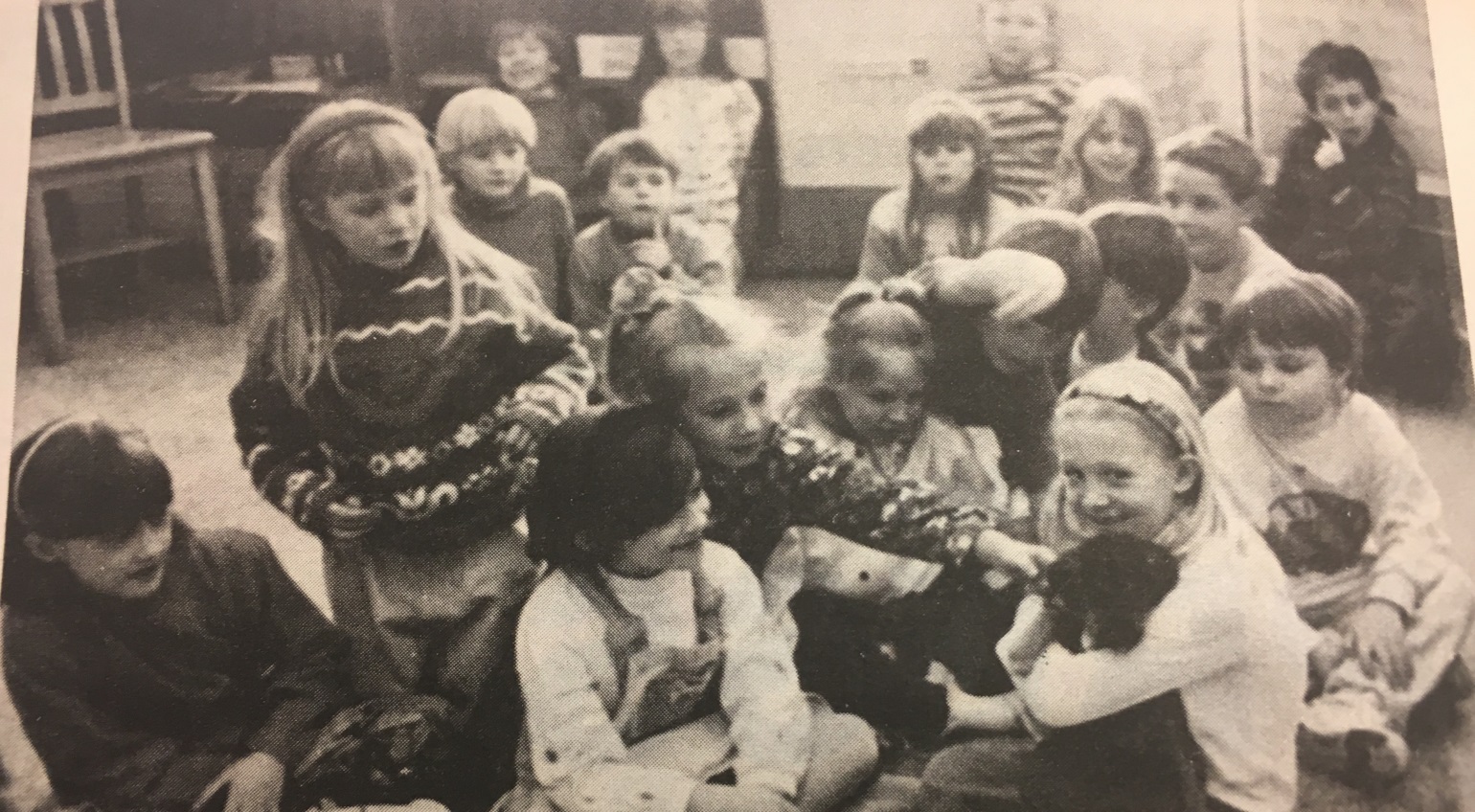 Honors English teach Kate Hardy was featured in the Skaneateles Press 25 years ago. She brought puppies to share for show and tell with her first grade class. Currently Hardy advises students who work to create the Years Ago column each week for the paper. (Skaneateles Press)



SKANEATELES, NY (February 14, 2017) – Skaneateles High School students enrolled in Kate Hardy's 10th grade Honors English class are working on a weekly project which sees the students research, select, and edit press archives of the past located in the Skaneateles Library and the Historical Society for submission into the "Years Ago" column within the Skaneateles Press.

The column, which is split into historical segments of 10-25-50-75 and 100 years ago, is a remembrance and celebration of past days in Skaneateles.

Below is the "Years Ago" column as it appeared in the Skaneateles Press on Feb. 8:

10 Years
A decade ago an article was featured in the Skaneateles Press celebrating Boy Scout Troop 61's wilderness survival. Thirteen scouts built shelters in the snow and camped out for the night. Surviving off of Gatorade, juice, milk, salad, hot cocoa and other healthy snacks, they braved the cold in their sleeping bags and dry clothes. Ten scouts earned their Wilderness Survival Merit Badge, as three already had earned theirs previously. Today a common activity of Skaneateles Boy Scouts is hiking in the Adirondacks. Just this year Troop 61 climbed Mt. Marcy, the highest peak in New York State. Are you daring enough to venture out into the wilderness?

25 Years
25 years ago, our very own Honors English teacher, Kate Hardy, then Kate Schneider, was featured in the Press with her first grade class. The Schneider's German Shepherd, Nugget, had nine puppies, one of which young Kate brought to show and tell. However, this would not be the end of recognition for Mrs. Hardy's dogs. In recent years, her Golden Retriever was included in a local newspaper article about how dogs received their names. Her dog, Laken, meaning of the lakes, came from Cayuga Lake and now resides on Skaneateles Lake, where he loves to swim.

50 Years
Fifty years ago this week, a state trooper's court case was commenced concerning his assault by five young men outside the short-lived Lakeview House, a trial ending in the change or reduced sentence for all five Auburn men. Trooper Brock, who experienced the ordeal in September of the prior year, survived a fractured skull and a weeks-long hospitalization. Police violence in 1967 was most concentrated during the Detroit Riot but within New York State, three police officers died in the line of duty in the year's entirety. Sadly, in 2016, roughly a half dozen officers died around the state in the line of duty, a tragic pattern in a crisis that swept the country last year, most consequently in the Dallas Ambush during a protest against police brutality, and will hopefully decline in the coming months of 2017.

75 Years
With less than a week until Valentine's Day, we look back in remembrance of past celebrations of the holiday. 75 years ago, Whitman's Chocolates advertised sweets for $1.50 or less. Chocolate is clearly still a very popular V-Day gift today. In fact, 58 million pounds of chocolate are bought, on average, the week of Valentine's Day in the U.S. (History.com). Some of the most popular brands include Hershey's, Godiva, and Lake Champlain. Instead of gifting another box of one of these big name brands this year, we encourage you to shop local at Green Mountain in downtown Skaneateles or the Chocolate Pizza Company in Marcellus. You could also be a little more creative with your gift ideas and make your own!

100 Years
100 years ago, a shoe factory in Stockton, Massachusetts reported to have made a size 21 shoe for a 7'9", 19 year old boy by the name of Bernard H. Koyne. This was a record for the country during this time. However, the tallest man ever recorded is now Robert Wadlow, who was 8'11" and wore a size 37 shoe. A peer at our school, a right guard on the football team and a goalie for lacrosse, Scott Oschner, is 6'7" and has a shoe size of 18. Fitting into size 37 shoes is definitely a remarkable feat!

Keep in touch with events and happenings in relation to the Skaneateles Central School District by visiting online at www.skanschools.org or following the district's Facebook page at www.facebook.com/Skaneateles.Schools/.