District News
<< Previous Next >> Viewing 21 - 40 of 617 stories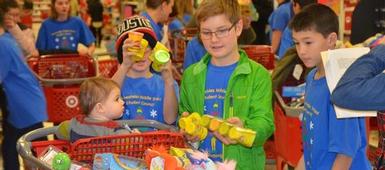 18th annual SMS Holiday Shopping Spree on December 12:

SKANEATELES, NY (November 26, 2018) – The 18 th annual Skaneateles Middle School Holiday Shopping Spree is set to take place on Wednesday, December 12 at Target in Camillus, beginning at 3:30 p.m. The Holiday Shopping Spree is once again presented by the Skaneateles Middle School Student Council. Thanks to the help of private donations and the Student Council, students will head to Target on December 12 armed with $15,000 to purchase gifts for children who otherwise may not get any this Christmas. The students will be split into separate shopping groups, with each having 90 minutes to shop. Each item purchased must be under $15. The vast number of toys collected will be distributed throughout ...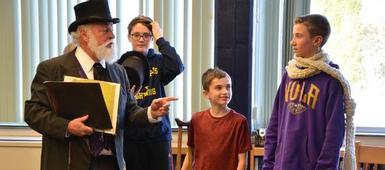 Dickens Christmas Comes to Skaneateles Middle School:

SKANEATELES, NY (November 20, 2018) – Local actors from a Dickens Christmas in Skaneateles visited Skaneateles Middle School's seventh grade classes on Monday to introduce the novel, A Christmas Carol . Students participated in a trunk show featuring the novel, which saw students work directly with the actors to act out the story together as a group. The workshop provided a unique and engaging experience for all students. A Dickens Christmas is celebrating its 25 th anniversary in Skaneateles this season, with the celebration beginning this Friday, November 23 and running on weekends through December 23. More information on a Dickens Christmas can be found online at www.skaneateles.com . Keep in touch with events and happenings in relation ...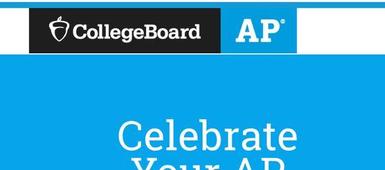 Skaneateles High School's Lauren Wiese Earns AP Teacher Appreciation Honors:

SKANEATELES, NY (November 20, 2018) – Skaneateles High School World Languages teacher, Lauren Wiese, was recently recognized as part of the College Board AP Teacher Appreciation honors. Her students, by virtue of a video submission on Instagram using the hashtag #APTeacherAppreciation, nominated Wiese. A panel of judges from the College Board reviewed several video submissions from across the country and selected Wiese as a recipient of $250 for her classroom. Scores were based on creativity, engagement and authenticity. Skaneateles High School and the Skaneateles Central School District applaud Ms. Wiese for her efforts with students and congratulate her on this fantastic honor. Keep in touch with events and happenings in relation to ...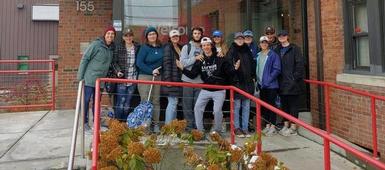 SHS Students Volunteer at Syracuse Rescue Mission:

SKANEATELES, NY (November 19, 2018) – Students in Alanna Kramerson's Participation in Government class at Skaneateles High School recently made a trip to the Rescue Mission in Syracuse to complete community service and learn about the services provided by the mission in the Syracuse area. Following a tour of the campus, the class volunteered in several areas including the Food Services Center, helping to sort out supplies in preparation for Thanksgiving as well as sorting and hanging coats from a recent coat drive. At the Rescue Mission, a hot meal or a warm bed can be the first step to life change. The Food Service Center provides three free meals a day to anyone in need, while the emergency shelter offers 183 beds for men and women in eight separate ...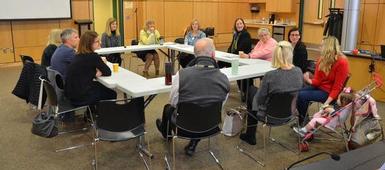 Superintendent Coffee Talk a Success, Next Meeting Set for December 18:

SKANEATELES, NY (November 19, 2018) – Skaneateles Central Schools Superintendent, Lynda Quick, held her first Superintendent Coffee Talk on Tuesday, November 14 with a dozen members of the local community on hand to learn more about the new Superintendent and to get updates on District initiatives and plans. The one-hour talk provided a chance for community members to engage in one on one communication with Quick across a variety of topics, a welcome new opportunity. Topics discussed included updates on the District's capital improvement plan, known as Project 2021, as well as updates on safety and security across the District. Highlights of Project 2021 focused on the Middle School Gymnasium renovation and new utilization of the commons area. Safety and ...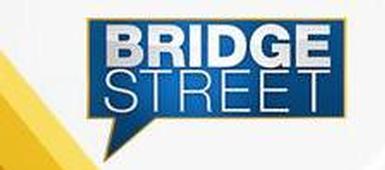 Students 'Share the Warmth' on News Channel 9's Bridge Street:

SKANEATELES, NY (November 15, 2018) – State Street Intermediate School students visited New Channel 9's Bridge Street in Syracuse this morning to talk about the Skaneateles Central School District Share the Warmth Clothing Drive , which is taking place through Friday, November 16. Students, Jackson & Colton Bone and Addy Pavlus, joined the Bridge Street anchors live on the show this morning to provide details on the collaboration between Skaneateles students and the Elementary PTC, who together have organized this clothing drive to help students of Syracuse City Schools. "When we were coming up with ideas I learned that Syracuse is the ninth most impoverished city in the U.S.," said State Street fifth grader, Jackson Bone. "So I thought, ...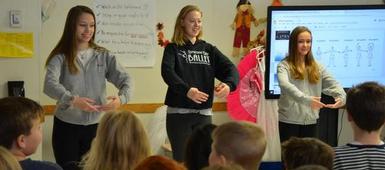 Syracuse City Ballet Visits Waterman Primary School:

SKANEATELES, NY (November 15, 2018) – The Syracuse City Ballet made a visit to Waterman Primary School on Thursday morning to conduct a workshop centered around their upcoming performance of "The Nutcracker." A group of four studio dancers attended the session for Waterman's second grade classes, giving students a lesson in the history and techniques of ballet. The session proved highly interactive as students had the opportunity to try several ballet positions, while conversing with the dancers on their past practices, history, joys of ballet and their upcoming performance of "The Nutcracker". Founded in 1996, Syracuse City Ballet is the only professional ballet company serving the Central New York community. The ...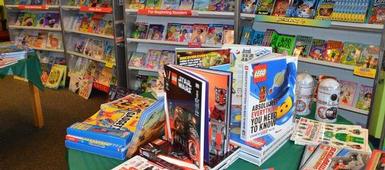 State Street Scholastic Book Fair Running Through November 16:

SKANEATELES, NY (November 14, 2018) – The Scholastic Book Fair is open in the State Street Intermediate School Library through November 16. The Scholastic Book Fair is a reading event that brings to school the books that kids want to read. The collection includes a wonderful selection of engaging and affordable books for all reading levels. Before you visit the Book Fair, be sure to download the Book Fairs app. Visit www.scholastic.com/apps/bookfairs to do so. Keep in touch with events and happenings in relation to the Skaneateles Central School District by visiting online at www.skanschools.org or following the district's Facebook page at www.facebook.com/Skaneateles.Schools. ...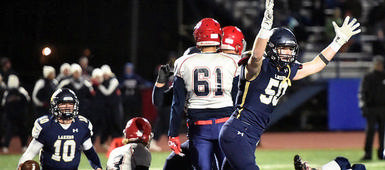 Lakers Football: State Semi-Final Tickets Available Online:

The Skaneateles High School Football team has advanced to the NYSPHSAA Class B State Semi-Finals on Saturday, November 17 at Union Endicott High School. The Lakers will take on Batavia at 3 p.m. The Lakers advanced to the Semi-Finals in dramatic fashion over Chenango Forks this past weekend with a last second touchdown by quarterback, Patrick Hackler. Hackler's one-yard QB sneak put Skaneateles on top 27-26 as time expired. Tickets for this Saturday's Semi-Final contest are $10 at the door and $8 in advance online through www.gofan.co/NYSPHSAA .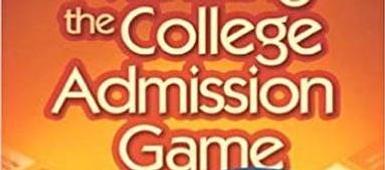 Save the Date: Peter Van Buskirk and "The Admission Game" Return on February 4:

SKANEATELES, NY (November 13, 2018) – Peter Van Buskirk, the former Dean of Admission at Franklin & Marshall College, is set to return to Skaneateles High School on Monday, February 4 for an interactive presentation of the college admission process known as, The Admission Game. An author, motivational speaker and the founder of Best College Fit, Van Buskirk has been featured in The Wall Street Journal, The Los Angeles Times, USA Today, Family Circle and on Oprah and Friends. For those who have wondered who "gets in" to certain schools and "why?", The Admission Game is the perfect fit. The Admission Game is a high energy, high impact, interactive, case study exercise for students and parents in which the audience is transformed ...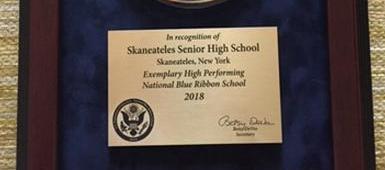 SHS Recognized at National Blue Ribbon Ceremony in Washington:

SKANEATELES, NY (November 9, 2018) – Skaneateles High School was officially recognized by the U.S. Department of Education as an Exemplary High Performing School at the annual National Blue Ribbon Schools Ceremony held at the historic Omni Shoreham in Washington, DC on Thursday. Skaneateles High School Principal, Gregory Santoro, accepted the school's National Blue Ribbon flag as well as an engraved plaque as a symbol of the school's success. Aside from the awards luncheon, Santoro and other Skaneateles High School representatives were able to attend several presentations and small group luncheons with the opportunity to network with other professionals in the education field. The National Blue Ribbon Schools Program honors public and private ...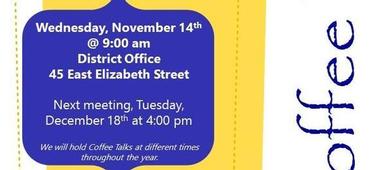 Join SCS Superintendent Lynda Quick for 'Coffee Talk' on November 14:

SKANEATELES, NY (November 7, 2018) – Skaneateles Central Schools welcomes parents, guardians and community members to the Skaneateles Central Schools District Office on Wednesday, November 14 for Coffee Talk with new Superintendent, Lynda Quick, beginning at 9 a.m. Providing coffee and conversation, Coffee Talk is an opportunity for community members to share ideas, learn about new District initiatives and projects and ask questions. Another Coffee Talk session will take place on Tuesday, December 18 at 4 p.m., with other dates to be announced in the future. The Skaneateles Central Schools District Office is located at 45 E. Elizabeth St. in Skaneateles. For more information, contact Karen Dunphy at (315) 291-2221 or kdunphy@skanschools.org. ...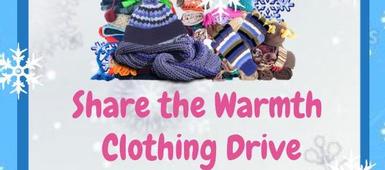 Extended to Monday Morning: Share the Warmth Clothing Drive:

VIDEO: Below check out our students on Bridge Street! SKANEATELES, NY (November 5, 2018) – In an effort to help those in need, Skaneateles Central Schools is conducting the Share the Warmth Clothing Drive on campus from November 13- 19th (until 10:00 am). The following items are needed: new or gently used winter coats, warm shirts & pants, socks, underwear, sneakers, cleats, boots, toiletries, and laundry soap for kids and adults. All Monday donations must be dropped off at the Skaneateles Central Schools District Office, located at 45 East Elizabeth St., by 10:00 am on Monday. The Share the Warmth Clothing Drive is being hosted by Kids for Kids in Need as a part of the #OtherPeopleMatter and #SharetheWarmth campaigns. The ...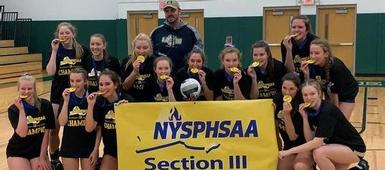 Skaneateles Athletics Secures Three Sectional Titles:

SKANEATELES, NY (November 5, 2018) – The Skaneateles Lakers Athletics program scored a Sectional Championship hat trick over the weekend with Girls' Swimming & Diving, Girls' Volleyball and Football all earning championships. The Lakers Swimming & Diving program won seven events at the sectional meet including all three relay events in the Skaneateles YMCA on Friday. Grace King led the way for the Lakers by winning the 100 butterfly and the 500 freestyle. Lakers relay wins went to Lily Buchholz, Rory Comer, King and Elizabeth Springer in the 200-medley; Buchholz, Comer, Lexis Cottrill and Alice Spaulding in the 200-freestyle; and Springer, Caitlin Comer, Spaulding and King in the 400-freestyle. Buchholz also won the 100 backstroke ...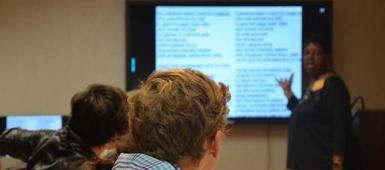 Bestselling Author Nikki Grimes Visits Skaneateles High School:

SKANEATELES, NY (November 2, 2018) – Skaneateles High School students were treated with a visit from New York Times bestselling author Nikki Grimes on Friday morning, thanks to a grant from the Skaneateles Education Foundation. Visiting from her home in California, Grimes spent the morning with the full freshman class in the high school's auditorium before conducting an intimate poetry workshop with a group of sixteen students later in the morning. The poetry workshop offered students a once in a lifetime opportunity to work with Grimes through the stages of writing a poem. From word selection, to description and eventually construction and revision, students were provided a valuable session of learning and conversation with the 2017 Children's ...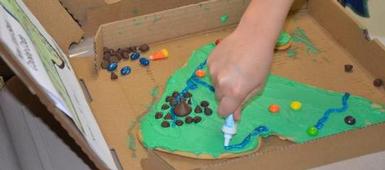 State Street Fourth Graders Enjoy NYS Cookie Day:

Halloween was a busy day at State Street Intermediate School! Wednesday was New York State Cookie Making Day for the 4th grade as students worked on decorating their own NYS cookie. Students used various decorative snacks to make their own NYS cookie, filled with area mountain ranges, rivers, lakes and more. Special thanks to the PTC for their help with this event as well as Mike's Pizzeria for providing 100 pizza boxes to use as carriers for our cookies.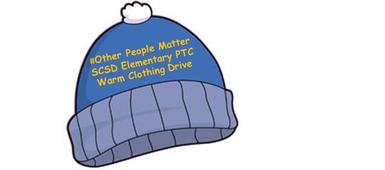 Warm Clothing Drive: The Positivity Project in Action:

The Positivity Project in action! The Elementary PTC is organizing a clothing drive for warm clothing for students in Syracuse. Starting November 13th, you can bring any gently used or new items of clothing to the District Office at 45 East Elizabeth Street. Between the hours of 7:30-4:00 pm you will able to drop off outer wear, boots, warm clothing, hats and mittens - anything that our friends in Syracuse might need to keep them warm and cozy this winter. In the meantime, take a look at the awesome video below, explaining the project. AND, TODAY, the hosts of Bridge Street talked about this clothing drive and the great work being done in Skaneateles! Stay tuned for more details!!! #OtherPeopleMatter
<< Previous Next >> Viewing 21 - 40 of 617 stories