District News
<< Previous Next >> Viewing 21 - 40 of 511 stories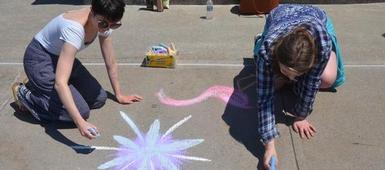 PHOTO GALLERY: SHS Laker Day Festivities:

Today (May 24) was LAKER DAY at Skaneateles High School! Students, faculty and staff took advantage of a beautiful afternoon to celebrate a fantastic 2017-2018 school year... We hope you all enjoy this terrific day as well. Happy Laker Day!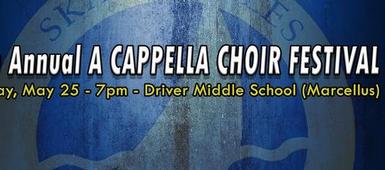 Annual A Cappella Festival on Friday, May 25:

The 8th ANNUAL SKANEATELES A CAPPELLA CHOIR FESTIVAL will take place on Friday, May 25, at 7:00 PM at Driver Middle School in Marcellus. There will be a $2 admission fee to help cover the cost of the clinician and guest performers. The doors will open 6:30 PM. The students will have the opportunity to work with guest clinician, Jeff Walker, who is the director of the SU Vocal Jazz ensemble at Syracuse University. Our guest performers will be "The Guerrillas", a male A Capppella group from SUNY Fredonia.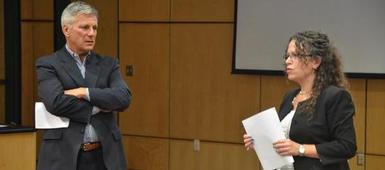 Project 2021 Progress Continues to Move Forward:

SKANEATELES, NY (May 22, 2018) – The Skaneateles Central Schools Board of Education recently held an informational meeting for the community which provided further details on the district's upcoming capital improvement project known as Project 2021. Approved by district voters in November of 2017, district officials are now working closely with the design team at Ashley McGraw Architects. Ed McGraw and Krista Hannacker were a part of the informational meeting, and helped to get everyone up to speed on where the team stands. The project has been divided into two phases, with Phase I focusing on the water issue in the Waterman Primary School crawlspace and Phase II keying on the remainder of the district. "Early on we determined that ...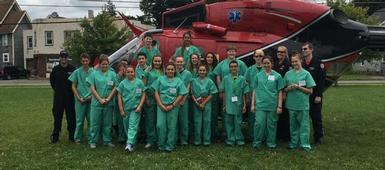 MASH Camps Offered for 7th & 8th Graders:

Summer MASH Camps One of the BEST WAYS to see inside the field of health care is to attend a MASH CAMP. These camps are open to students currently in 7 and 8 th grades (going into 8 th and 9 th grades). MASH Camp, or the Medical Academy of Science and Health, is a fun two or three day camp for students to explore health careers. Students are exposed to a variety of health professions, covering everything from on-the-job-training to an advanced college degree. Students will: · Learn about a variety of health professions as viable career options; · Learn about the educational requirements, ...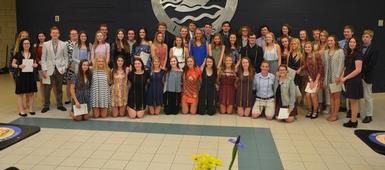 Students Recognized at Annual Honors Convocation:

SKANEATELES, NY (May 17, 2018) – The accomplishments of more than 70 juniors and seniors were celebrated at the annual Honors Convocation at Skaneateles High School on Monday, May 14. Seniors received a variety of awards, including senior distinction awards in every subject area. Fifty-two seniors, who will graduate with Honors and Honors with Distinction, were congratulated and presented with the special cords they will wear at graduation. Six juniors were recognized for their recent induction into the National Technical Honor Society. In addition, more than 20 juniors received plaques, certificates, books, and scholarships from colleges and universities that recognize fine Skaneateles students each year. Lucas Rathgeb was announced as the Class of 2018 ...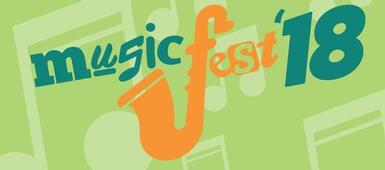 SMS Students to Attend Darien Lake Music Fest:

SKANEATELES, NY (May 16, 2018) – Seventh and eighth grade students in Skaneateles Middle School's Band, Chorus and Orchestra programs will take part in the Darien Lake Music Festival on Friday, May 18. Each group attending the festival will perform two or three selections for festival judges, while also getting to spend the afternoon in the park. "The trip is meant to be an opportunity for students to improve as well as a reward for all of the hard work that the students have put forth throughout the year," said Skaneateles Middle School's General Music, Choir and Drama Director, Colleen Anna. The Darien Lake Music Festival runs over four weekends from May 11 through June 2. Orchestras, bands, and chorus from around the ...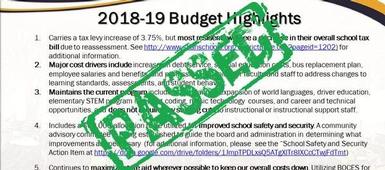 Budget, Propositions Pass; Board Members Elected:

SKANEATELES, NY (May 16, 2018) – The 2018-2019 Skaneateles Central School District general fund budget passed as a result of Tuesday's district voting by a margin of 644-196, with nearly 77% in favor. The overall budget of $34,009,732 will maintain and enhance the programming instituted under state regulations and the district's own strategic plan, and maintains its existing instructional staffing levels, which serve the district's increasing overall enrollment. The budget includes a $60,000 allocation to be utilized for improved school safety and security. A community advisory committee is being established to guide the Board of Education and administration in determining what improvements are necessary. Aside from the general ...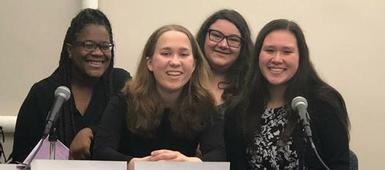 Apply Now for HS Girls Ambassadors Program:

A unique program in Central New York teaches selected high school girls to be dialogue facilitators and ambassadors. Applications are now being taken for participation in the Matilda Joslyn Gage Foundation Girl Ambassadors for Human Rights Program for the '18-'19 school year. Please contact the Skaneateles High School counseling center for all the details. The application process starts now … applications are due by June 3. To learn more, please stop in the counseling center.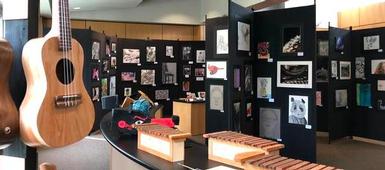 Annual District Art Show Running Until May 18:

SKANEATELES, NY (May 15, 2018) - The annual District Art Show is taking place this week inside the Skaneateles Central Schools District Office, located at 45 E. Elizabeth St. Community members are encouraged to visit the show while voting on today's school budget and Board of Education elections from 7 a.m. to 9 p.m. Featuring several pieces of art from students across the district, the show will run through Friday morning. Attached are a few photos showing off the pieces on display.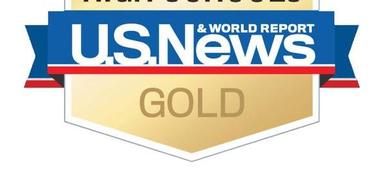 SHS Earns Gold in US News High School Rankings:

SKANEATELES, NY (May 9, 2018) – The 2018 U.S. News & World Report Best High Schools rankings have been released with Skaneateles High School having earned gold medal status. Schools are ranked based on their performance on state-required tests and how well they prepare students for college. The 2018 Best High Schools rankings awarded the top 5,948 public high schools in the country with gold, silver and bronze medals, indicating their level of college readiness. Of the 5,948 public high schools to achieve a medal, Skaneateles High School ranks 285 th in the country and 42 nd within New York, posting a college readiness score of 67.3/100. City Honors School at Fosdick Masten Park (17 th ), Pittsford-Mendon High School (18 th ), Pittsford ...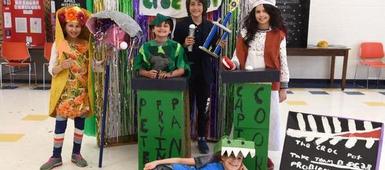 Skaneateles Team Prepares for OOTM World Finals:

Carey Eidel, who has performed professionally on screens both small and silver, said he knows when to sit back and let creative people get busy. That's what he did while coaching the State Street Elementary School B Odyssey of the Mind team from Skaneateles, which will head to the World Finals at Iowa State University later this month. The group snagged first place at the state finals last month in the Division I category with its project, "Classics ... Mockumentary! Seriously?" The team is made up of four fifth-grade students and one third-grade student: Heschel Eidel, Maura Leonardis, Matthew Leonardis and Nico Moro, all 11, and Amelia Blados, 9. CLICK HERE - To read the full story from auburnpub.com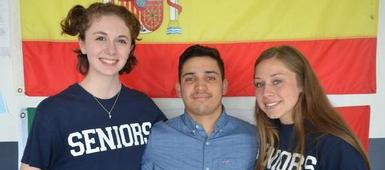 SHS Students Earn NYS Seal of Biliteracy:

SKANEATELES, NY (May 4, 2018) – The Skaneateles High School World Language Department is pleased to announce the first three students to have completed the district's New York State Seal of Biliteracy program. Seniors Amelia Huba and Addison Gremli as well as Junior Yorvin Solis-Samayoa are the first students to have completed the all-new program. Each will wear NYS Seal of Biliteracy medallions at graduation with their transcripts and diplomas marked with this fantastic honor. The NYS Seal of Biliteracy provides a culmination of achievements for students who strived to be proficient in two languages. "The Seal of Biliteracy program celebrates cultural pieces, biculturalism, and it celebrates students who can read, write, speak and ...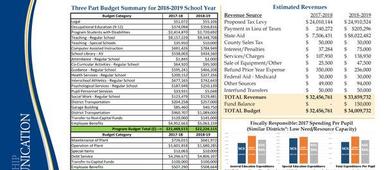 School Board President: Budget Talk:

With only May and June to go, it's hard to believe that we are nearing the end of another school year. It's been said that "Time goes by quicker as one gets older" and I must now admit, I couldn't agree more. It's been a quick year, one definitely not lacking in excitement, and definitely one for learning - for everyone. One area of learning here and across the entire country has been around school safety. Personally, this continues to be a focus for me having grown up, now working, and continuing to raise a family in Skaneateles. We are incredibly fortunate to live where we do. For a long time, we've been able to leave our cars running while dashing into Byrne Dairy, to leave our front doors unlocked, and to leave something ...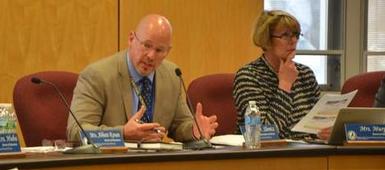 School Budget, BOE Vote Today - 7am to 9pm:

*** The 2018-2019 school budget and Board of Education vote is TODAY (May 15) in the Skaneateles Central Schools District Office located at 45 E. Elizabeth St. The polls are open from 7 a.m. to 9 p.m. Please find further detailed information in the story below as well as at the attached link: http://www.skanschools.org/districtpage.cfm?pageid=1202 SKANEATELES, NY (May 2, 2018) – The Skaneateles Central Schools Board of Education held an informational meeting for the community on Tuesday evening, providing further details on the approved 2018-2019 school budget. The proposed 2018-2019 school budget is set at $34,009,732, a 4.78% increase from the 2017-2018 budget, with a 3.75% anticipated tax levy increase. However, based on ...
<< Previous Next >> Viewing 21 - 40 of 511 stories