Celebrations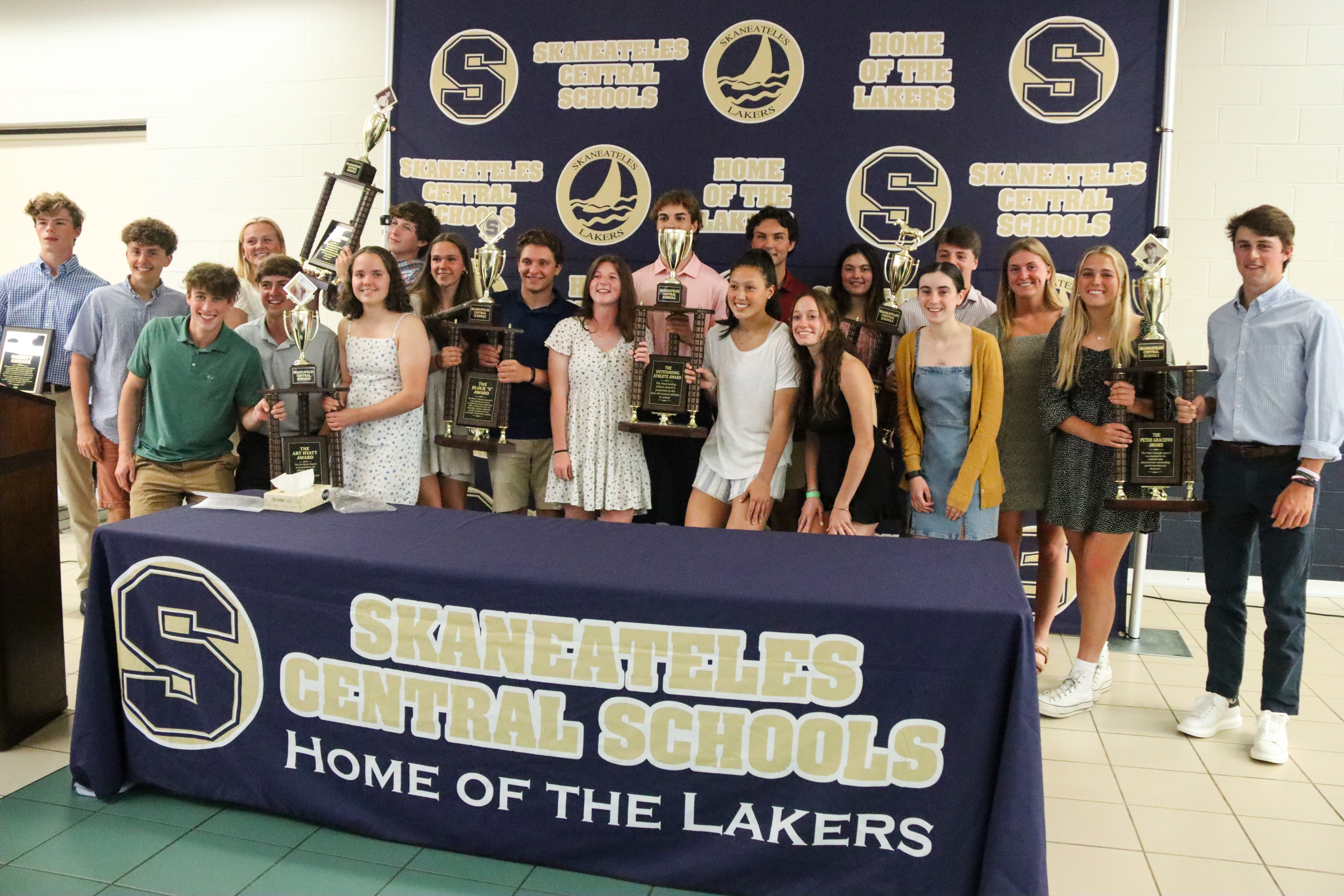 2022-23 LAKER CHAMPIONSHIPS
League/Division Champions

Girls Soccer, OHSL Liberty 2, 2022

Boys Soccer, OHSL Liberty 2, 2022

Girls Tennis, Class C, 2022

Boys Golf, Liberty National, 2022

Volleyball, Class C, 2022

Boys Hockey, Division II, 2023 (Chad Lowe--POY; CO-Coaching staff of the year)

Girls Basketball, Class B, 2023


Sectional Champions

Girls Tennis, Class C, 2022 (Individual champions for singles & doubles)

Boys Soccer, Class B, 2022

Swimming, Class C, 2022 (Alice Spaulding--swimmer of the meet; Coach King--COY)

Volleyball, Class C, 2022 (Kate Raddant--POY; Coach Mulroy--COY)

Boys Hockey, Division II, 2023

Baseball, Class B, 2023


Regional Champions

Boys Soccer, Class B, 2022

Boys Hockey, Division II, 2023

State Champions

Boys Soccer, Class B, 2022

Boys Hockey, Division II, 2023
SPRING SCHOLAR-ATHLETE TEAMS
| | |
| --- | --- |
| Baseball | 92 avg |
| Girls Golf | 96 avg |
| Girls Lacrosse | 95 avg |
| Softball | 92 avg |
| Boys Tennis | 92 avg |
| Boys Track & Field | 94 avg |
| Girls Track & Field | 96 avg |
Winter Sports Season Celebrations
Boys Swimming
Athough we don't host a team here at Skaneateles, we have 3 student-athletes that swim at Weedsport and have had a lot of success competing!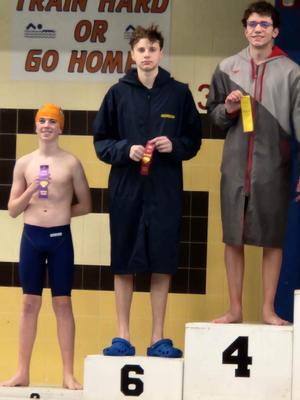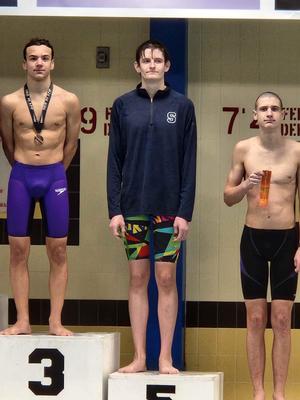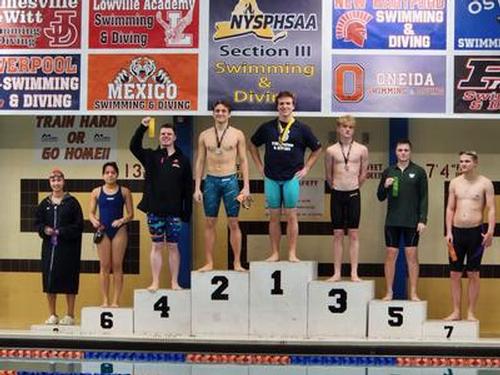 Top picture: Jacob Gordon placed 7th in the 200 Free and 6th place in the Breast Stroke;
Middle: Liam Byrons turned in a best time (and place 5th) in the 500 Free, dropping 14 seconds to a 5:27.08;
Bottom: Gavin Van Kersbergen was the Class C Swimmer of the meet, 100 Butterfly champion, Section 3, Class C record holder, state qualifier 51.44. 100 Backstroke champion, state qualifier 53.48.
Congrats to you all!
Girls & Boys Indoor Track
Congrats to the Lakers bringing home some hardware from the Section 3 Indoor Track Championships: (from left to right)
Maddie Wright Mara Stanton Will Feeney Kyla Palmer & Max Paciorek
High Jump champion Weight Throw champion Shot Put champion 300 Meter champions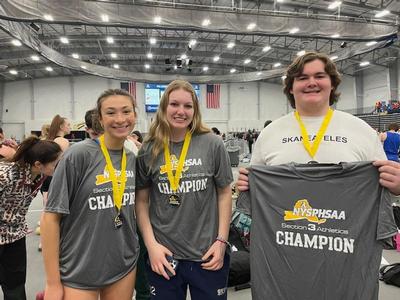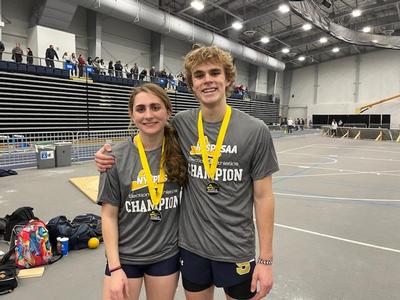 Boys Varsity Ice Hockey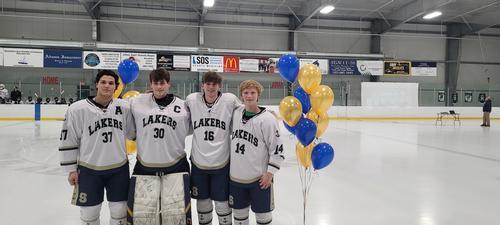 Senior Night-Michael Blowers, Chad Lowe (POY), Jeffrey McCrone & Ben Patterson
Good luck to you all!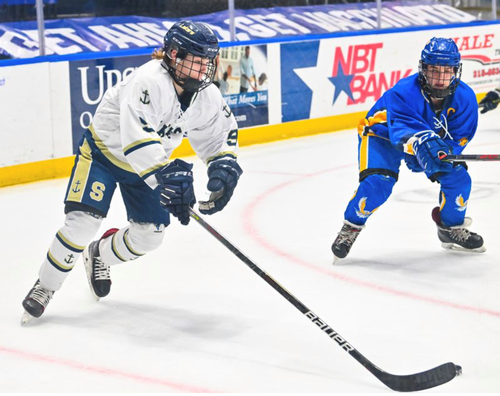 Henry Major, all CNY player scores his 100th career point and only as a sophomore!
Girls Hockey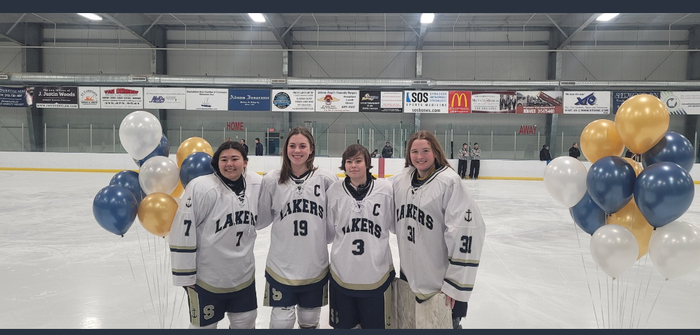 Senior Night Celebration--Kelly Goldberger, Lilly Marquardt, Julia Quinn & Isabelle Wells. Congratulations!
Girls Basketball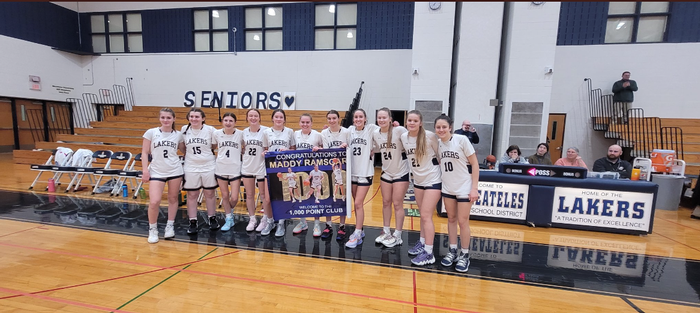 Huge shout out to Maddy Ramsgard, the newest member of the 1,000 point club. Congratulations!
Boys Basketball

Celebrating our nine seniors--Cader Bradley, Ethan Hunt, Matt Synder, Patrick Herr, Ben Underhill, Nate Shattuck,
Tyson DiRubbo, Nico Decker & Jacob Sweeney. Best of luck in all your future endeavors!
WINTER SCHOLAR-ATHLETE TEAMS
| | |
| --- | --- |
| Boys Basketball | 93 avg |
| Girls Basketball | 93 avg |
| Boys Ice Hockey | 90 avg |
| Girls Ice Hockey | 97 avg |
| Boys Indoor Track | 97 avg |
| Girls Indoor Track | 93 avg |
FALL SEASON HIGHLIGHTS

Swimming & Diving
The Skaneateles Girls Swimming and Diving Team won the Class C sectional Championship, winning 11 if the 12 event titles and qualifying both the 200 free relay and 400 free relay for the State meet November 17th and 18th in Rochester. Alice Spaulding placed 7th is the 50 freestyle at the State meet. She received Scholar Athlete and the Sportsmanship Award. Overall it was one of the most exciting seasons yet and the girls are excited to represent Skaneateles again at the State Level.
Alice Spaulding, Elizabeth Springer, Kyla Palmer and Cate Comer were all named Academic All-Americans. Congrats!
Girls Tennis
Section III Class C Champions:
3rd consecutive year!!
OHSL League Champions:
3rd consecutive year!!
Overall Record: 12 -2
Individual Achievements:
Kenna Ellis - Section III Individual Singles Champion
Isabelle Soderberg & Eva DeJesus - Section III Individual Doubles Champions
Six players made it to the State Qualifying Round: Singles players Kenna Elllis & Lily Miller; Doubles teams of Isabelle Soderberg / Eva DeJesus & Emma Whipple / Kate Kissel.
Boys Golf
The Boys Golf team finished off the 2022 season with a 14-1 overall record including a perfect 11-0 league record. Led by Tyson DiRubbo (Sr), Jack Marquardt (Soph), Drew Mancini (8th grade), Will Murphy (8th grade), Will Cowden (Sr) and Henry Major (Soph), the boys finished in second place at this years Sectionals. Tyson and Jack advanced to State Qualifications later in the Spring of 2023.
Girls Soccer
The Girls Soccer team had another fantastic season. They finished the year 13-4-2 and were semi-finalists in the sectional tournament. The team was led by 10 amazing seniors who have revamped the girls soccer program. Two big highlights of the season were beating Westhill in our first meeting for the first outright win over Westhill in 15 years and the team only gave up 12 goals all season as well. Thank you to our seniors and good luck in your future endeavors.
Boys Soccer
The Boys Soccer team had another fantastic year. They won the section, regional and state championship. Three years in a row. #Threepeat.
Girls Cross Country
With just 5 girls and no seniors this was a young Laker XC Squad. They finished in second place in the OHSL Liberty National Division. In October, the girls won the Norwich Invitational-their first invitational win in 8 years. At the OHSL Championships they finished 3rd overall and 2nd in the Liberty National. Individually at the OHSL Championship. Lucy Fleckenstein and Tobi DiRubbo finished 2nd and 3rd respectively earning 1st team All OHSL Honors. They were joined on the first team by Annabel Wells. Caroline McSwain and Monica Pohl earned 2nd Team honors. The girls had a solid 4th place finish at the Section 3 Championships and freshman Lucy Fleckenstein qualified for her second consecutive state championship where she finished 44th overall.
Boys Cross County
A young boys cross country team with just two seniors finished second in the OHSL Liberty National Division. They were 7th overall and 3rd in the Liberty National at the OHSL Championships. Senior Aidan Ward earned 1st Team All-League Honors while Ethan Leubner, Michael Galbato and Patrick Hagan each earned 2nd Team All-League for the first time in their careers. At the Section 3 Championships, the boys finished in 11th place.
Volleyball
The Skaneateles Volleyball team finished with a record of 17-3 which included some very impressive wins. They won the OHSL league tournament with big wins against Homer and Solvay. They won another league championship and wrapped up their 4th consecutive sectional championship with impressive 3-0 victories against Solvay in the semifinals and Cazenovia in the finals. The team was led by captains Kate Raddant and Ayla Pas'cal and 8 other seniors that made incredible contributions to the program during their time playing volleyball. Thank you to the parents, fans, and students who supported the volleyball team. And a very special thank you to our booster club that made this season fun and memorable.
Football
After a big shake up with a new coaching staff and a slow start, the varsity football team rallied strong at the end of the season with a big victory over rival Marcellus on senior night. That upset qualified the team for the section 3 tournament and a re-match with General Brown. This rematch showed a vastly improved version of the Lakers and a well fought game against the eventual section 3 champions. Congratulations to Grayson Brunelle, Pat Herr, Nate Shattuck and Nico Decker for being selected to the Arcaro Classic Exceptional Senior Game. The coaches would like to thank the 12 seniors for a great year.
FALL SCHOLAR ATHLETE TEAMS
| | |
| --- | --- |
| Boys Cross Country | 97 team average |
| Girls Cross Country | 97 team average |
| Football | 92 team average |
| Boys Golf | 93 team average |
| Boys Soccer | 94 team average |
| Girls Soccer | 94 team average |
| Girls Tennis | 96 team average |
| Swimming & Diving | 95 team average |
| Volleyball | 94 team average |