Celebrations

We were thrilled to have an abbreviated fall sports season and thankful for our successes and senior celebrations:
Boys' V Soccer team, the Defending NYS Champion, finished its COVID season 10-3-1. Two notable wins were over rival Marcellus and boasting a record of 3-1 over the Class A and AA's in 4 games. Best highlight would be the team's ability to adapt, improvise and overcome the mental and physical obstacles imposed this fall in order to play! Their diligence and commitment to abiding by all the policies and precautions allowed us to have 14 games this fall while many other teams in the area had less than 8 or were shut down completely.
Boys' JV Soccer had 23 players this year. A great group of student-athletes working hard and committed to team success. They finished with a record of 5-1-1, including an outstanding 1-0 win over rival, Westhill.
The Skaneateles Girls Varsity Tennis team finished their fall season with a perfect record. It was a very different season for the team with the late start, playing in masks, and cancellations due to Covid exposures but the team was thrilled to compete. The Lakers finished undefeated in their league by beating Jordan Eldbridge, Westhill, and Marcellus and CBA twice. The outstanding #1 doubles team of Emma Miller and Ella Danforth also remained undefeated with a 6-0 record. The starting lineup also included Kenna Ellis, Lily Miller, Isabella Soderberg, Sophia Soderberg, Alice Spaulding, Sofia Capozza, Maggie Newton, Kelsey Rutledge, Rachel Hackler and Kate Aberk. The Lakers also say good-bye to seniors Emma Miller, Kate Aberi, Kendall Tillotson, Maggie Newton, Julia Marshall, Anna Major, Graeycn Congel, and KC Clark.
The Skaneateles Boys Cross Country team had a season that left them wondering what could have been had there been sectional and state championship races this year. In dual meets, the boys were 7-0, sweeping 6 opponents and surrendering just one point to their remaining foe. Competing at two mini-invitationals, the boys had one win and one second place finish (perennial state class A power Liverpool was the only team to outrun the Lakers this year). Seniors Caleb Bender, Matt Persampieri, Joe Norris, Josh Reed, and Will Swarts all had strong seasons.
The Skaneateles Girls Cross Country team recently completed a successful short season. In spite of not being at full strength for any meet, the lady harriers finished the dual meet portion of the season 6-1. An early season loss to Marcellus was avenged when the two teams met again on Oct 31. The Lakers also competed in two mini-invitationals recording a fourth and second place finish. Senior Hope Cross-Jaya was the top runner this year.
Girls' V Soccer team showed consistent improvement (record 6-6) within a positive environment throughout the season this year. They finished the season with some exciting team performance against strong competition.
Girls' JV Soccer team had another great season even with multiple obstacles they had to circle around. Starting the year with a handful of normal swimmers and volleyball players, along with our yearly soccer players, made it for a very busy and successful preseason before getting into games. With two weeks left in the season, the team lost 6 players due to quarantine which left the team with 9 players. With all the loss, it didn't stop the group from moving forward to finish out the season! The girls finished with a 6-2 record and a much successful improvements throughout the season! The addition of the extra players this year made our team realize with hard work and trainings, any athlete can become a good soccer player!
Boys' V Golf finished 10-1 this season and won their league title. The team was led by senior, Tynan Jones. Tynan earned the OHSL Player of the Year award for the 3rd straight season, and also broke a 30 year old school record for the most consecutive rounds in the 30's. The Skaneateles Golf team was also heavily backed by OHSL 2nd Team All-League Players Tyson DiRubbo, Shawn Luce, and Drew Henderson.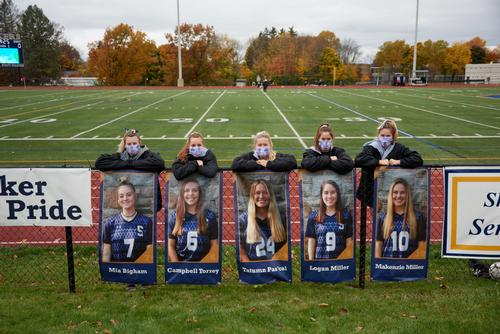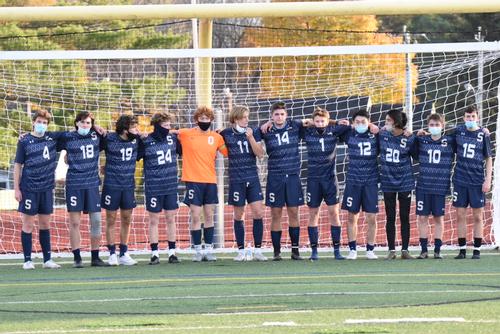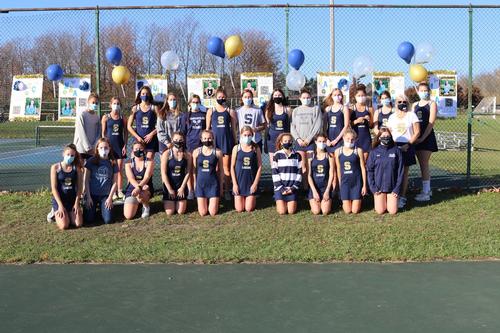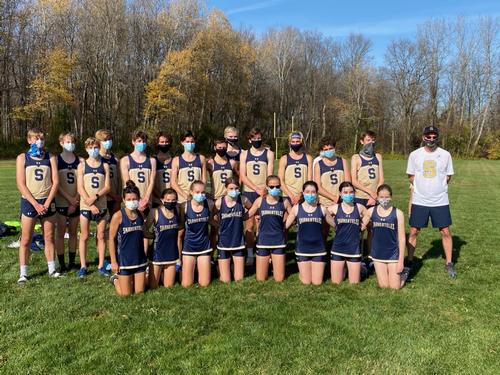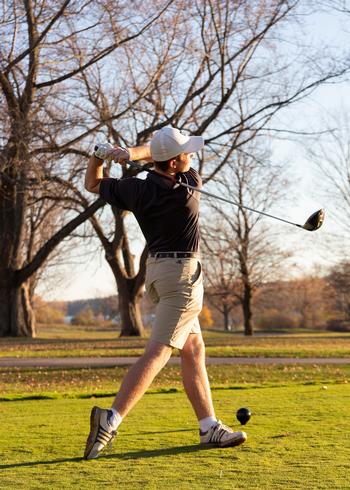 Fall Scholar-Athlete Teams
| | |
| --- | --- |
| Boys Cross Country | 92 team avg |
| Girls Cross Country | 96 team avg |
| Boys Golf | 92 team avg |
| Boys Soccer | 93 team avg |
| Girls Soccer | 95 team avg |
| Girls Tennis | 95 team avg |
We had a fun, safe and short winter season. Below highlights from the season along with senior night photos.
The Lakers Boys hockey team went undefeated for the second year in a row. Unfortunately due to COVID-19 they were unable to compete for a state championship. Their unbeaten streak has been extended to 58 games. A new NY State record.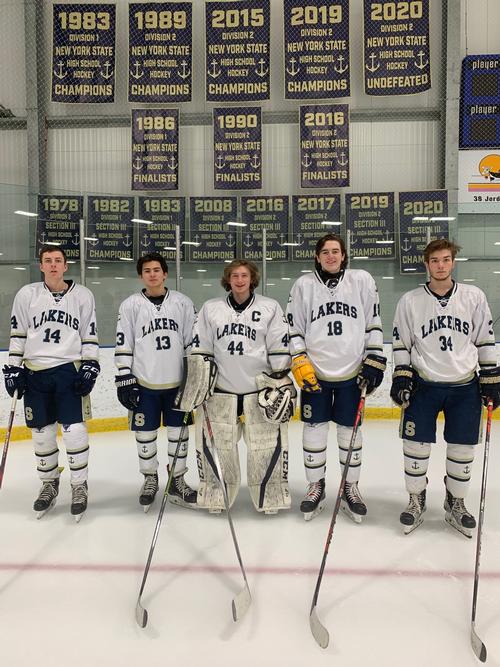 The Varsity Girls Hockey team had very successful season posting a record of 6-2. Then only 2 losses coming to two close games against defending state champions Clinton. The team worked hard all year and really came to together as team during a very different and challenging season. The team had multiple contributors on the offense of end with numerous players averaging over a point a game, while the defense was very tough all year as well allowing
1 goal or less in 4 of the 8 games.?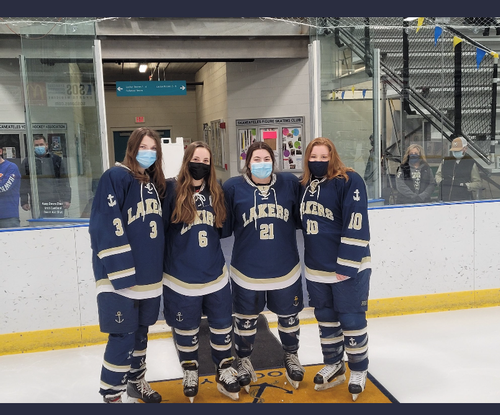 We are very proud of our B V Basketball players for doing the right things and following protocols that helped us all stay healthy and finish the season. Our biggest highlight on the court was our double-overtime win over Class A Syracuse Academy of Science, and having some fans in the gym to watch us win our last home game over Cato.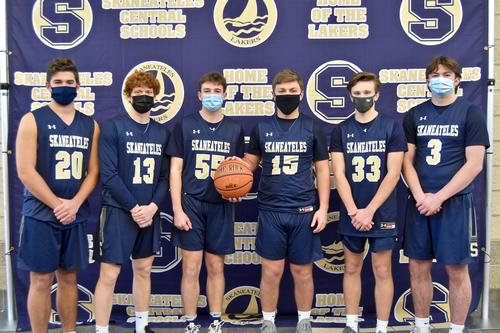 Other news:
In a year filled with uncertainty, 10 players and a coach found normalcy in our daily practices and opportunities to compete against our opponents in a shortened 6 week season. With each practice we were one step closer to competing in games but the real goal was just having the opportunity to come together as a team, to grow and work together as a team and create a sense of normalcy in uncertain times. Mission accomplished by an outstanding group of young men! Very proud of our Boys JV basketball team!
The 9th Grade Boys Basketball team had a great season competing against large schools such as Fayetteville-Manlius, Jamesville-DeWitt, Liverpool and Cicero-North Syracuse. The boys worked hard all season and earned big victories in games against Bishop Grimes and Central Square. It was awesome to be in the gym!
The Girls Varsity basketball team completed their season winning 5 of their last 8 games. The girls were excited to get back on the court and have the opportunity to compete. The team was led by 6 graduating seniors: Tatumn Pas'cal, Kate Aberi, Lexie Cottrill, Alex Csemez, Jillian Castle and Mia Bigham. The team would like to thank everyone involved in helping them have a successful return to the court.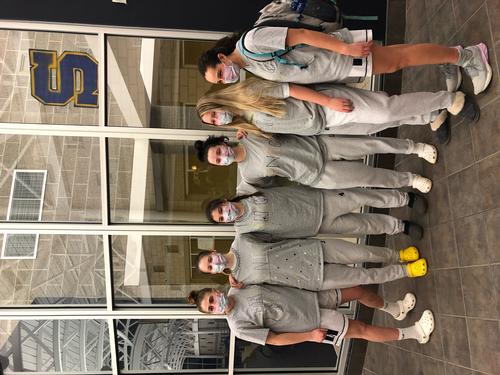 Other news:
The Girls JV basketball season was short, but successful, with a focus on improving fundamental skills and team play. Our highlight was beating a team late in the season that we lost to by double digits early on. We were just hitting our stride as the season came to a close.
Winter Scholar-Athlete Teams
| | |
| --- | --- |
| Boys Basketball | 93 team avg |
| Girls Basketball | 93 team avg |
| Boys Ice Hockey | 92 team avg |
| Girls Ice Hockey | 98 team avg |
Fall II Season Highlights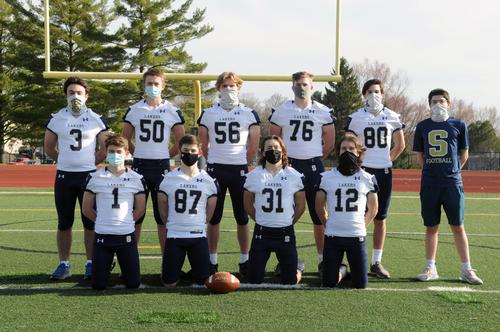 V Football
Undefeated season 3-0
Finished the season:
Ranked #1 Class C team in Section III
Ranked #6 team in New York State in Class C
Offense gained an average of 430 yards and scored an average of 25 points per game
Defense held opponents to an average of 144 yards and 7 points per game
In the home opener against Cazenovia, the Skaneateles defense delivered a shutout and held a talented Cazenovia team to 43 total yards of offense
V Boys Indoor Track
Finished with 3-1 record, introduced the sport of Track and Field to many new student athletes
Great times and distances and lots of fun
V Girls Indoor Track
We finished up the Mini Winter Track season on a high note. In our short 5 week season we saw some amazing growth and personal bests. The 2021 roster only saw 7 returning scorers from a team that placed second at the 2020 sectional championships. This crew of hard working athletes stepped up and performed as needed during this anything but normal season. With everyone but our 3 seniors returning, We look forward to getting back to a full season in 2022. We wish seniors Casey Bennett, Schuyler Bennett, and Ally Sell all the best as they venture on past the halls of Skaneateles HS.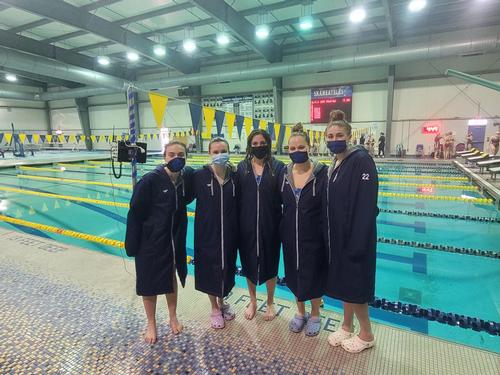 V Swimming & Diving

We finished 5-2 overall for the season

2021 Fall 2 Class C sectional Champions
Event Champions:
200 Medley Relay: Arianna Matthews, Lili Winkelman, Millie Musso, Cate Comer
Grace King 200 Free
Arianna Matthews 200 IM (New School Record), 500 Free
Hana Spaulding 50 Free (New School and Pool Record, Class C Record, State Qualifier), 100 Free (New School and Pool Record, Class and Section Record, #1 in the State)
Ashley Drotar 100 Butterfly
Lili Winkelman 100 Breastroke
200 Freestyle Relay (New School and Pool Record, Class C record, State Qualifier, Finished 5th in the State) Hana Spaulding, Grace King, Ellie Springer, Ashley Drotar
400 Freestyle Relay ( New School and Pool Record, Class C record) Hana Spaulding, Grace King, Ellie Springer, Ashley Drotar

Academic All Americans: Grace King, Lexis Cottrill, Liliana Arias, Emily Parks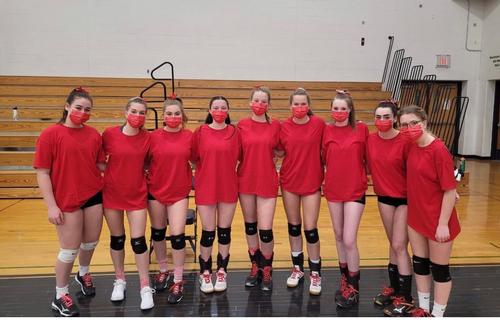 V Volleyball
The volleyball team celebrated its 9 seniors and great wins against CBA. They were led by senior captains Alex Csemez, Riley McConochy, and Stella Zang. The season featured very exciting games against Cazenovia. Congratulations to Rory Comer for being named First Team All League, Stella Zang for Second Team All League. Emma Miller, Alex Csemez, Graecyn Congel and Riley McConochy were named to the Honorable Mention All League team.
Fall II Scholar-Athlete Teams
| | |
| --- | --- |
| Boys Indoor Track | 95 team avg |
| Girls Indoor Track | 95 team avg |
| Girls Swimming | 96 team avg |
| Girls Volleyball | 94 team avg |