District News
Next >> Viewing 1 - 20 of 1082 stories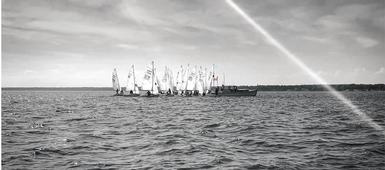 Students Earn CNY Scholastic Art Awards:

Nine Skaneateles Central School District students received CNY Scholastic Art Awards this year. Maddie Wright earned the Silver Key for her portfolio of work titled Self Awareness. Wright also was awarded the Gold Key for drawing & illustration, while Owen Chabot received Gold and Silver Keys for his photography. Emma Whipple's painting also earned a silver key, while Muhammad Ahmad, Alexis Barron, Sammi Shaw, Wyatt Thompson, Lily Traub and Caitlyn Yengo each received honorable mentions.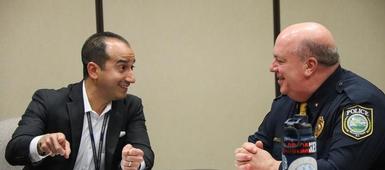 Substitute Staff Review School Safety Procedures with Administration, Local Law Enforcement:

Substitute staff in the Skaneateles Central School District are well-informed on school safety practices, thanks to recent sessions held in the District Office. Gregory Santoro, Director of Personnel and Operations, outlined current procedures and answered questions from the group. "The number one responsibility of anyone working in schools is to make sure everybody is safe," said Santoro. Attendees got refreshers on lockouts, lockdowns, fire drills, and hold-in-classroom procedures. Santoro encouraged substitute staff to reach out to a building principal or school resource officer if they are ever unsure of how to handle a situation. Substitute staff witnessed first-hand the strong relationship between the District and local law enforcement, ...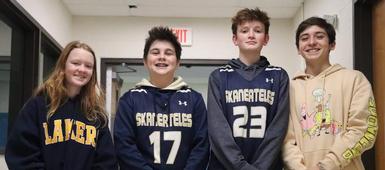 Middle School Student Council Officers Working Hard to Put on Annual Holiday Shopping Spree:

Skaneateles Middle School Student Council's annual holiday shopping spree is one of the most wholesome events of the school year. Thanks to generous funding from the CNYCentral Foundation, Todd's Fund, and the Middle School Student Council, Middle School students have the unique opportunity to shop for local charities and provide gifts for children in need. This year, the students will be shopping at Walmart on Wednesday, December 7. The shopping spree will have special meaning for Middle School Student Council officers Beckett O'Brien, Colton Bone, Peter Salzhauer, and Magnus Arroyo, who have been hard at work planning for the big day. The officers, who participated in last year's shopping spree, were surprised to learn how much work goes into making ...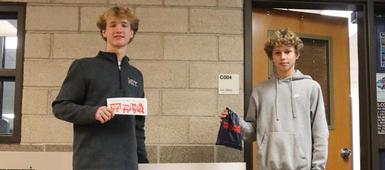 Student Athletic Council Collecting Toys for Tots Through Tuesday, December 13:

The Skaneateles Student Athletic Council (SAC) has partnered with the Marine Toys for Tots Program to collect new, unwrapped toys for those in need this holiday season. The toy drive runs through Tuesday, December 13. "We were just throwing out ideas for what we could do as a group, and someone in the Council brought up Toys for Tots," said SAC secretary Torin Bennett. "We thought this would be the best way to give back to the community," added treasurer Shea Musso. Toys may be dropped off in bins located at each of the five buildings on the Skaneateles Central School District campus. Additionally, the SAC is asking for a toy as admission to the games listed below. Friday, December 9: Boys Varsity Basketball vs. ...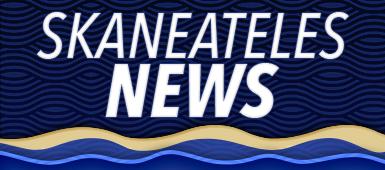 High School Yearbooks Now Available to Order: Dear Skaneateles High School families, Our yearbook staff is hard at work creating a beautiful yearbook full of Laker memories. Great news! The 2023 yearbooks will be distributed in June this year. What does that mean for students? They will have their hands on the yearbook before summer arrives AND they can have them signed in person. Due to this change you must order soon to reserve your copy. The deadline to order and reserve your copy is February 10 th 2023. We will NOT be ordering extra yearbooks this year. Please visit www.jostens.com ...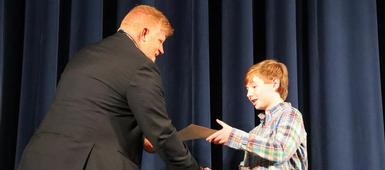 Fifty-five Students Inducted into National Junior Honor Society Class of 2027:

The past several years have presented challenges for many students, but new inductees of the Skaneateles Middle School's National Junior Honor Society (NJHS) have worked hard to exceed expectations in and out of the classroom. Inductees were recognized at the NJHS Induction Ceremony on Monday, November 14 in the High School Auditorium. "These students opened their hearts, shared many stories about giving their all, and accepted challenges that showed how they were able to overcome everything life throws at them. I'm very excited to see what they make of themselves," NJHS advisor Kelly Gunderson said. Inductees have obtained a cumulative grade point average of 93 percent or above since the beginning of sixth grade. In additional to outstanding ...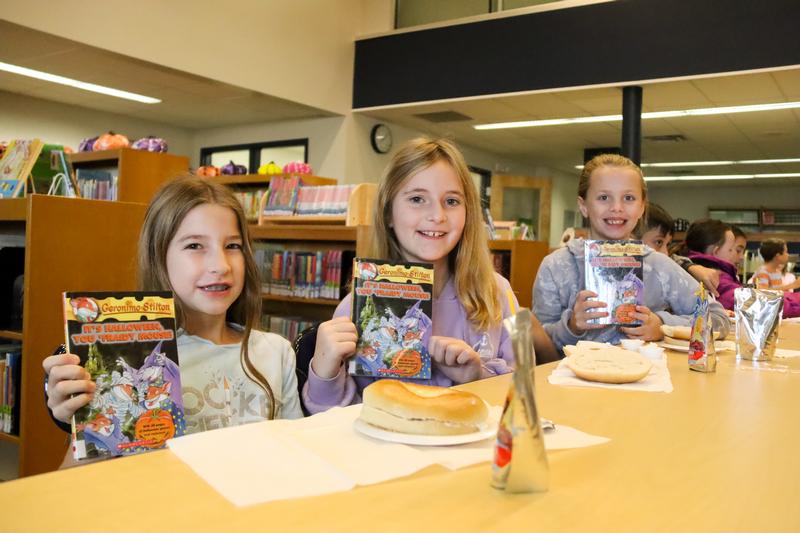 Third-Grade Students Give Thoughtful Insights at "Books & Bagels":

Third-grade students at State Street Intermediate School showed up in large numbers for the first "Books & Bagels" event this school year. "Books & Bagels" is open to all third-grade students who are interested in reading, and is held several times each year before school. "I think this is one of the largest groups we've ever had," said third-grade teacher Kathy Herr. Herr and fellow third-grade teacher Bridget Patterson led the discussion on Geronimo Stilton's book, "It's Halloween, You 'Fraidy Mouse!" Each third-grade teacher leads a discussion during the school year. Students were quick to point out some of the things they noticed about the characters and Stilton's writing style. In ...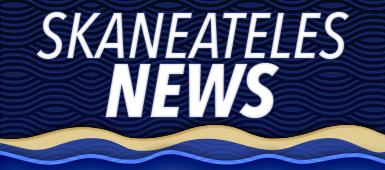 Read The Fall Newsletter!:

Read the Fall Newsletter at the following link: https://indd.adobe.com/view/8cd9f64d-2f7c-4170-aa6f-df457ceb8517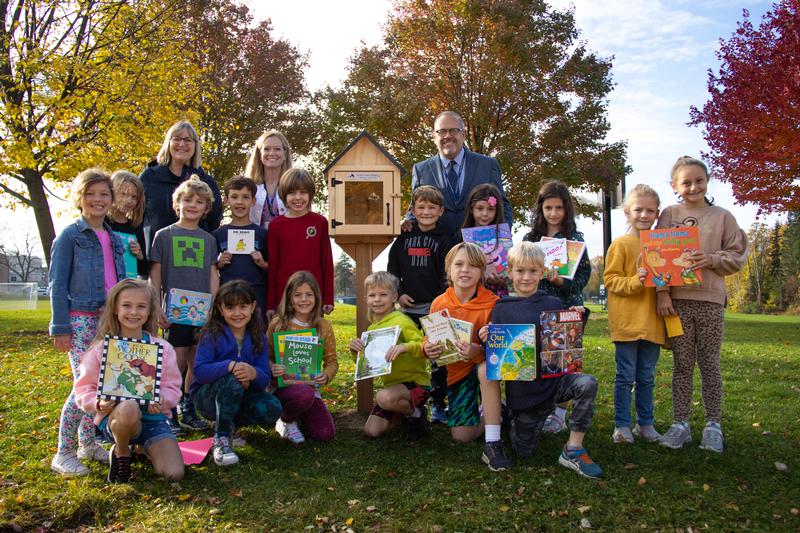 Community Members Invited to Take, Give Children's Books at Waterman's Little Free Library:

Last year, Waterman Primary School teacher Pam Anastasio and her first-grade students read "The Little Library," a story about a father and son who built a hut where children could exchange books. The books do not need to be returned, and additional books may be donated for others to enjoy. Inspired by the story, Anastasio started to consider what a similar hut at Skaneateles would look like. "After reading the story, I thought it would be great to have one at school for the whole community to use," she said. Anastasio wrote a grant to the Skaneateles Education Foundation (SEF) to purchase the materials needed for a hut at Waterman. SEF awarded her the funds, and the hut was formally opened on Monday, October 24 in a ceremony with ...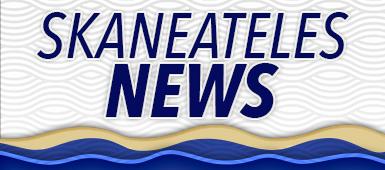 Laker Link Programs Provide Support and Leadership Opportunities for Students:

Laker Link programs provide support and leadership opportunities for our students. Applications for Laker Link Middles and Laker Link Lunch are now available in the High School Counseling Center and are due back by Friday, October 14. See Ms. Manuel with any questions. Laker Link Freshmen Advisors: Mrs. Zysk and Mrs. Michel Upperclassmen are paired with a small group of incoming 9th grade students and students new to the district to help with the transition into high school and offer support throughout the year. Laker Link Middles Advisors: Ms. Manuel, Ms. Walsh and Ms. Rogala High School students are paired with a middle school student who they will meet with weekly during activity period to work on homework, work on organizational and study skills, play games, etc. ...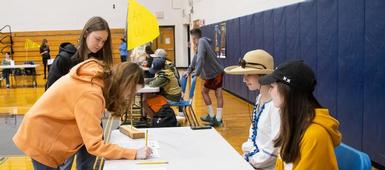 Students Explore Interests at High School Activities Fair:

The Skaneateles High School gymnasium was buzzing with excitement as ninth grade, tenth grade, and new students explored the annual Activities Fair. The Activities Fair showcases the clubs and other extracurricular activities offered at the High School. During the Fair, students connected with club representatives and signed up at tables to receive more information. A complete list of extracurricular clubs and activities can be found at: https://www.skanschools.org/districtpage.cfm?pageid=2925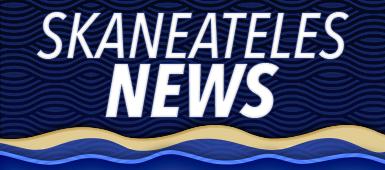 Enjoy Delicious BBQ at the Middle School Student Council's Fundraiser, Wednesday, October 5:

Come support the Middle School Student Council starting at 3 p.m. until we sell out! There will be pulled pork sandwiches from the Dinosaur or Gianelli sausage, bbq style baked beans, chips and a drink for only $12.00. Bring home dinner for everyone! Proceeds are used to fund our annual holiday shopping spree, which benefits several local charities and schools.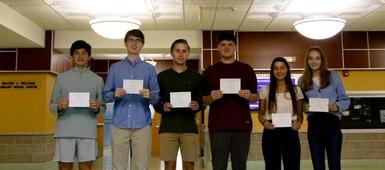 Six High School Students Honored for Outstanding Performances on PSAT:

Semifinalists and Commended Students in the 2023 National Merit Scholarship Program have been announced and we are pleased to acknowledge the following students for their outstanding performance on the 2021 PSAT. Of the 50,000 high scorers nationwide, about 16,000 will be named Semifinalists and will continue on in the competition to compete for the 7,500 Merit Scholarship awards offered in 2023. We are pleased to announce that Stanford Cramer and Samuel Weiss are among this distinguished group of semifinalists. Additionally, we are pleased to announce that the following students have been commended for their performance on the PSAT: Francesca Arias, Lillian Coleman, Michael Galbato, and Wyatt Thompson. Congratulations to all our recipients!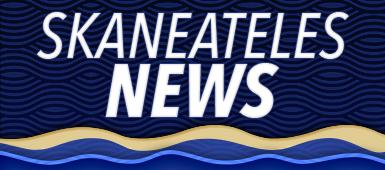 Skaneateles Middle School Named National Blue Ribbon School for 2022:

U.S. Secretary of Education Miguel Cardona today recognized 297 schools as National Blue Ribbon Schools for 2022, including Skaneateles Middle School. The Middle School was recognized as an Exemplary High-Performing School, measured by state assessments or nationally normed tests. Only twenty schools in New York were named National Blue Ribbon Schools this year. Skaneateles Middle School's recognition as a National Blue Ribbon School would not be possible without such a caring community supportive of the academic, social and emotional growth of its students. Those students, guided by a highly talented, dedicated staff and supportive families, are to be commended for their outstanding achievements. "Our Middle School motto, ' every good beginning ...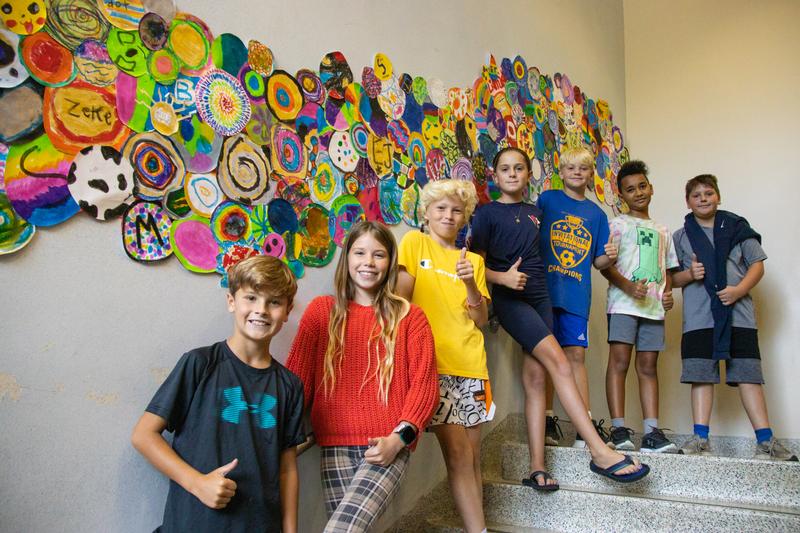 State Street Students Celebrate International Dot Day With Brave, Creative Artwork:

Students in Chelsea Hamilton's art classes recently made their marks at State Street Intermediate School in recognition of International Dot Day. Held on September 15, International Dot Day is based on the book, "The Dot," by Peter Reynolds. The book and the day emphasize creativity and bravery. "Everybody made a dot, which was a good thing to do on the first day of art class," art teacher Chelsea Hamilton said. "They learned to make a mark and see where it takes them. All of the dots are lined up, kind of traveling across the wall." The dots were displayed in the State Street hallway for all students to see. Students in Liz Hyatt's class posed next to the dots for a photo.
Next >> Viewing 1 - 20 of 1082 stories