District News
Next >> Viewing 1 - 20 of 1092 stories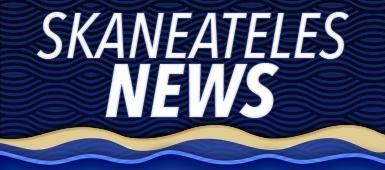 Interest Meeting Approaching for Trip to Dominican Republic:

There will be an interest meeting Wednesday, March 22, for a service learning trip to the Dominican Republic. There are still spots available for the trip, which is set for February Break 2024. The opportunity is open to current 8th, 9th, 10th or 11th grade students. The meeting will be held 2:30 p.m. Wednesday in room 170 in the high school. Both students and parents are welcome to attend. For more information, contact Brittany Manuel at bmanuel@skanschools.org or Mary Lou Ingram at mingram@skanschools.org.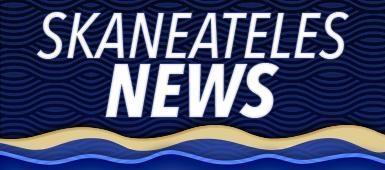 District Hosting Celebration for Current, Past Teachers:

Traditionally we celebrate our faculty and staff in May as part of Teacher Appreciation Week. This year we would like to honor not only the present, but also the past. We will be hosting a celebration of everyone who has helped to make Skaneateles Central Schools what it is today. We are inviting all retired faculty, staff and employees of the district to join us for an opportunity to catch up and celebrate our rich history here in Skaneateles. Once a Laker, always a Laker! The celebration will take place on Thursday, May 4 th in the Middle School/High School cafeteria from 4:00 – 6:00.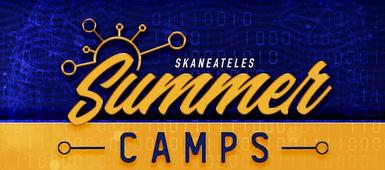 District Announces 2023 Summer Camp Offerings:

Skaneateles Schools is excited to announce our 2023 Summer Camp offerings. Registration for these extracurricular camps will open at 9:00 a.m. on Monday, March 20. See the attached catalog for details about the offerings. Please note that we will not be hosting our COVID-related academic program, Ready to Rise Summer School , this summer.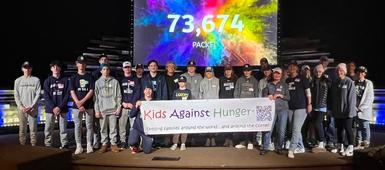 Student Athletic Council Packages Meals for Haiti:

The Student Athletic Council recently packed more than 70,000 meals with Kids Against Hunger at Grace Chapel. The 25 students and faculty members made 73,674 meals, which are destined for Haiti. Members of the SAC were able to see the process from start to finish, and helped pack food items onto pallets and then onto the truck. Kids Against Hunger is a non-profit humanitarian organization with the mission to provide to impoverished children and families around the world. The SAC's purpose is to engender and sustain school pride/spirit with acts of philanthropy, improve/beautify our athletic facilities, and promote a vision of the future for our athletic program. The council actively facilitates communication between student-athletes and the community ...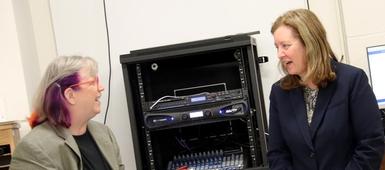 Veverka Recognized with WCNY Music Educator Award:

Congratulations to Karen Veverka for being recognized with the WCNY FM Classic Radio Educator Award. This award spotlights local music educators in our community who are dedicated to sustaining the performing arts and have had a strong positive influence on their students. Karen has devoted herself to her craft and the students and families of Skaneateles for more than 33 years. She has inspired and supported hundreds of musicians over the years. We are grateful and proud to have her as a colleague. Karen was surprised with a plaque from WCNY representatives during one of her classes Thursday morning. The piece will be airing on 91.3 FM on Friday, March 3 at 8:30 a.m. and again on Saturday, March 4 at 10:30 a.m. ...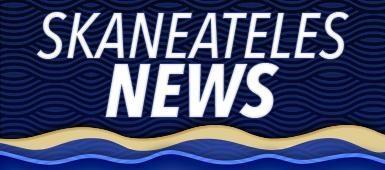 New Digital Newsletter Available:

The Skaneateles Central School District has released its Winter Newsletter for 2023. The print edition should be on its way to community members in early March. The digital version is available here.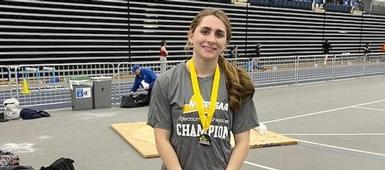 Palmer Invited to Millrose Games:

Skaneateles' Kyla Palmer has been selected to run in the prestigious Millrose Games this weekend. Palmer is one of seven high school athletes chosen for the 600m run in the 115th Millrose Games at The Armory in New York City on Saturday. The Millrose Games feature top quality competition at every level, with youth, high school, collegiate, professional, and masters athletes all coming together to compete. Congratulations and good luck Kyla!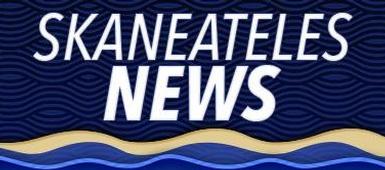 Odyssey of the Mind Seeking Judges:

Region 11 needs approximately 100 judges in order to have a successful Odyssey of the Mind tournament this March. The region is looking for judges who enjoy working with young people, and have experience as an OotM judge, coach or competitor. Judges receive lunch and a student designed pin. Region 11 has been represented in the World Finals by at least one team for the last 20 years. See the document below for more information.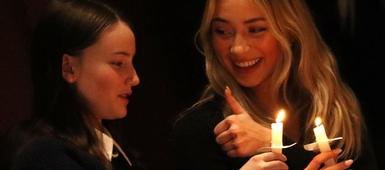 National Honor Society Inducts New Members:

The Skaneateles Central School District inducted 61 new members into its National Honor Society Monday evening. Superintendent Eric Knuth welcomed the assembled friends and family, and Nathan Dinello gave the opening address at the high school auditorium. The candles for Scholarship, Leadership, Character and Service were lit by NHS officers Alison Whipple, Jeffrey McCrone, Francesca Arias and Dinello. Each inductee then signed their name into the book before crossing the stage to get a certificate from High School Principal Michael Caracchio. The ceremony concluded with the inductees saying the NHS pledge. The following students were inducted Monday: Isabella Arroyo Keady Azian Regan Barnes Bryn Butler Camryn Calabro Dominick Caraccio Thomas Cattalani Agnes Collins ...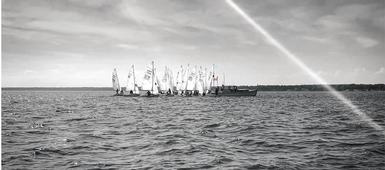 Students Earn CNY Scholastic Art Awards:

Nine Skaneateles Central School District students received CNY Scholastic Art Awards this year. Maddie Wright earned the Silver Key for her portfolio of work titled Self Awareness. Wright also was awarded the Gold Key for drawing & illustration, while Owen Chabot received Gold and Silver Keys for his photography. Emma Whipple's painting also earned a silver key, while Muhammad Ahmad, Alexis Barron, Sammi Shaw, Wyatt Thompson, Lily Traub and Caitlyn Yengo each received honorable mentions.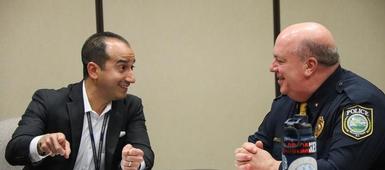 Substitute Staff Review School Safety Procedures with Administration, Local Law Enforcement:

Substitute staff in the Skaneateles Central School District are well-informed on school safety practices, thanks to recent sessions held in the District Office. Gregory Santoro, Director of Personnel and Operations, outlined current procedures and answered questions from the group. "The number one responsibility of anyone working in schools is to make sure everybody is safe," said Santoro. Attendees got refreshers on lockouts, lockdowns, fire drills, and hold-in-classroom procedures. Santoro encouraged substitute staff to reach out to a building principal or school resource officer if they are ever unsure of how to handle a situation. Substitute staff witnessed first-hand the strong relationship between the District and local law enforcement, ...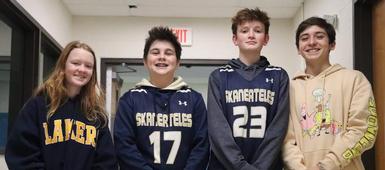 Middle School Student Council Officers Working Hard to Put on Annual Holiday Shopping Spree:

Skaneateles Middle School Student Council's annual holiday shopping spree is one of the most wholesome events of the school year. Thanks to generous funding from the CNYCentral Foundation, Todd's Fund, and the Middle School Student Council, Middle School students have the unique opportunity to shop for local charities and provide gifts for children in need. This year, the students will be shopping at Walmart on Wednesday, December 7. The shopping spree will have special meaning for Middle School Student Council officers Beckett O'Brien, Colton Bone, Peter Salzhauer, and Magnus Arroyo, who have been hard at work planning for the big day. The officers, who participated in last year's shopping spree, were surprised to learn how much work goes into making ...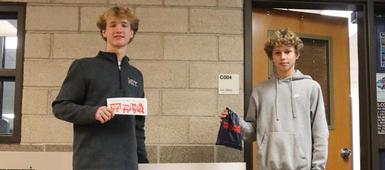 Student Athletic Council Collecting Toys for Tots Through Tuesday, December 13:

The Skaneateles Student Athletic Council (SAC) has partnered with the Marine Toys for Tots Program to collect new, unwrapped toys for those in need this holiday season. The toy drive runs through Tuesday, December 13. "We were just throwing out ideas for what we could do as a group, and someone in the Council brought up Toys for Tots," said SAC secretary Torin Bennett. "We thought this would be the best way to give back to the community," added treasurer Shea Musso. Toys may be dropped off in bins located at each of the five buildings on the Skaneateles Central School District campus. Additionally, the SAC is asking for a toy as admission to the games listed below. Friday, December 9: Boys Varsity Basketball vs. ...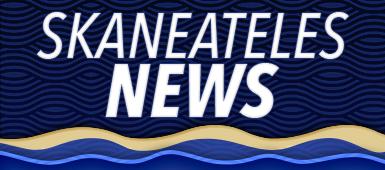 High School Yearbooks Now Available to Order: Dear Skaneateles High School families, Our yearbook staff is hard at work creating a beautiful yearbook full of Laker memories. Great news! The 2023 yearbooks will be distributed in June this year. What does that mean for students? They will have their hands on the yearbook before summer arrives AND they can have them signed in person. Due to this change you must order soon to reserve your copy. The deadline to order and reserve your copy is February 10 th 2023. We will NOT be ordering extra yearbooks this year. Please visit www.jostens.com ...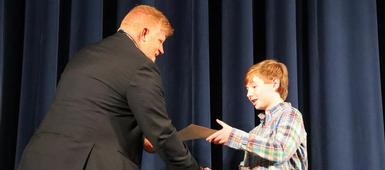 Fifty-five Students Inducted into National Junior Honor Society Class of 2027:

The past several years have presented challenges for many students, but new inductees of the Skaneateles Middle School's National Junior Honor Society (NJHS) have worked hard to exceed expectations in and out of the classroom. Inductees were recognized at the NJHS Induction Ceremony on Monday, November 14 in the High School Auditorium. "These students opened their hearts, shared many stories about giving their all, and accepted challenges that showed how they were able to overcome everything life throws at them. I'm very excited to see what they make of themselves," NJHS advisor Kelly Gunderson said. Inductees have obtained a cumulative grade point average of 93 percent or above since the beginning of sixth grade. In additional to outstanding ...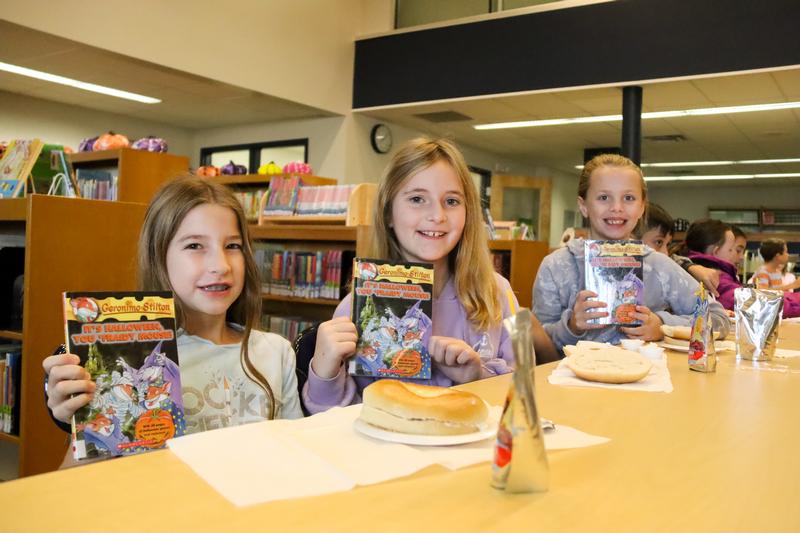 Third-Grade Students Give Thoughtful Insights at "Books & Bagels":

Third-grade students at State Street Intermediate School showed up in large numbers for the first "Books & Bagels" event this school year. "Books & Bagels" is open to all third-grade students who are interested in reading, and is held several times each year before school. "I think this is one of the largest groups we've ever had," said third-grade teacher Kathy Herr. Herr and fellow third-grade teacher Bridget Patterson led the discussion on Geronimo Stilton's book, "It's Halloween, You 'Fraidy Mouse!" Each third-grade teacher leads a discussion during the school year. Students were quick to point out some of the things they noticed about the characters and Stilton's writing style. In ...
Next >> Viewing 1 - 20 of 1092 stories