SHS Recognized in US News High School Rankings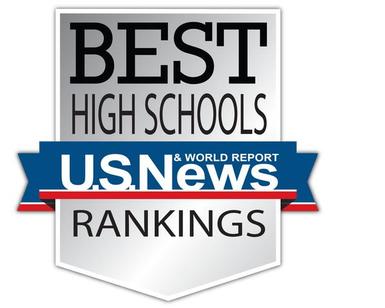 SKANEATELES, NY (May 7, 2019) – The 2019 U.S. News & World Report Best High Schools rankings have been released with Skaneateles High School once again being recognized.

U.S. News & World Report revamped the national and state rankings methodology in 2019.

The new ranking methodology evaluates schools based on six indicators, including college readiness, college curriculum breadth, math and reading proficiency, math and reading performance, underserved student performance and graduation rate.

The highest-ranked schools are those whose students excelled on state tests and performed beyond expectations, participated in and passed a variety of college-level exams and graduated in high proportions

The 2019 Best High Schools rankings rated over 23,000 schools across the U.S. and over 1,200 schools in the state of New York.
Skaneateles High School ranked 756th nationally and 70th within New York with a college readiness score of 62.4/100.

Skaneateles High School boasts a graduation rate of 98% and an AP participation rate of 70%, with 60% of those students having passed at least one AP exam.

Students scored at 96% in terms of Mathematics proficiency and Reading Proficiency.

For a full listing of rankings and more information, visit online at https://www.usnews.com/education/best-high-schools.

Keep in touch with events and happenings in relation to the Skaneateles Central School District by visiting online at www.skanschools.org or following the district's Facebook page at www.facebook.com/Skaneateles.Schools.