Three SCS Students Earn iD Tech Scholarships through SEF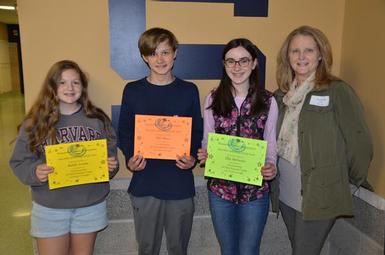 SKANEATELES, NY (April 29, 2019) – Three Skaneateles Central Schools students accepted iD Tech scholarships on Monday afternoon from the Skaneateles Education Foundation in partnership with the Elsa Allyn Soderberg Family Fund.
Eighth grader, Keady Azzam, and ninth graders, Ellie McSwain and Alex Moro, were presented with iD Tech scholarship certificates on Monday from Cristy Winkleman, Skaneateles Education Foundation Board President.
This scholarship provides tuition and room and board for each student to attend a week-long session at iD Tech Camp, the world's #1 educational summer computer camp for kids and teens.
iD Tech Camps are held at MIT, Vassar, Columbia and over 150 top U.S. campuses and are known as, "where summer fun meets real-world skills."
Previous scholarship recipients include Tyler Atwater, who studied Virtual Reality Game Design at Villanova University, as well as Luke Rathgeb, who studied C++ coding at Yale University.
For more information on iD Tech Camp, visit online at www.idtech.com.
Community members can learn more about all that the Skaneateles Education Foundation offers at www.skanedfoundation.org.
Keep in touch with events and happenings in relation to the Skaneateles Central School District by visiting online at www.skanschools.org or following the district's Facebook page at www.facebook.com/Skaneateles.Schools/.

(Pictured Above: Keady Azzam, Alex Moro, Ellie McSwain, Cristy Winkleman)