Journey through History at State Street Wax Museum on March 14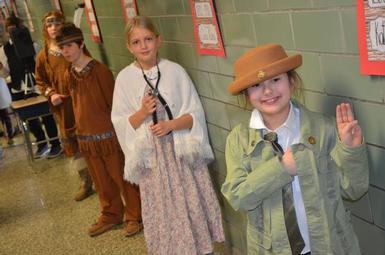 SKANEATELES, NY (March 8, 2019) – Fourth-grade students at State Street Intermediate School will provide fellow students, teachers, and family an opportunity to go back in time and walk through history as a part of their annual Wax Museum of Famous Americans on Thursday, March 14.

The day consists of two sessions. An afternoon session will be held for third and fifth-grade students to take a tour, while an evening session will be put on for the public, beginning at 6:30 p.m.

A tradition carried on for decades, fourth-grade students will line the hallways of State Street School dressed as famous Americans they have studied, posing along with cleverly placed props.

Traveling from the year 1722 to 1982 and beyond - students have portrayed the likes of William Clark and Walt Disney, Thomas Edison and John F. Kennedy, even Neil Armstrong and Muhammad Ali in the past.

Keep in touch with events and happenings in relation to the Skaneateles Central School District by visiting online at www.skanschools.org or following the district's Facebook page at www.facebook.com/Skaneateles.Schools/.