Join SCS Superintendent Lynda Quick for 'Coffee Talk' on November 14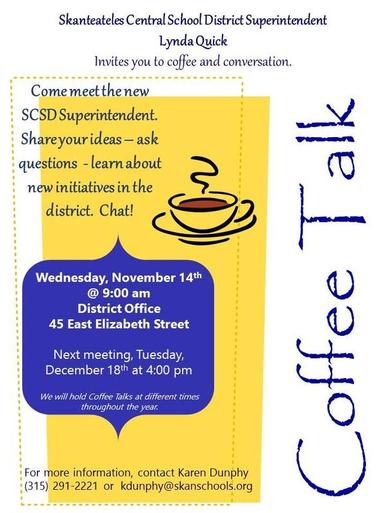 SKANEATELES, NY (November 7, 2018) – Skaneateles Central Schools welcomes parents, guardians and community members to the Skaneateles Central Schools District Office on Wednesday, November 14 for Coffee Talk with new Superintendent, Lynda Quick, beginning at 9 a.m.
Providing coffee and conversation, Coffee Talk is an opportunity for community members to share ideas, learn about new District initiatives and projects and ask questions.

Another Coffee Talk session will take place on Tuesday, December 18 at 4 p.m., with other dates to be announced in the future.
The Skaneateles Central Schools District Office is located at 45 E. Elizabeth St. in Skaneateles.
For more information, contact Karen Dunphy at (315) 291-2221 or kdunphy@skanschools.org.
Keep in touch with events and happenings in relation to the Skaneateles Central School District by visiting online at www.skanschools.org or following the district's Facebook page at www.facebook.com/Skaneateles.Schools.