Extended to Monday Morning: SCS Share the Warmth Clothing Drive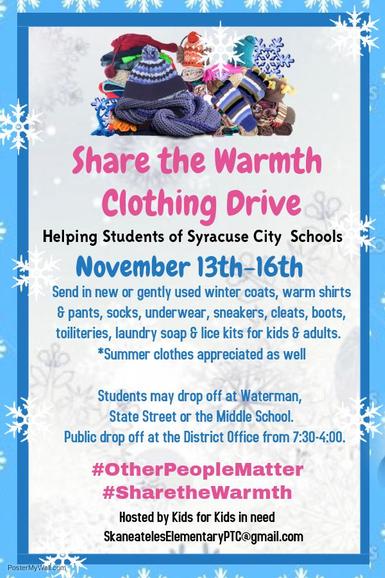 VIDEO: Below check out our students on Bridge Street!

SKANEATELES, NY (November 5, 2018) – In an effort to help those in need, Skaneateles Central Schools is conducting the Share the Warmth Clothing Drive on campus from November 13-19th (until 10:00 am).
The following items are needed: new or gently used winter coats, warm shirts & pants, socks, underwear, sneakers, cleats, boots, toiletries, and laundry soap for kids and adults.
All Monday donations must be dropped off at the Skaneateles Central Schools District Office, located at 45 East Elizabeth St., by 10:00 am on Monday.
The Share the Warmth Clothing Drive is being hosted by Kids for Kids in Need as a part of the #OtherPeopleMatter and #SharetheWarmth campaigns. The effort will help students of Syracuse City Schools.
For more information please email SkaneatelesElementaryPTC@gmail.com or call the District Office at (315) 291-2221.
Keep in touch with events and happenings in relation to the Skaneateles Central School District by visiting online at www.skanschools.org or following the district's Facebook page at www.facebook.com/Skaneateles.Schools.