SMS Student Council Completes Successful Drive Thru Fundraiser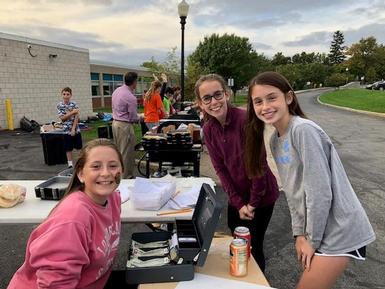 SKANEATELES, NY (October 9, 2018) – The Skaneateles Middle School Student Council presented its 18th annual Dinosaur BBQ, Gianelli Sausage Drive-Thru Fundraiser on Wednesday, October 3 in front of Skaneateles Middle School.
Yet another successful fundraiser featured a menu including a Gianelli Sausage with peppers and onions, a Dinosaur BBQ pulled pork sandwich, and a Carolina Sandwich with pulled pork topped with coleslaw.
Each dinner choice came with Dinosaur BBQ style baked beans, coleslaw, chips, and soda or water for only $9.
Proceeds from the fundraiser go toward Student Council operations costs, the Student Council's Holiday Shopping Spree, and other events throughout the school.
Keep in touch with events and happenings in relation to the Skaneateles Central School District by visiting online at www.skanschools.org or following the district's Facebook page at www.facebook.com/Skaneateles.Schools.