5th Graders Walk Stage as STARS Graduates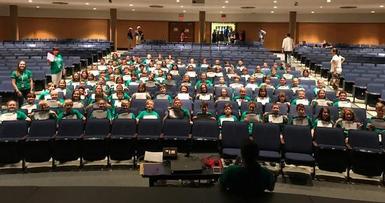 SKANEATELES, NY (June 12, 2018) – Fifth grade students at State Street Elementary gathered on Friday afternoon in the Skaneateles High School auditorium for the 10th annual STARS graduation celebration.
STARS signifies – Students who Think and Act Responsibly Succeed – and gives students guidance in prevention education in relation to drinking, drugs, texting and driving, and other health related issues.
The hope for the program is to arm students with the ability to make smart and educated decisions about drugs and alcohol, giving them the knowledge, courage, and determination to be a STAR.
Interim State Street Principal Pat Brown and teacher Ellen Wolford opened the ceremony, before welcoming Marianne Angelillo to the stage as the day's keynote speaker.
Angelillo spoke with students about the importance of smart decision making while telling the story of her son Matthew Angelillo, who tragically lost his life in June of 2004.
The celebration also included the presentation of several student produced bumper sticker drawings and PSA videos warning others about the dangers and effects of drugs and alcohol, as well as texting and driving.
Keep in touch with events and happenings in relation to the Skaneateles Central School District by visiting online at www.skanschools.org or following the district's Facebook page at www.facebook.com/Skaneateles.Schools.