Student Athletes Moving on to DIII Sports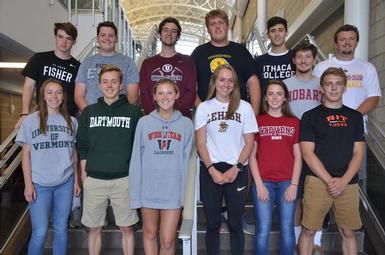 SKANEATELES, NY (June 8, 2018) – A total of 12 members of the Skaneateles High School Class of 2018 will continue their sports journey at various Division III Colleges and Universities in the fall.
Football players Scott Ochsner, Cross Bianchi and Jon Ricklefs will all head further west in New York state to continue playing football.
Ochsner will attend SUNY Brockport; Bianchi will head to Hobart College, with Ricklefs set to play for St. John Fisher College.
Girls Lacrosse player Abbey Logan will attend Wesleyan University with Boys Lacrosse player Tyler Priest moving on to St. John Fisher College.
Track teammates Natalie Condon and Mia Grasso will move on to separate Universities in the fall. Condon will attend Lehigh University with Grasso running at the University of Vermont.
Brahm Malcolm, a member of the Boys Track and Field team, will attend Ithaca College.

Fellow track team member, and Co-Valedictorian, Luke Rathgeb will be going to Dartmouth in the fall.
Baseball player Tommy Scherrer is set to play at Union College.
Wrestler Joe Brillo will head west, like many others, continuing his pursuits on the mat at RIT.
Boys Soccer player Luke Peterson will stay on the field at SUNY ESF while Girls Soccer player Shay McCarthy will do the same at the Stevens Institute of Technology.
Keep in touch with events and happenings in relation to the Skaneateles Central School District by visiting online at www.skanschools.org or following the district's Facebook page at www.facebook.com/Skaneateles.Schools.