SHS Earns Gold in US News High School Rankings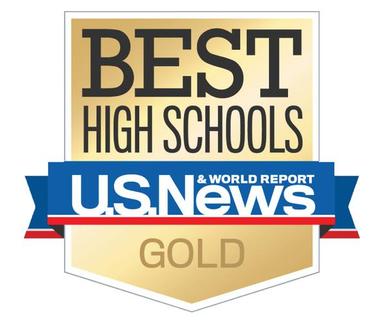 SKANEATELES, NY (May 9, 2018) – The 2018 U.S. News & World Report Best High Schools rankings have been released with Skaneateles High School having earned gold medal status.
Schools are ranked based on their performance on state-required tests and how well they prepare students for college.
The 2018 Best High Schools rankings awarded the top 5,948 public high schools in the country with gold, silver and bronze medals, indicating their level of college readiness.
Of the 5,948 public high schools to achieve a medal, Skaneateles High School ranks 285th in the country and 42nd within New York, posting a college readiness score of 67.3/100.
City Honors School at Fosdick Masten Park (17th), Pittsford-Mendon High School (18th), Pittsford Sutherland High School (23rd) and Brighton High School (45th) join Skaneateles High School as the only schools ranked in New York's Top 50 that are located outside of the Long Island and New York City region.
"We are proud to be considered by the US News Rankings as a Gold School," said Skaneateles High School Principal, Greg Santoro. "Our students, teachers, and parents work together to provide the path for all of our students to be ready for their next challenge whether it is college, trade school, or employment. Together, our goal is to create opportunities and resources for all of our students to be engaged in the learning process."
Skaneateles High School boasts a graduation rate of 97% and an AP participation rate of 73%, with 90% of those students having passed at least one AP exam.
Students scored at 96% in terms of Mathematics proficiency and 98% in Reading proficiency.
For a full listing of rankings and more information, visit online at https://www.usnews.com/education/best-high-schools.
Keep in touch with events and happenings in relation to the Skaneateles Central School District by visiting online at www.skanschools.org or following the district's Facebook page at www.facebook.com/Skaneateles.Schools/.